Archive for the 'Jewelry' Category
Posted on June 9th, 2011 by maitreya. Filed under Jewelry.
Dismount Creative posted this great idea for using nail polish to make faux enamel jewelry.  I couldn't find any of the metal blanks she used, but the bead store did have these rimmed ones.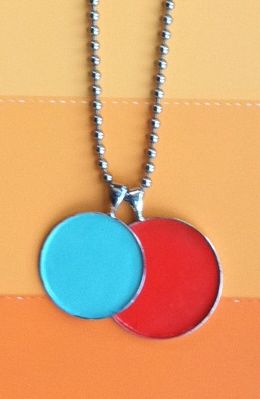 And this interesting faceted charm.
At this point, I was hooked and started looking around the house for more things to paint.  Buttons!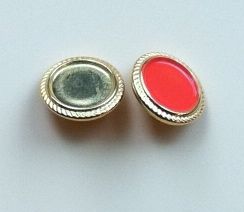 I also attempted to paint a "spangle" (giant sequin-type thing), but it looked awful.
Alisha Louise, I am not, but still, pretty good for nail polish and 50 cent jewelry findings.
Posted on June 6th, 2011 by maitreya. Filed under Jewelry, Martha.
I love this necklace from Martha Stewart's Encyclopedia of Crafts.  New craft goal of collecting disk and leaf charms.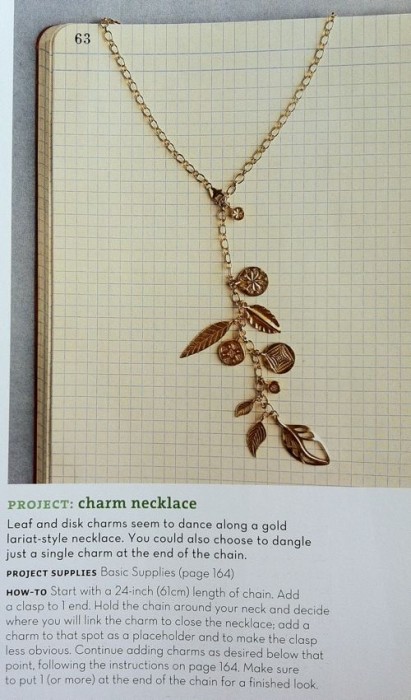 Comments Off

on lariat charm necklace
Posted on May 31st, 2011 by maitreya. Filed under Experiments, Jewelry.
I found this "big friendship band" on Pinterest and was instantly struck with a mania to make one.  The original is only $20 and is sourced by a fair trade group in Bangladesh, so I feel a little bit bad about stealing their idea.  Looking around, there are several other examples of giant friendship bracelets (a rug! genius!)
I had a pack of 4.8 mm piping cord for who knows what forgotten purpose.  I cut it into 4 2.5 yard lengths, tied the ends together, and got to it.  The muscle memory on this is strong.  I didn't even have to look up the knot, and it's been probably 15 years at least since I made one.  It went super fast.

The resulting item is about 15 inches long (not including the tails) and looks completely ridiculous as a bracelet (this is the back, btw).
I'm thinking I might be able to use it as a handle for a bag or something.
Posted on January 17th, 2011 by maitreya. Filed under Jewelry.
My mom does a lot of jewelry-making and has quite a collection of cool beads and supplies.  My sisters and mom and I all made stuff one afternoon while were all home over the holidays.  These are just little plastic flowers, seed beads, and head pins cut to different lengths and twisted into loops, then attached to a jump ring.  I get compliments every time I wear it!
Comments Off

on flower cluster necklace
Posted on April 5th, 2010 by maitreya. Filed under Jewelry.
This is barely a craft, but I did have to drill a hole in the block of wood, so close enough.  New necklaces, one a felt washer I found at the hardware store, and the other a small block of wood from the craft store, strung on waxed linen.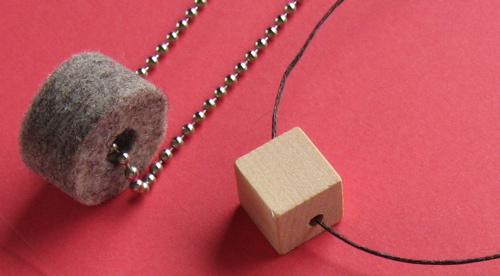 The idea for the wood block one was partly prompted by A Small Collection (e.g. this necklace) and my previous experiments with Dremel+wood jewerly.  I thought about staining it, but I kind of like it au naturale.  Piece of advice for Dremel-ing through a piece this thick: drill ~2/3 through with a big bit, then punch through to the other side with a smaller bit.  Flip over and use the big bit again using the guide from the small bit.  It made it look nice on both sides, and my poor Dremel was unhappy about going more than 2/3 through at a go.
Posted on February 17th, 2010 by maitreya. Filed under Jewelry.
Trace pattern from piece of origami paper onto shrink plastic with a sharpie and ruler.  Cut out.  Punch hole.  Melt.  Add jump ring.  Pretty necklace!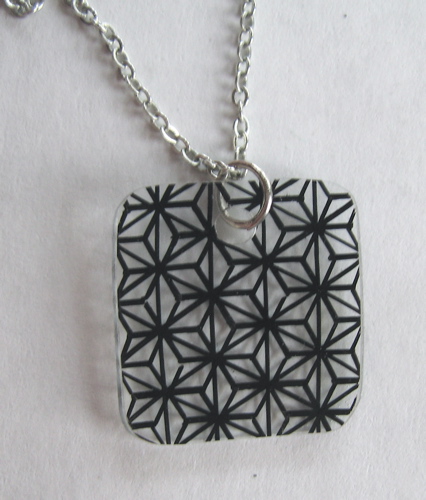 I love how it turned out and I'm currently wearing it with a V-neck.  I think this might be my final excuse for buying one of those geometric pattern coloring books I had as a kid.
Posted on November 17th, 2009 by maitreya. Filed under Jewelry.
Eddy and Edwina posted this cool work-in-progress shot of a necklace she made from some pretty colored beads.  In the comments she reveals they are actually those plastic fuse beads you make designs out of and melt together.  Genius.  A bit o' Googling also turned up a fuse bead bracelet tutorial by nkitkat.
It just so happens that I have a bunch of these left over from a couple of years ago.
Bracelets on waxed twine threaded back and forth, linked with a loop of elastic so they go over the wrist

Pink/red/white/another pink on elastic
Necklace strung on waxed linen
I think they kind of evoke the colorful glass beads in Ronni Kappos's jewelry, which I love (more here).
Posted on November 15th, 2009 by maitreya. Filed under Cross Stitch/Embroidery, Jewelry.
Not very successful night of crafting.  I got the December issue of Martha Stewart and went 0 for 2 in attempted crafts.  They have a pattern for cute knotted ribbon wreathes, which didn't seem to go as diagrammed.  Not sure quite what I'm doing wrong, but there seems to be a twist that I was missing.  There's also an article about stuff to make with those yarn flower looms.  I have a similar jig that I thought might work, but I was apparently wrong.  The result looked rather ridiculous and I threw it away.
That's when I put the magazine down and retreated to my old faithful craft, embroidery.  I'd bookmarked this stool and table that had been cross stitched using custom drilled holes.  Then this week noshii's awesome wood jewelry got posted all over the place and reminded me that I'd been meaning to experiment with this idea and had even bought the wood tiles a while back.
So I charged up the dremel tool, penciled a guide on the wood tiles, drilled some tiny holes, and stitched. It's harder to be precise than I thought it would be, so the holes aren't spaced as evenly as I had intended, but I kind of like the wonky cross stitches, especially in the variegated thread.  For the rectangle one, I drilled a bigger hole to fit a grommet.  They both have felt glued to the back to hide the threads.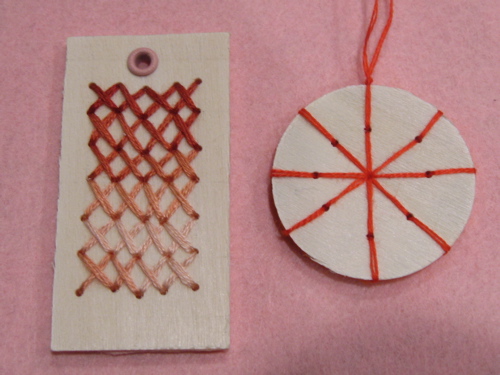 This is definitely a method I'll try again.
Posted on August 22nd, 2009 by maitreya. Filed under Crochet, Jewelry.
I've been admiring the crochet jewelry from Wren Handmade for a while now, so I was really excited to see her pattern for a crochet bracelet on the Purl Bee.  Had to make it right away!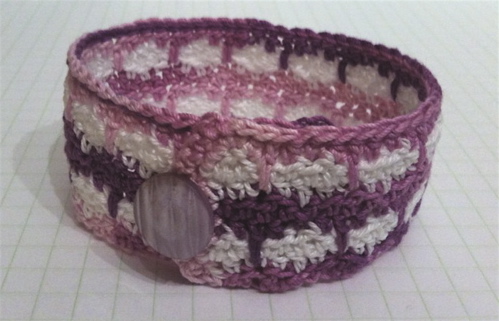 I think my sister-in-law gave me the fun variegated purple crochet thread way back when.  Button from who knows where.
The pattern was easy to follow, and now I'm thinking up what other stitch patterns might make fun bracelets.
Posted on August 12th, 2009 by maitreya. Filed under Jewelry, Sewing/Fabric Crafts.
I got to spend last weekend with Becket and Amy in what I hope are becoming yearly get-togethers (last year was Seattle).  Becket already posted about some of our fun.  One of the things we made were these fun fabric bead necklaces from Curious Bird's tutorial.
You sew a tube from a silky scarf and alternate beads and knots.  Our "homework" was to find scarves to bring.  I have had this neat Japanese silk scarf in my fabric collection (can't remember where I got it, unfortunately), and I really like how the pattern leads to unexpected bead combos.
Amy's was even more interesting because she sliced a long diagonal piece of her scarf and it ended up perfectly symmetrical due to her excellent knot tying.  I think the bias cut made her knots more even than mine too.
You'll have to go read CA Crafter to see more of Becket's. :)
email
books I'm in
other sites I'm on
Pinterest
Categories
Blogroll
Archives
creative commons