Posted on October 13th, 2005 by maitreya. Filed under Sewing/Fabric Crafts.
Can you believe I'm already tired of my bird bag? I got the idea for this one from this bag made by twelve22 and the kimono bags at Uplifting Arts. I kind of combined the shape, pleats, and binding trim and straps into one bag. The bird bag had pleats on the bottom, so I had some idea of how to work them.
The fabric is a napkin I got on sale at Anthropologie. It's hard to see but there are white flowers in addition to the green ones. I have another one that I'm thinking I'll make into a matching wallet. I couldn't find bias binding in just the right shade of green, which was a good excuse to get one of those nifty binding-making tools. Stupid Joanns only had a Dritz one in 1 inch (which makes 1/2 inch folded). The Clover ones looked better (and cuter), but only came in the smaller sizes. Maybe I just don't have the hang of it yet, but it didn't make as even of a binding as I expected. It did the job, though. The lining is the same green, although I wish I'd chosen something nicer since the bag's reversible. Oh well. It's all interfaced, too.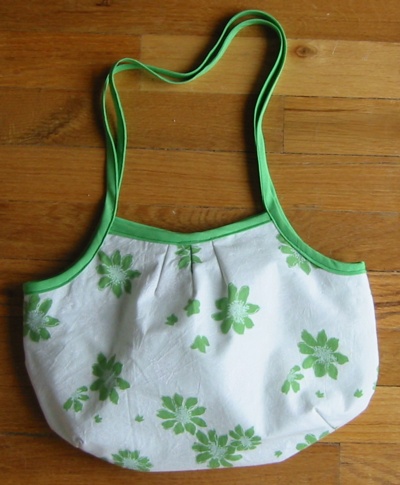 20 Responses to "pleated, bias-trimmed bag"
email
books I'm in
other sites I'm on
Pinterest
Categories
Blogroll
Archives
creative commons