Posted on January 11th, 2006 by maitreya. Filed under Paper Crafts.
I generally use iCal on my Mac to keep track of stuff at lab. You have the calendar where you put the appointments, then there's a sidebar to-do list. You can give the to-dos due dates, and then check them off when done. This has worked pretty well, but I've never been totally satisfied with it. For one thing, my to-do lists are not 1D, but instead are a set of to-dos over several days that all together make an experiment or task. I haven't been able to find a program that'll do this, so I'm back to good old analog.
For design inspiration, Fred Flare was selling these neat 8 days a week desk calendars by Bob's Your Uncle. I like the design and the extra column for Someday. But, in addition to being sold out, it's still an appointment calendar. I'm happy with iCal for my appointments; it's the to-dos I need.
Sooo, I made my own. Here's v1. I printed out enough of them to last a month, when I figure I'll redesign it based on how I'm actually using it. It's on 11×17 paper, which only fits in the black+white printer, so I colored in the headings with my new set of Sharpie highlighters. If I decide after a month that I'm going to stick with it, I'll find a bigger color printer somewhere or go to a copy shop. The stack is taped at the bottom edge with some of my pretty paper lab tape. Then I can flip through to next week if I need to. This does have the disadvantage of requiring that I tape it down again every week after I remove the top sheet. v2 will definitely have a better desk-securing system.
Here's v1.1 for anybody who might want to print/modify one for themselves: [Word file].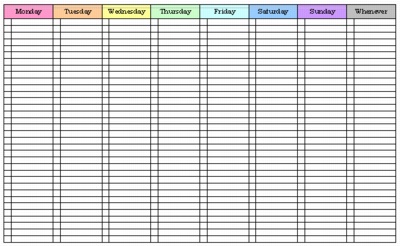 10 Responses to "desk calendar"
email
books I'm in
other sites I'm on
Pinterest
Categories
Blogroll
Archives
creative commons