Posted on June 28th, 2006 by maitreya. Filed under Blythe.
I made Blythe a Hello Kitty t-shirt for the doll clothes-along. The pattern is XOXO, Blythe's boatneck tee with the arms cut off and a Hello Kitty sticker on the front. Such a great simple pattern. The skirt is from the megaload of doll clothes my sister found for me, probably Barbie.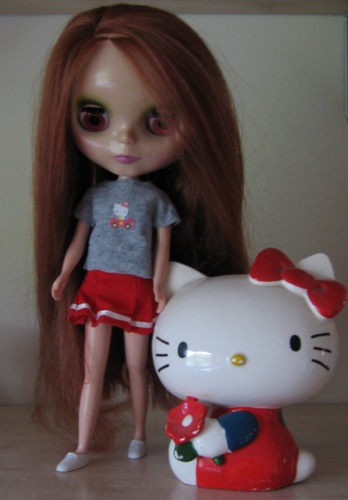 Did I mention that I have a Hello Kitty t-shhirt that looks almost the same? :)
3 Responses to "Blythe + Hello Kitty"
Ismoyo Says:
June 30th, 2006 at 4:06 pm

I love Hello Kitty + I love Blythe = I love your Hello Kitty Blythe outfit!

Ooh.. i want a blythe doll to make clothes for too!! So cute.
email
books I'm in
other sites I'm on
Pinterest
Categories
Blogroll
Archives
creative commons