Posted on October 14th, 2007 by maitreya. Filed under Sewing/Fabric Crafts.
Got 2 cute new felt books at the Japanese book store yesterday and of course had to immediately make something from one of them. This little zip pouch, which is on the cover, is really easy. Of course I had to complicate it by adding a lining (the background fabric), but the topology wasn't too bad and I left the raw edges as in the design to keep it easy. The felt is actually felted wool I got at City Quilter in New York. It's a little stretchier than normal felt, and not as completely felted, which caused me a few problems. The orange stitching is more obvious in person.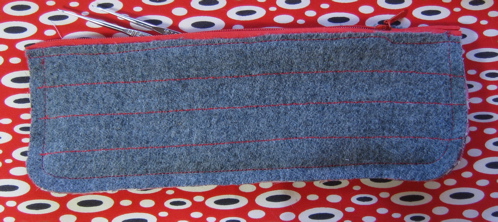 It's the new home for my crochet hooks.
3 Responses to "felt zip"
cindy Says:
October 15th, 2007 at 7:57 am

Looks like a great project with many possibilities. I almost ordered that book and decided on another. I'm overwhelmed at how confusing it is, but I'll keep trying.
email
books I'm in
other sites I'm on
Pinterest
Categories
Blogroll
Archives
creative commons