Posted on November 18th, 2008 by maitreya. Filed under Cross Stitch/Embroidery, Martha.
I was at the campus bookstore last week and for some reason the canvases were crazy on sale, so I got 2 little 6×6 inch linen ones to try embroidering on. They're already stretched and everything, so it seemed like a good idea at the time. The patterns are bird stamps I got in a Martha Stewart kit for embossed velvet ornaments. I wasn't sure if I'd be able to wash out a transfer pencil, so I just stamped the pattern onto some tracing paper and embroidered over it. Every time I do that, I forget what a pain it is to pull out all the little bits of paper at the end. Ugh.
The embroidery was pretty annoying too. The wood stretchers were pretty wide and made it really difficult to embroider anywhere near the edges. On a larger canvas with a centered design, it would've been waaaay easier.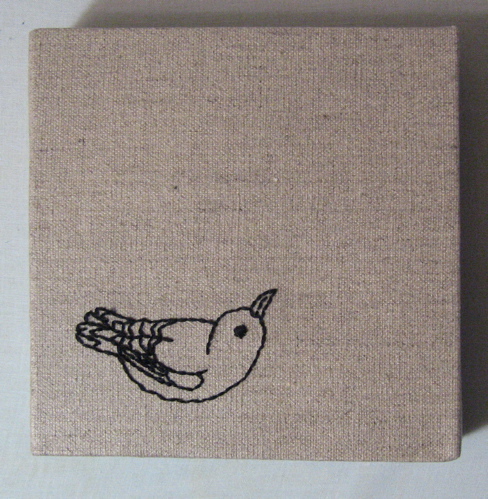 For the second one, I'm trying the punch embroidery tool thingy, which so far is working great in the center of the canvas.
5 Responses to "bird embroidery panel"
email
books I'm in
other sites I'm on
Pinterest
Categories
Blogroll
Archives
creative commons