Posted on November 20th, 2010 by maitreya. Filed under Chickens, Crafty Links, Crafty Review, Home and Garden.
So far so good with the chickens.  Mark built them a perch, and we got a little fence so they can have the run of the whole back yard.  Hester and Sue are still skittish about getting picked up.  After they roost, they seem to calm down a lot though, so I've been picking them up when I shut them up for the night.  I feel a little bit bad that I don't wake up early enough for them.  They're always waiting for me in the morning and scramble over each other for the food like they're starving.  It's funny watching them eat, especially various kitchen scraps.  They kind of test it and think about it and decide whether it's better or worse than what they were eating 10 seconds before.  Sue at least seems to like to eat slugs, too, yay!  I'd heard that the Seattle slugs were not tasty to chickens.
To prepare for getting my chickens, I did the usual internetting, but I also took a class and read some books.
Internet:
Class:
I took City Chickens 101 from Seattle Tilth.  It was shorter than I had hoped it would be, but the instructor (whose name I unfortunately don't remember) stayed afterward as long as we still had questions.  He was a really great teacher.  He tried to present information that was evidence- and science-based.  For example, he cited a lot of work done at agricultural schools, and he had a surprisingly good knowledge of chicken genetics.  Favorite bit of advice: chicken behavior can only be understood by knowing about chicken evolution.  He also recommended getting cheap hens by grifting children whose parents aren't around at the 4H fair. Haha.
I also got some advice from the farmer I bought the chickens from.  He was really nice and spent a lot of time helping me, both on the phone and at his farm.  I knew he would be good to buy from when he gave me the third degree over the phone about why I wanted them and what I was planning on feeding them.  He also refused to sell me just 1 or 2 since he thought they would be unhappy (I believe he actually said a single chicken would "die of sadness").  He also gave me a 3 page advice sheet with his tips.
Books:
I checked out pretty much every chicken book they had at the library.  None of them really stand out, but I learned different things from the different books.
I got Keeping Pet Chickens for Christmas last year and it's a nice short, basic introduction.  It was really good for just getting an idea for what I was in for.
I also got Keeping Chickens with Ashley English.  It's pretty and easy to read, but with enough detail to be useful.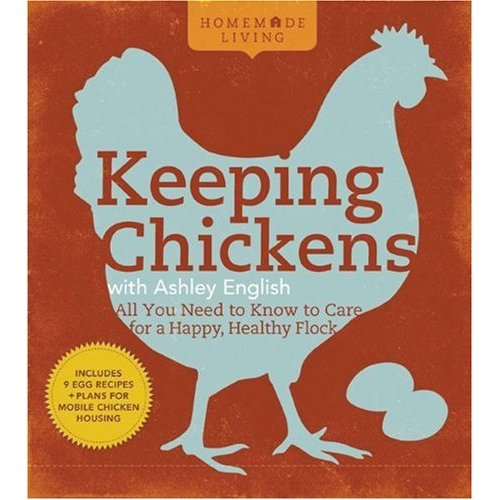 Oh dear, I see she has a Keeping Bees book coming out March 2011.  I hope I don't get any ideas….
One Response to "chicken resources"
email
books I'm in
other sites I'm on
Pinterest
Categories
Blogroll
Archives
creative commons