« December 2005 | Main | February 2006 »
January 31, 2006
ISBN4277430457
Posted by maitreya at 10:34 PM | Comments (0)
ISBN477790010x
Posted by maitreya at 10:29 PM | Comments (0)
ISBN4579108736
Posted by maitreya at 10:24 PM | Comments (0)
ISBN4893967479
Posted by maitreya at 05:34 PM | Comments (0)
ISBN4574804130
pictures one, two, and three at Klucking Bear
Posted by maitreya at 05:26 PM | Comments (0)
January 19, 2006
ISBN4277490484
Posted by maitreya at 11:48 PM | Comments (1)
ISBN427743066X
Hemp no kagabari ami KOMONO
Phone cover and pictures at Chuculeta con raton
Posted by maitreya at 11:36 PM | Comments (0)
January 16, 2006
ISBN0809229099
Omiyage, by Kumiko Sudo
in English
Flickr tag for this book.
bug pouch, and bug pouch 2 by Bohemian on the Edge
Cicada pouches one, two, and three by WendyLouWho
drawstring bag by Floating World
pictures and cicada pouch at Blah, Blah, Blahhhg
Posted by maitreya at 03:40 PM | Comments (1)
January 09, 2006
January 2006 update
Hi everybody! Happy 2006! I'm all caught up on emailed submissions. Now I can start in on my ever-growing pile of bookmarks to add. Thanks for the enthusiam and the wonderful projects. I hit 200 books a while back, and there are 84 contributors. All in 6 months!
So, seems like a good time to do some housekeeping. If you have suggestions on how Crafting Japanese can be better and more useful, please email me or leave a comment. For example, I had a great suggestion a little while back about making some sort of web ring or something to facilitate visiting all the contributor sites. Also, now would be a good time to complain. Thumbnails too small? Can't tell which things are new each time I update a post? My mega-updates slowing down your RSS feed reader? Category missing? Let me know.
Finally, I'm changing the way I handle Flickr submissions. If you've made a project and have the picture on Flickr, nothing changes. I'm still linking directly to it and posting a thumbnail and attribution. I will no longer be linking to individual book pages posted on Flickr, though. There are so many, it's just overwhelming me. And it takes forever to make the links to each one individually. So, instead I'm linking to the ISBN tag for each book. Then all the pictures are in one place and I only have to make one link that updates automatically. For your pics to appear, please tag each one with isbn1234567890 or just 1234567890 (where 1234567890 = the actual ISBN number). As I update pages, I'm adding the Flickr links. There are a bunch of them up already. Thank you to the people already tagging!
Happy crafting!
Posted by maitreya at 12:40 AM | Comments (4)
ISBN4576051636
pictures at chuculeta con raton
pictures+links at Molly Chicken
Posted by maitreya at 12:37 AM | Comments (0)
ISBN4277341071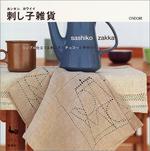 Shashiko Zakka
shashiko bag by While she naps
Posted by maitreya at 12:18 AM | Comments (0)
January 08, 2006
ISBN457911017X
pictures and baby shoes by Molly Chicken
baby shoes and another pair at turkey feathers
Flickr tag 1 and Flickr tag 2 for this book.
Posted by maitreya at 11:38 PM | Comments (0)
January 07, 2006
ISBN4277430376
Bracelet
Posted by maitreya at 11:31 PM | Comments (0)
ISBN4309267610
Amigirumi Collection Volume 3
Flickr tag for this book
Posted by maitreya at 11:26 PM | Comments (1)
Pine Studio
Pine Studio is a site about miniature clay food. Besides the incredible galleries, there's an extensive how-to section, including donuts, incredibly elaborate desserts, and sushi, among others. There's also instructions to make teeny china sets for your teeny food.
Posted by maitreya at 11:11 PM | Comments (1)
Country craft
pictures from vol 47 at peapies
and Dolly from Winter 2005 issue by Bohemian on the Edge
Posted by maitreya at 10:58 PM | Comments (0)