Posted on March 15th, 2018 by maitreya. Filed under Jewelry, Resin.
Snippets from a plastic Ikea placemat, molded in a silicone ice cube tray. Pictured before I drilled holes in the top of each of them.
Posted on March 10th, 2018 by maitreya. Filed under Jewelry, Resin.
More resin necklaces. These are stickers, molded in a paint palette. Shown before I drilled a hole and added a jump ring for hanging.  FYI, the holes are much easier to drill if you flip these flat side up.  I ruined another piece because the dremel slipped on the domed surface.
Posted on March 8th, 2018 by maitreya. Filed under Jewelry, Resin.
I got a new can of resin, so now the race is on to Embed All The Things before it expires. Set 1: stamps from my childhood stamp collection.
Posted on February 25th, 2018 by maitreya. Filed under Random.
Some minor site updates: apparently some tweak on the server side made a bunch of my old images disappear.  Luckily the files didn't disappear, the links were just wrong, so that should be fixed now.
Also updated my link list with a few new ones and purged a few that were out of date.  So interesting how everything has moved to instagram now.
Turns out Sitemeter went out of business years ago and I didn't notice, so my poor site has been trying to contact it with every page load.  That's now replaced with Google Analytics.
Favorite new discovery of late: Promoter Pin Hider plugin to remove ads from Pinterest.  I was seriously about to quit Pinterest before I found this.
Comments Off

on 2018 updates
Posted on February 24th, 2018 by maitreya. Filed under Crafty Review.
I was wondering the other day whatever happened to the people who used to run the dear, departed Assemble Shop.  Turns out they wrote a book!  It's really pretty and has several cute projects.  My favorite is the Spirographed Tote.
Comments Off

on Print, Paper, & Ink
Posted on December 27th, 2017 by maitreya. Filed under Holiday, Paper Crafts.
Loosely inspired by this much cooler gift wrap.  If I had been more industrious, I would have added more holidays.
Posted on September 5th, 2017 by maitreya. Filed under Cross Stitch/Embroidery.
Cross stitch attempt to comfort students taking a hard course with me.
Comments Off

on It'll be fiiiiiiine
Posted on February 18th, 2017 by maitreya. Filed under Paper Crafts.
I got a couple of stamp carving books for Christmas (Block Print by Andrea Lauren and Making an Impression by Geninne Zlatkis) but hadn't gotten around to trying it out or buying the relevant tools.  Conveniently, I came across a stamp carving class from Paper + Craft Pantry, which seemed like a good way to get over that activation energy barrier.  The class was taught by Laura Fisk of Fisk and Fern.  She had great energy and the class was really fun and definitely demystified the whole process.
My starter idea was a multi-layer modular plant set.  It's 4 separate stamps: the plant, the pot, and 2 outlines, and I plan to make additional pots and plants that are interchangeable.  The hardest part is lining everything up, but I think being slightly out of register adds to the charm.
I'd played around with eraser stamp carving before, and the Speedball cutter tool is definitely way better than an X-acto knife.  I think I actually like erasers better than the Speedball rubber, though.  They seem more solid and easier to ink and print evenly.
Comments Off

on stamp carving class
Posted on December 16th, 2016 by maitreya. Filed under Cross Stitch/Embroidery.
Embroidered a tea towel for the coffee cart at lab.  I'd forgotten how meditative cross stitch is.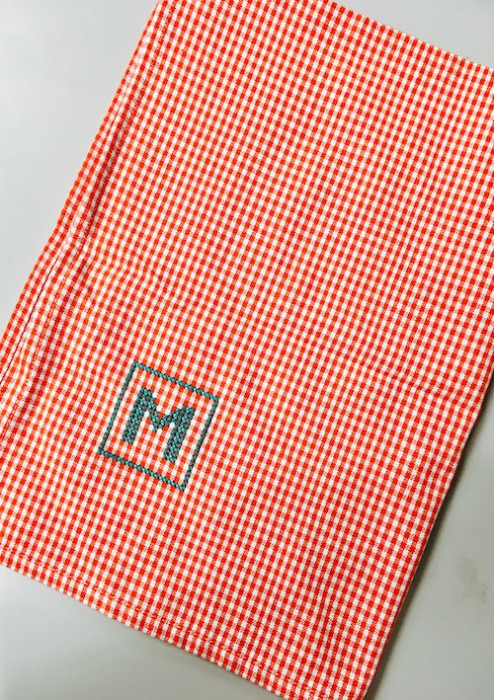 Comments Off

on chicken scratch monogram
Posted on December 13th, 2016 by maitreya. Filed under Crafty Review.
I'm living temporarily in Austin, and one of the nice things about being in a new city is having access to a whole new library system.  I have checked out a bunch of craft books that Seattle doesn't have, including almost all the Meet Me at Mike's books.  They are very pretty.  I particularly liked the Too Cute Tunic Dress from Sew La Tea Do: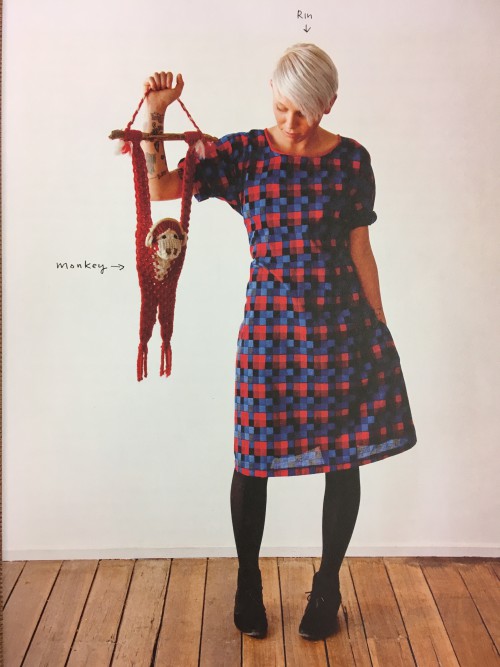 Still haven't managed to make any new projects.  I have a couple ideas in the works, though.
Comments Off

on cute tunic dress
email
books I'm in
other sites I'm on
Pinterest
Categories
Blogroll
Archives
creative commons