Archive for the 'Uncategorized' Category
Posted on December 25th, 2018 by maitreya. Filed under Uncategorized.
My sister is a macrame expert and showed me how to make plant hangers.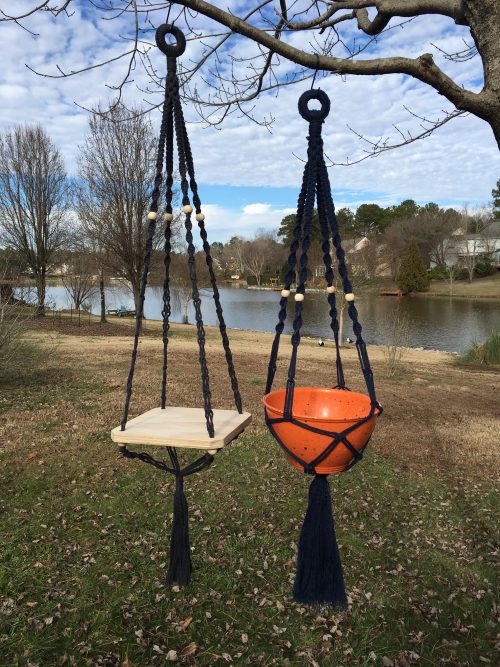 Posted on August 15th, 2011 by maitreya. Filed under Uncategorized.
I let a few of my cilantro plants bolt and dry out.  Luckily, I remembered to harvest the coriander just before it seeded all over the place.
Comments Off

on coriander
Posted on March 8th, 2010 by maitreya. Filed under Uncategorized.
We filled up the raised bed this weekend, and I planted my first seeds.  Thanks for the helpful comments on dirt mixes.  We ended up going with the hedged bet 2-bags-of-everything-from-Lowe's approach, which included steer manure compost, chicken manure compost, top soil, a planting mix for good measure, plus a bale of sphagnum moss.  I should've read a little more before hand, since apparently the moss is frequently harvested in a not very sustainable way.  At least it was just one bale.  Next time I'll use coir.  Also, on Karen's advice, we dug up the sod before filling.  Good thing, too, because the sod turns out to be filled with horrible plastic netting.
Here are my favorite sources for month-by-month Seattle gardening advice:
Ecoyards Seattle Gardening Blog: Cool season crops has March planting recs
my Perpetual Northwest Gardening Calendar from Krank Press
Watching for activity at the P-patch across the street.
Maritime Northwest Garden Guide from Seattle Tilth.  I mail-ordered it, but I've since noticed it at local bookstores, sometimes with the magazines.  I really like Seattle Tilth.  One of these days I want to take their urban chickens class, and I'm definitely going to go to their plant sale later this month.
I also like You Grow Girl, both the book and the site.  The book is at exactly the right level for a newbie like me, and it's the only gardening book I've actually bought.  Well, that's not entirely true; her new book, Grow Great Grub, should be in my mailbox any minute now.
Finally, I call my mother and ask her for advice.
On my collected advice, I planted beets (2 types! I am lately obsessed with beet salads after having a delightful one at Avila the other day), lettuce mix, peas, and fennel.  I'm also trying little pickling cucumbers and okra that claim on the seed packet that they are early.  Since I have no idea what I'm doing, and also to spread the theoretical harvest out, I'm using advice from the Seattle Tilth guide and sowing a little bit every two weeks aka "planting in succession."
We also went on a weed-pulling rampage this weekend.  I used to like dandelions, too.  A nettle of some sort gave me a really nasty sting (we started calling it a chupa-plant after my bitey jerkface cat).  Horsetails I still like because they look so prehistoric, but they are going a little too crazy so they had to go too.  I did keep a little horsetail zone along the stone wall since I want to keep some of them around.
Posted on March 1st, 2009 by maitreya. Filed under Uncategorized.
Yellow and gray, how could I resist.  I'm enjoying wearing bigger rings now that I'm not in the lab and wearing gloves as much anymore (silver lining, I suppose).  It's from the b-line on Etsy.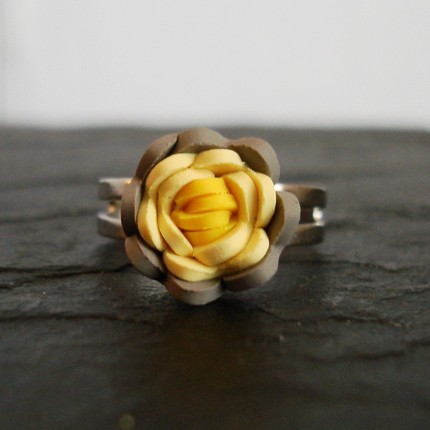 Posted on December 31st, 2008 by amy. Filed under Uncategorized.
My mom is a very accomplished seamstress, and I'm fortunate that she still enjoys sewing for me. There is nothing like a custom-made garment! Since we live so far apart, fit has always been a challenge. There have been a lot of phone calls asking, "could you measure the circumference of your left bicep?" Mom decided she'd like to have a dress form of me, and while looking into commercial options, she stumbled on the many great descriptions of duct tape dress forms. Using the instructions at Threads Magazine and another duct form dress form description at Etsy, she hit the hardware store and we got to work.
We wanted to make sure there was some neck coverage, so I began with an old, close-fitting turtleneck and lengthened it by serging on an old t-shirt. Then, we started wrapping, 3 layers in total.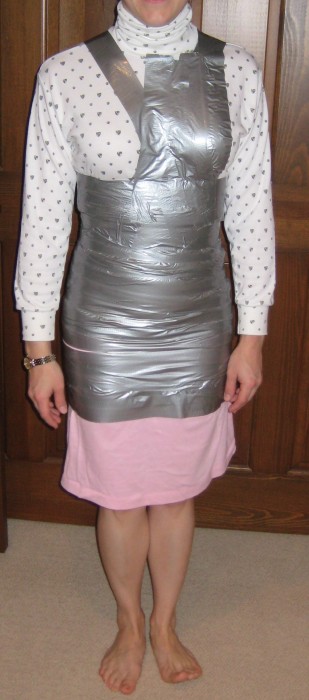 Once the wrapping was done, we cut it off (be careful not to cut your bra strap!) and stuffed it with the combination of an old pillow and fiberfill. Dad traced the bottom and cut a piece of plywood to fit, and mounted it on a pipe. The stand was recycled from a high school award plaque. We cut the pipe so that it would be my height.

Mom's innovation was the addition of the arm. We find that the armscye is typically a tough region to fit (especially if you are from hearty Midwestern stock like me!) She has sewed for me since we made this, and she said that it really increased her confidence. And, a shirt she made recently proved the usefulness-it fit perfectly!
We also did one for mom (these are also a big help when sewing for yourself!)  We realized each has its own personality, so we named mine "Rhonda", and hers "Lulu"!
Posted on October 26th, 2008 by maitreya. Filed under Jewelry, Sewing/Fabric Crafts, Uncategorized.
I only finally got around to visiting the Kinokuniya bookstore in Seattle. Some nice reader had sent me a photo a long time ago of the craft section of the store, which had a sign advertising Crafting Japanese. It's still up! In giant letters! And they were having a 10% off everything sale! So I got a few new books, including some really awesome felt books.
This felt cuff is from ISBN 9784579111152, and is also inspired by the final collection of Project Runway winner Leanne. I liked her all along, so I was happy to see her win. My first attempt at handsewing the aqua wavey-pom thingy was a miserable failure. I wasn't even going to reattempt it, but Amy and Becket are visiting this week and helped me figure out v2: machine + handsew, with fewer layers, which worked way better. The thick cream felt is a scrap of the piece I got in Japan, last used for the felt sewing box.
The version in the book hooked with buttons and loops, but I used elastic instead. Action shot: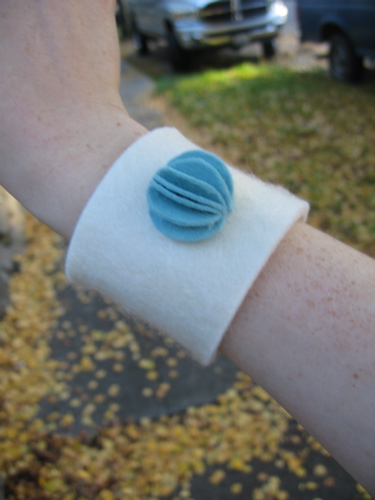 Posted on April 6th, 2008 by maitreya. Filed under Uncategorized.
There was a sketch on SNL last night where Christopher Walken put googly eyes on all his plants (sadly, the video's been wiped from YouTube), and it's just aggravating my irrational desire to put google eyes on everything. They even had giant googly eyes for a tree.
Posted on August 6th, 2007 by becket. Filed under Uncategorized.
Hi – this is Becket again. I haven't posted in a while because I recently moved to the SF area. I've been very sad leaving such good friends behind like Maitreya and Amy!! But, between email and Apple iChat (and the blogosphere) I plan to stay connected as ever!
I recently made a baby quilt – this time for my own future baby. I liked the color combo so much on the last quilt I made for a friend at work, that I decided to copy it, but change the overall layout and design. Although this design is more traditional, I'm hoping that the colors and the fabrics give it that much-needed modern edge. Maitreya had the great idea to tie the quilt only on the solid squares. I really like how that looks.
I sewed a long tube of fabric along the back for easy wall-hanging with a wooden dowel. I was thinking of hanging the quilt above the crib. Here I am holding up the quilt proudly in our backyard back East…
Oh, and stay tuned for a post from Maitreya on a BEAUTIFUL quilt she made for my baby – and the really cool technique she used to construct it…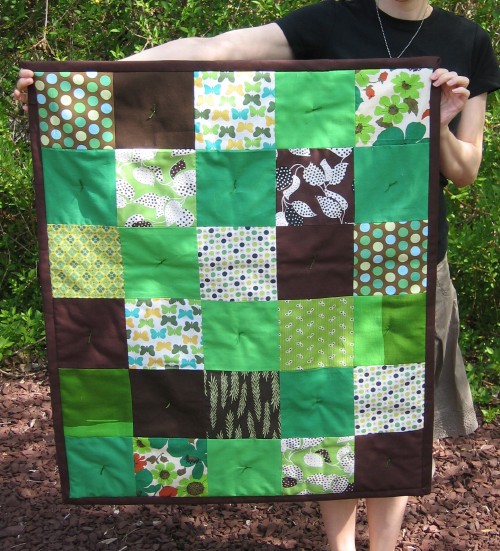 Posted on March 18th, 2007 by maitreya. Filed under Uncategorized.
I got a charm pack of the cool new moda line. So I've been staring at these 5-inch squares trying to figure out what they might be good for. Little things. Piecework things. The pattern is from a Japanese craft book, which I am of course again too lazy to go look up right now. Interfaced for a little more structure, and the stupid binding is even put on correctly, with handstitching to finish and everything (only because my first attempt at doing it the wrong way looked awful, I'm not usually so virtuous, haha). Anyway, I think I see some yardage for the mums and the paint by number in my future…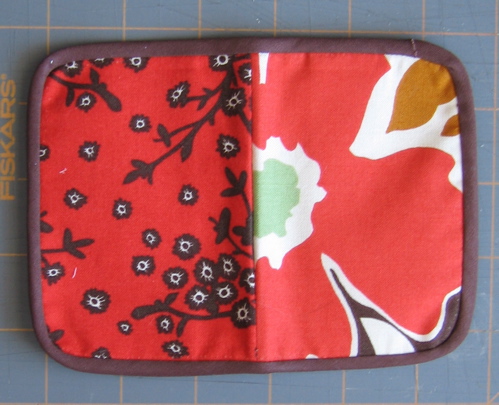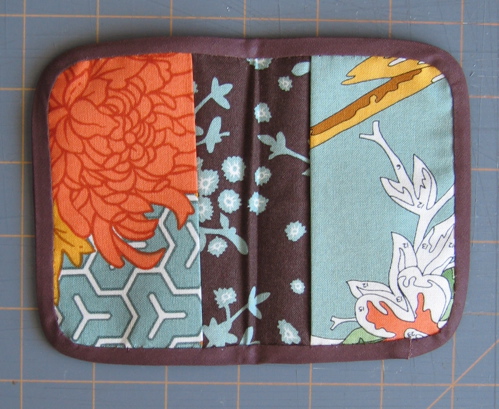 email
maitreya[@]craftlog[.]org
books I'm in
Pinterest
Categories
Blogroll
Archives
creative commons
craftlog is under a
Creative Commons
Attribution Noncommercial
license
. That means that you are all welcome to take and repost my photos, replicate my projects, remix my ideas, whatever you want as long as you give attribution (a link is fine) and it's noncommercial. Thanks!