Archive for the 'Crochet' Category
Posted on October 20th, 2013 by maitreya. Filed under Crafty Links, Crochet.
Oh hi.  I'm going to start craftlogging again.  Started to miss the place.
I'm working on a crochet project, and came across these two very pleasing crochet tricks to eliminate the ugly joins in crochet motifs.
1.  Get rid of the chains that make the first double crochet of a round!
2. Join the rounds perfectly instead of with a slip stitch!  (I use a crochet hook to pull through the relevant loops instead of bothering with a tapestry needle.)
Posted on January 7th, 2012 by maitreya. Filed under Crochet.
On vacation over the new year's weekend, I tried this crochet circle-in-a-hexagon pattern from the book Crochet Adorned as a possible coaster design.  The idea being to make a few different color hexagons that you could arrange into a pattern on a table.  In this yarn, it's a little too big, though, and maybe more appropriate as a trivet or plant pot pad.  It's an interesting pattern where you crochet into the spaces between the stitches instead of like normal.  Gives it a little more heft and makes the rounds blend in a little more.
Comments Off

on crochet motif
Posted on December 23rd, 2011 by maitreya. Filed under Crafty Review, Crochet.
I got a free review copy of Crochet Stitches: Visual Encyclopedia by Robyn Chachula, which was very timely because I'd lately been looking to buy a crochet stitch pattern book.  It's a nice book, with a good variety of stitches, motifs, and edgings.  Each pattern includes a photo of it worked up.  The  photos are ok, though some of the color combinations are pretty terrible.  The instructions are presented as written directions and stitch diagrams.  I always find having both to consult is very helpful.  There's a section that describes each of the stitch types, which is the only part of the book I would have liked more detail and illustrations.  I can never remember exactly how stitching around posts works, for example, and I wasn't able to get it right from the book alone.  Because of this, the book makes a good companion for a more introductory stitch guide (or the internet).
I modified the balloon stitch pattern in the book to make a quick/easy/cute cowl for my sister.  The pattern calls for 5 stitch bobbles, which were too big in the bulky yarn I used, so I reduced them to 3.
Yarn is the new Martha Stewart roving wool yarn.  It might just be my favorite yarn I've ever worked with.  Bulky so it works up fast, but good stitch definition and easy to crochet with.  Very soft, especially for wool, and the colors are pretty too.  The cowl took three balls.  Instead of being sewed up at the ends, it fastens with two big buttons that slip through the stitches easily, which makes it adjustable.
It worked up crazy quick, just 2 days, and would have been even quicker if I hadn't needed to go pick up more yarn.
Comments Off

on last minute crochet cowl
Posted on November 25th, 2011 by maitreya. Filed under Crochet, Holiday.
I bought a wreath form on a whim the other day.  I like the look of the yarn-wrapped wreaths that are everywhere, and decided to crochet around instead to make a braided look for the edge.  I used the bulkiest yarn I could find (Hometown USA from Lion in Monterey Lime) and my trusty Crystalites N hook.  Even with the fat yarn, some of the form peeked through, so I ended up going back and painting the whole thing with a coat of matching craft paint.  This tutorial from Goodknits was helpful if you have trouble crocheting around the wreathform.  I used a tutorial from Sarah London for a seamless join to finish it.
The flowers are rolled spirals, also rampant in blogland right now (here's one of the millions of tutorials).  I didn't have any cream felt, so used quilt batting instead.  It worked surprisingly well.  There are a couple of ones made from cork coasters in there as well.  I like the look of the cork, but it did crack a little if rolled up too tight.  The cork ones are held together with a pin to supplement the hot glue attaching them to the wreath.
The leaves are cork and thick felt (not quite as dark green as they look in the photo).
Hung with monofilament using a pretty great trick I saw somewhere: put one of those removable sticky hooks upside down on the back of the door and drape the string over.
Now off to get our tree!
Posted on August 12th, 2011 by maitreya. Filed under Crochet.
I think I underestimated how long it would take me to crochet a baby blanket.  With the due date impending, I figured I finally had to just finish it off, even if it's on the small side.  I do like how it turned out.
I posted about the squares earlier.  You can see the connect-as-you-go joins in the zoom.
I'm sure there are other methods of joining the squares that might lead to a cleaner edge, but I'm reasonably satisfied, and it sure helped in getting the thing done.
Once I had the 20 squares done and joined, I crocheted two rounds of the granny clusters around the whole thing to unify it.  This tutorial on making a flat edging was very helpful, and I found that a second round was essential for making the bridge clusters really blend in.
For the border, I initially wasted a bunch of time trying to find a good granny square scallop edging pattern on the internet, and then realized, this isn't rocket science.  I can figure it out myself.  I messed around with stitch length + number until I settled on a 5 triple crochet shell in every other space, joined with a slip stitch in the intervening spaces.  The corners are funny little nubs, but I like them: slip stitch, double crochet, three triple crochet, double crochet, slip stitch, then on to the next shell.  This of course works for the number of spaces and the start position I had on this blanket, so ymmv.
Since I'd been crocheting over yarn ends as I went, I only ended up with a few ends to weave in (the other finishing job that tends to slow me down).  I am slightly worried about how the construction will hold up to washing and use.  And if I'd thought twice about it at the beginning, I probably shouldn't have chosen off-white for a baby blanket, but oh well.
Posted on May 30th, 2011 by maitreya. Filed under Crochet, Experiments, Martha.
I whipped up a couple of test squares for a baby blanket project I'm contemplating.  Lion Cotton on sale in Natural, Seaspray, and Paprika.  Left side a G hook and right side an I, which was definitely easier to wrangle.  I don't know how they expect you to use the F hook recommended on the package.  I also added an extra round of Natural on the right.
The pattern on the left is from the Martha Stewart directions, from which I first learned to crochet lo these many years ago.  In fact, the (inverted) color scheme is from a project in the same article, which I was reminded of after someone pinned this photo on Pinterest.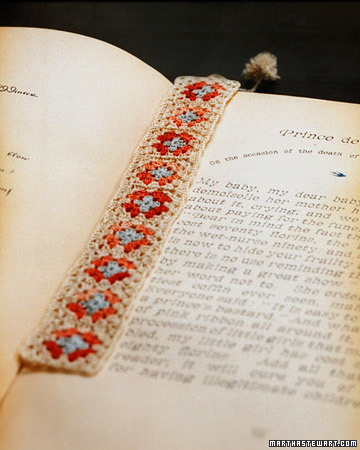 I still have a couple of tiny thread grannies I crocheted before I lost interest.  Wonder what else I could do with them?
I also consulted the instructions from Purl and kind of used a consensus pattern for the version on the right.  Variables tested (left vs right): turn between rounds, don't turn; no chain between clusters, chain 1 between clusters.  Not a huge difference, but I think I'm going to stick with the version on the right.
Attic24 has a nice tutorial for joining squares as you go.  Finishing is my baby blanket Achilles heel, so this is very appealing.
Posted on February 14th, 2011 by maitreya. Filed under Crochet, Holiday.
Happy Valentine's Day!
This is part of a treasure trove of crochet and embroidery from my great grandma and various great aunts.
Comments Off

on crochet heart
Posted on January 31st, 2011 by maitreya. Filed under Crochet, Experiments.
This wonderful valentine of sorts by A Foothill Home Companion got me wanting to crochet the edge of something.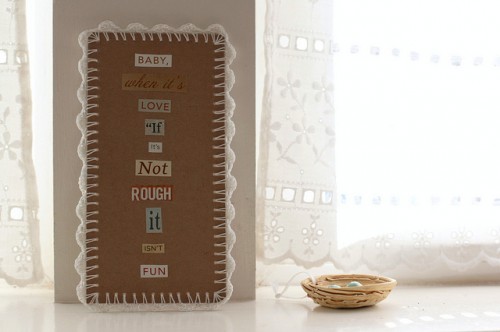 Searching around for ideas also brought up these cute tags from etsy seller sosorosey.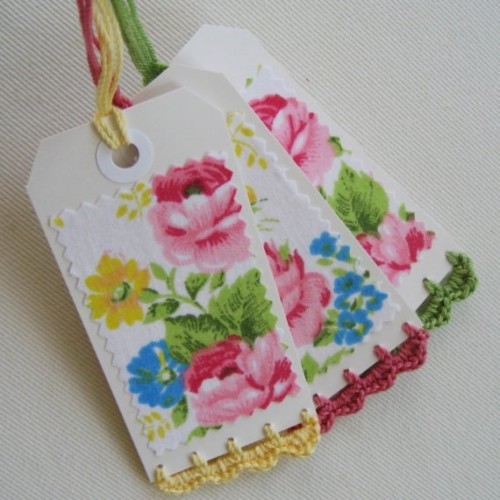 I decided to crochet a frame for a little Jen Corace print I bought a while back.  I don't want to mess it up, so I did a test first on cardstock.  First I tried punching holes with a tiny hole punch, but it looked terrible.  Maybe with bigger yarn it would work.
I ended up using this tutorial for edging pillowcases by You Go Girl.  The key is to blanket stitch around the edge first, through holes I pre-stabbed with a big needle.  I also tried chain-stitching, using a tiny hook to pull the loop through the card and a bigger hook to do the rest, but that was maddening and I had a hard time keeping it all even.
Once I decided on a pattern and a basic approach, I had the bright idea that I could use the test swatch as a bookmark so I should make it pretty by fusing a piece of fabric to the cardstock.  This also conveniently covered up my measurement marks to guide the hole-punching.  They're punched a quarter inch from the edge, a half inch apart, which actually works quite well with the pattern.  I used plain cotton 6 strand embroidery thread, and a 2.35 mm hook.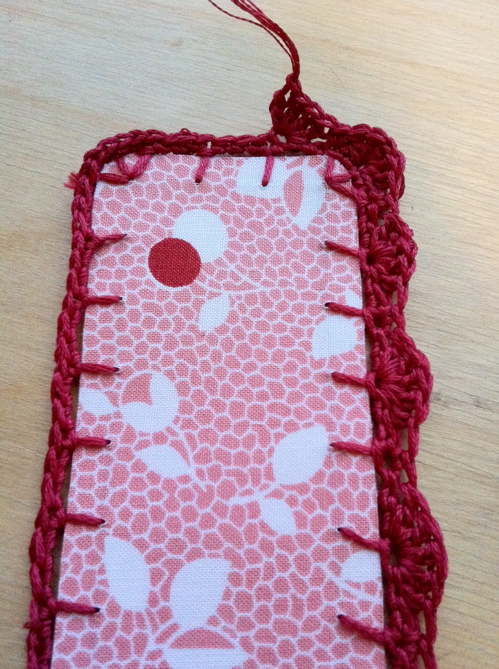 OK, not bad, but a few things went wrong here.  Miscalculation #1 is that I always forget how much thread crochet uses, so I ran out.  Miscalculation #2 is the blanket stitch "stems" go a little too far into the interior for my taste, which serves to emphasize how uneven they are.  I think the paper would be plenty strong to go just 1/8 inch from the edge.  Miscalculation #3, the corners.  The way the waves work, every other hole is worked as a shell, alternating with single crochets.  I also used the shell to turn the corner.  That means there needs to be an odd number of spaces between corners.  Whoops.  I also should have thrown in a couple of chains to help it lay flat around the corner.
So the bookmark didn't work, but it was a good learning experience and I can tell it will eventually work.  I think I may play with some other borders before I hit the real thing.
Posted on January 4th, 2011 by maitreya. Filed under Crochet.
Here's a post from the wayback files: I wrote the draft in 2007!  I have a bad habit of forgetting to take pictures of gifts I've made.  I was at my sister's house over Christmas and got a chance to take an action shot for this poor forsaken post.
Back in September I made a post complaining about my inability to knit a chevron scarf. Well who needs knitting anyway! Crochet was made for ripples. This has been my airplane project, with a plastic hook since I got a metal one confiscated by security this summer :( It's made with a self-striping sock yarn, gotten back when I had delusions of knitting socks. I started with a basic ripple pattern from an old crochet pattern book from the library and modified it to end on a half repeat to better match the dye spacing of the yarn. It's not perfectly even stripes, but it was a hell of a lot easier than changing yarns. Anyway, it's for my sister.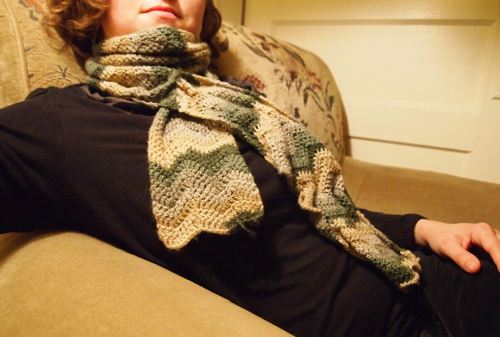 Posted on March 18th, 2010 by maitreya. Filed under Crochet.
I have gotten into a really bad habit of being on the computer all the time.  I've cut down some the last couple of weeks, but my new brilliant idea is to replace one habit with another.  That makes sense, right?  The habit has to be mindless, like the internet, and compatible with TV-watching.  So I'm going to crochet an afghan.  I very specifically remember a zigzag afghan my grandma crocheted, so I'm going to make a ripple one to remind me of her.  I'm using Attic24's tutorial since it seems to be a blog favorite and has nice gentle, even ripples.  Last night, I went through the entire ripple-along archives to get ideas for color combinations.  (Ha, it appears that having a cat in your photo predisposes me to like to color scheme.)  This one in kind of southwest colors was my favorite, but I had no luck at 2 yarn stores finding a similar palette.  Or, I should say, yarn I was willing to pay that much for.  Good lord yarn is expensive.
I like the subtlety of this one.  In fact, it's a little too subtle.  This vintage one is getting closer; it's got the brown ombre going on, but also a lot of great color to balance it.  Again, I wasn't able to find a good set of yarns.  This one and this other one have kind of similar themes, and that settled it:  grays with a tomato red accent.  I've also been obsessed with tomato soup this week so I've got that color on the brain :P
You can see the cat approves.  I'm using Lion Wool-Ease because it's 1. cheap (and on sale today, it so happened) 2. unlikely to be discontinued in the zillion years it will take me to finish this project 3. good colors 4. wool/acrylic blend, so it balances the scratchy with the squeaky 5. worsted weight so it's not too thick but progress should be reasonable 6. seems to hold together well so it won't be a pain to crochet.
I'm swatching now!
email
maitreya[@]craftlog[.]org
books I'm in
Pinterest
Categories
Blogroll
Archives
creative commons
craftlog is under a
Creative Commons
Attribution Noncommercial
license
. That means that you are all welcome to take and repost my photos, replicate my projects, remix my ideas, whatever you want as long as you give attribution (a link is fine) and it's noncommercial. Thanks!