Archive for the 'Crochet' Category
Posted on August 22nd, 2009 by maitreya. Filed under Crochet, Jewelry.
I've been admiring the crochet jewelry from Wren Handmade for a while now, so I was really excited to see her pattern for a crochet bracelet on the Purl Bee.  Had to make it right away!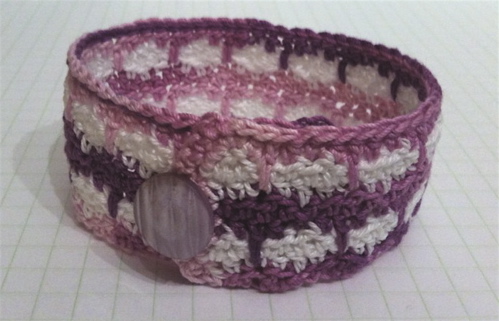 I think my sister-in-law gave me the fun variegated purple crochet thread way back when.  Button from who knows where.
The pattern was easy to follow, and now I'm thinking up what other stitch patterns might make fun bracelets.
Posted on January 25th, 2009 by maitreya. Filed under Crochet, Wants.
I got some cute pink yarn at the thrift store yesterday and thought I might as well see what it would look like on the coaster prototype.  Still meh.  Besides being too chunky, the seam where the rounds join is really bad.  I think it's worse because I didn't turn between rounds (as futuregirl's seamless crochet tutorial advises), but I'm not sure there's a way around the 2-chains-don't-really-look-like-a-double-crochet problem.  I do like the pink rim enough to try again, at least, with a lacier pattern.  Besides this color, I also got a ball of a coordinating light pink, so the imaginary set would be a few of each.
Other thrift scores: red gingham apron with chicken scratch embroidery, one elbow-length lace glove, giant piece of orange linen, home dec-weight fabric in a great geometric pattern, baby sweater with tiny knitted reindeer trim, faux cross stitch dishtowel, giant piece of cream waffle-weave, yard of dark denim.
Thing I didn't get that was the whole reason for going to the thrift store: hotplate for encaustics.
Posted on January 18th, 2009 by maitreya. Filed under Crafty Review, Crochet, Experiments.
I really like these crochet coasters that Yvestown made.  Cozy Crochet (by Melissa Leapman) has a coaster pattern, and I have a stockpile of white cotton yarn my sister-in-law gave me, so should be an easy project, right?  The coaster does crochet up pretty much as advertised, but it is not very pretty.  I like the little bit of lacyness to the Yvestown ones and the CC one is more solid.  Hmmm, first sign project is not going as planned.
Next, add in my brilliant idea to try to Kool Aid dye the yarn for the colorful edges.  I know, I know, everybody on the web says Kool Aid doesn't work on non-animal fibers, but Biscuits and Jam did a very scientific study of tropical punch Kool Aid on cotton and had some success.  And my grandma's couch had a red Kool Aid stain on it for like at least a decade, so that's a good sign, right?  Well, let's just say I was unable to replicate those results.  fwiw, I strongly suspect red Kool Aid is probably stainy-er than the random green and blue packets I had leftover from my last experiments.
Well, at least the house smells nice. :/
Comments Off

on failed coaster experiment
Posted on December 28th, 2008 by maitreya. Filed under Crochet.
Present for my brother-in-law. It's a super soft yarn I got either from my sister or my sister-in-law, I can't remember.  Very nice to crochet with.  For a change of pace, and since my crochet edges are rarely very even, as you can see in the picture, I did it long-ways, just doing a random assortment of the basic stitches to make stripes of various widths.  It's long enough to wrap around a few times.
I've almost made scarves for the entire family now, though my other sister and her fiance don't need them what with the living in Miami and all.  I guess I'll have to start on my sisters-in-law and their families next.
Comments Off

on random crochet scarf
Posted on August 29th, 2006 by maitreya. Filed under Crochet.
I'm wedding hopping/on vacation this week, so lots of airplane crafting. One cross country flight = one crochet dishcloth. I wanted to try out some new crochet stitches in anticipation of making a scarf or something, so I got the Vogue crochet stitch dictionary out of the library. If this pattern is any indication, I wouldn't recommend it. It was overly complicated and poorly written. About 3 rows in I figured out a much easier way to do it. This one was made with peaches and cream cotton yarn. If anybody's interested, I can write up a little pattern.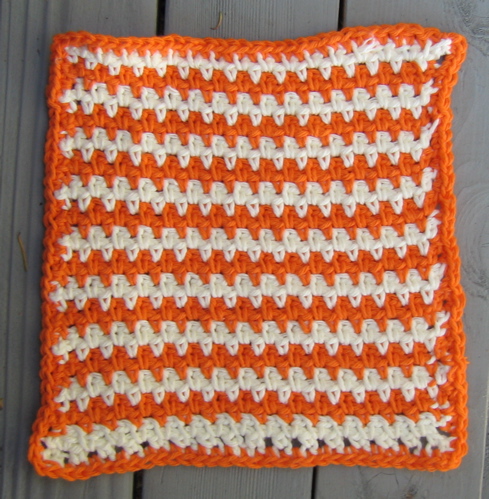 Posted on August 19th, 2006 by maitreya. Filed under Crochet.
This crochet clutch is the "in bloom" pattern by india romeo in the Happy Hooker. The wool brooch on it is from sparrow goods. The lining fabric is in the background. I'm pretty happy with it, and it was way easy. I love this pink acrylic yarn my sister got me. It's been in at least 4 projects by now, I think. It actually squeaks when you crochet with it.
Posted on February 18th, 2006 by maitreya. Filed under Crochet.
I've been meaning to make the mumsy pattern from an old issue of Crochet Me, and the olympics is perfect crochet time. Plus, who doesn't need something pink to pin to her coat when it's so cold outside?
I'm disappointed with the pattern, though. I had a hard time with it and ended up just more or less following it. The back round of petals in particular doesn't seem right. I'm not even posting my first attempt, where I tried this really soft slightly furry reddish-orange yarn my sister got me for Christmas. It ended up looking like something one of my cats would cough up. Ick. This pink acrylic was definitely easier to work with, and the end result is passable, but I have a feeling I'm not going to wear it for very long before I make something else.
Posted on December 12th, 2005 by maitreya. Filed under Crochet, Holiday.
Advent day 11: crochet
I've done enough amigurumi now to make up stuff. I did most of this snowman on the train ride from Boston yesterday. He's about 2 inches tall, done with crochet thread.
Posted on October 31st, 2005 by maitreya. Filed under Crochet.
From the same book as the blue bunny, here's a little bear for my nephew. He's teeny, about 2 inches tall. That's because I made him with a #1 hook and #5 perle cotton. I'm really happy with the perle cotton. It was easy to work with, comes in all sorts of colors, and I didn't even use an entire skein of any of them. The Bad Kitten keeps trying to steal him, so he's living on the bookshelf at the moment.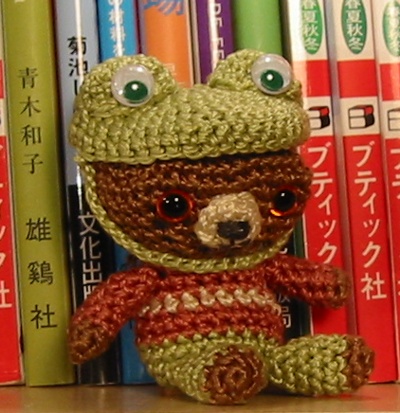 Posted on August 3rd, 2005 by maitreya. Filed under Crochet.
I finally broke down and bought an amigurumi book, from Atelier Jade. With the shipping, it was less than $10, although it's a pretty small book. Good directions though, including a clever way to get a tight first round. I'm too lazy to scan it in tonight, so I'll leave the ISBN etc for later.
This is a bunny, which my husband thinks looks like an alien (he even pantomimed it bursting from his chest). It's made from crochet thread and is maybe 5 inches tall including his ears, with some rice in the body so it'll sit up.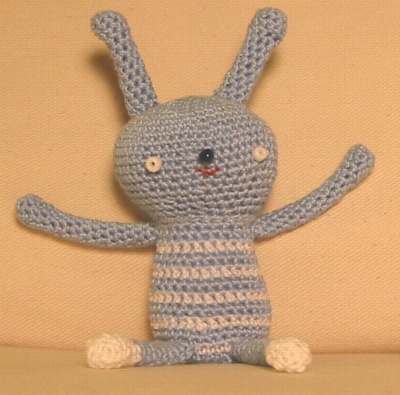 Not too shabby for my first try. How sad is it that the pattern was easier to follow than most English crochet patterns? Granted, it's a simple technique, just single crochet in a spiral with increases and decreases. Must remember to get some eyes for my next attempt.
email
maitreya[@]craftlog[.]org
books I'm in
Pinterest
Categories
Blogroll
Archives
creative commons
craftlog is under a
Creative Commons
Attribution Noncommercial
license
. That means that you are all welcome to take and repost my photos, replicate my projects, remix my ideas, whatever you want as long as you give attribution (a link is fine) and it's noncommercial. Thanks!