Archive for the 'Toys (cat and kid)' Category
We're home for Thanksgiving weekend, so it seemed like an ideal time to get some crafting in.  This is a present for my friend's new daughter.  It came together pretty quickly (well, after I spent 3 hours cleaning my craft room to uncover a surface to work on!)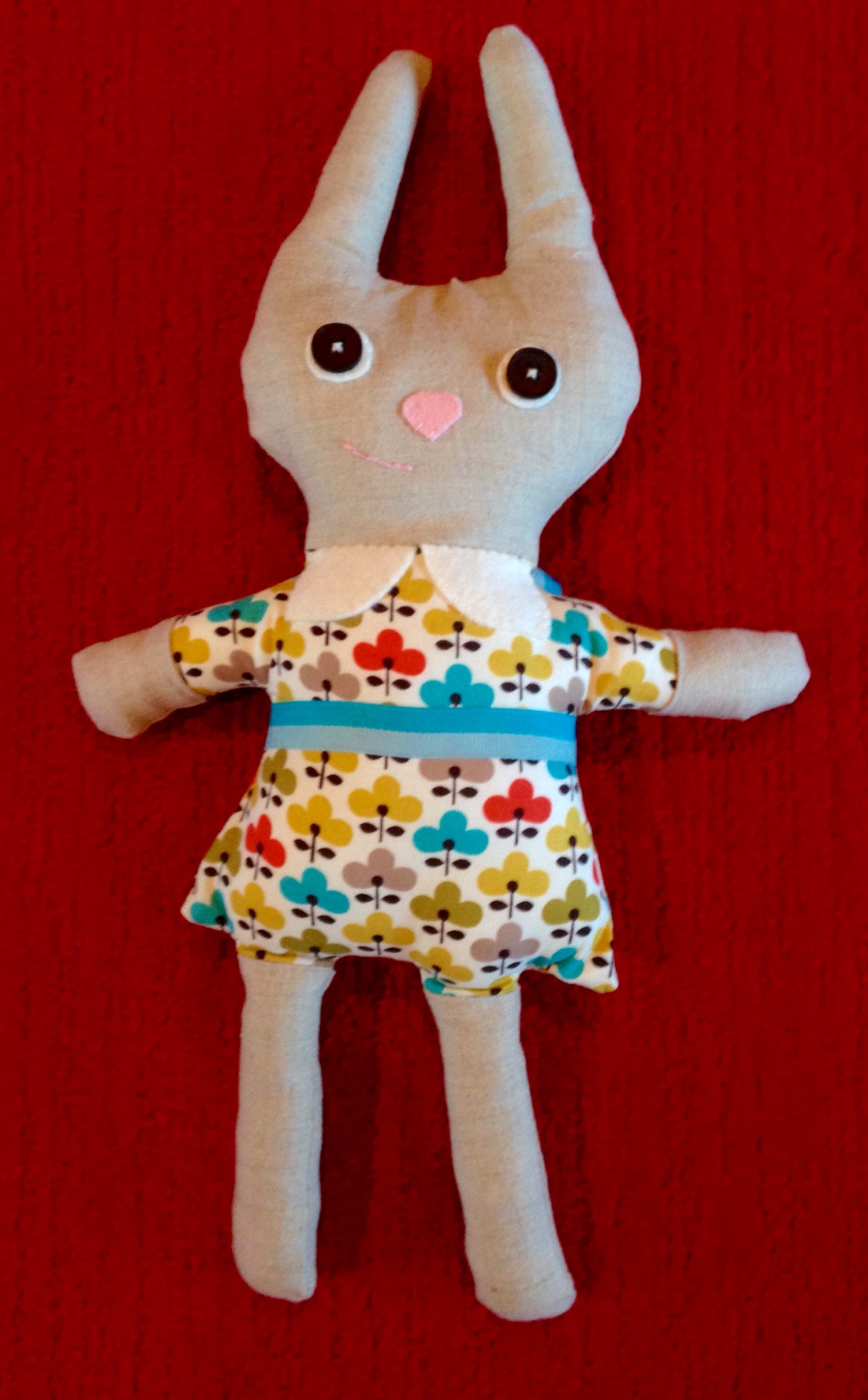 I've now made each of the animals in the Wee Wonderfuls booklet (see previous bear and kitty), yay!  It's been a while, so it's a little painfully handmade looking, but that's the charm, right?
Comments Off

on Wee Wonderfuls bunny
My ~27 lb monster cat, El Chupacabra, likes to hang out on the bench by the window and get all agitated watching the birds in the yard.  I'd inadvertently left Becket's new baby quilt there after a photoshoot and he seemed to really like laying on it.  Since I made my other cat, Beckett (yes, I know the names are confusing), a sleeping pillow, it seems only fair that Chupa should get one too.
The fabric is from Urban Outfitters sale rack (see previous bag), plus a little embroidery to liven things up.  It's filled with 3 layers of quilt batting and then tufted with tied embroidery thread.
Astonishingly, he seems to like it!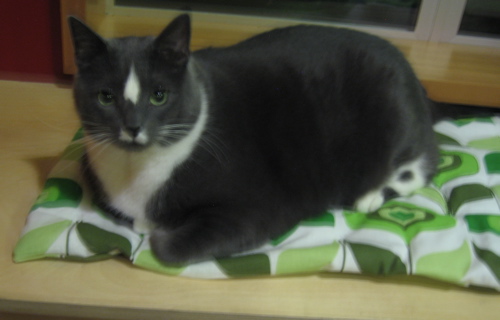 For anyone else thinking of making print-out dolls like the ones in Parasol craft or my last post, I thought I'd post a little comparison of Bubble-jet-set vs iron on. I made two dolls using the exact same pattern and fabrics, but the left one was printed directly on bubble-jet-set-treated fabric, and the one on the right was ironed on to the fabric.  For both, the backing fabric was a patterned cotton (the instructions come with a printable backing pattern that matches the dresses, but I didn't have enough iron ons or treated fabric to use it).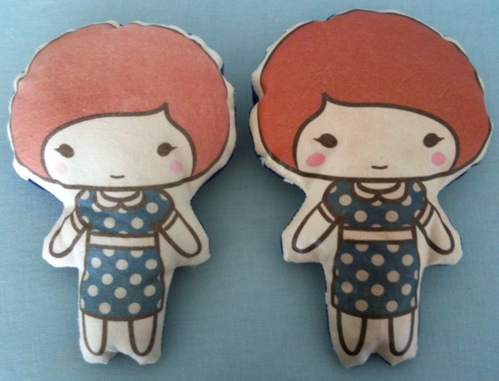 | | | |
| --- | --- | --- |
| | Bubble Jet set | iron-on |
| finish | matte | shiny |
| feel | soft | plasticy |
| ease of sewing | easy | slightly tricky (especially by hand) |
| color | washed out | saturated |
| stuffing | more uniformly plump | seems lumpier |
| seam allowances | be more generous | stronger and narrower, but stiffer |
| technical difficulties | printer might jam | easy to iron on unevenly |
I think the slight advantage goes to the iron ons for this project. I kind of like the plastic finish; they seem like vinyl toys or something. The color saturation is also really obviously superior for the iron-on.
I think it's a toss up which one will stand up better to real life child use. The iron on will eventually crack, no doubt, but I don't know if the bubble-jet-set will fade or bleed over time.
I would be willing to bet that digitally printed fabric wins hands down, though, (for doll patterns you designed yourself, anyway).  True Up has a great comparison of the quality of the different services available
We got a new cardboard scratcher for the cats, and it came with a packet of catnip.  I always forget how crazy they go for it.  Since I already had the machine out, I sewed up some little catnip packets for them to play with.  Originally I just made one, but then they started fighting over it (or rather, the giant cat was being a big bully), so I made another one.  The dense wool+double-zigzagged seams are secure enough that no catnip has escaped yet, and so far they're holding up to the biting.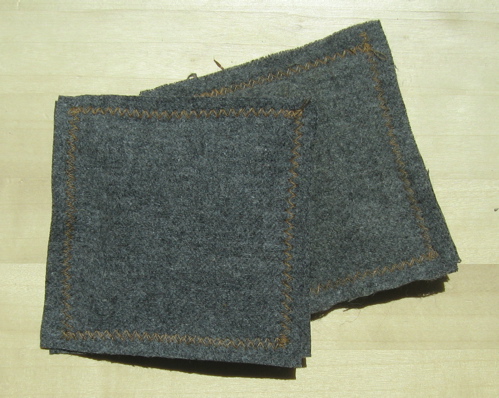 Comments Off

on cat sachets
I had this idea yesterday in lab and was instantly seized by a crazed need to make it. A bout of insomnia last night really helped move production along too. It's for a baby shower next week; what to make for the child of a computer scientist and a bioinformaticist? A toy computer of course, lol. I chose the old school Mac design because 1. I'm an Apple fangirl 2. we had a whole lab of these (can't remember if they were originals, plusses, or SEs) when I was in junior high, so they hold some nostalgia value for me (because, as usual, my crafted gifts are at least 50% about me me me), and 3. I am lazy and didn't feel like making a separate monitor and CPU. I kind of wish I'd put a smily face on the screen instead of the applique apple logo, but not enough to go back and redo it.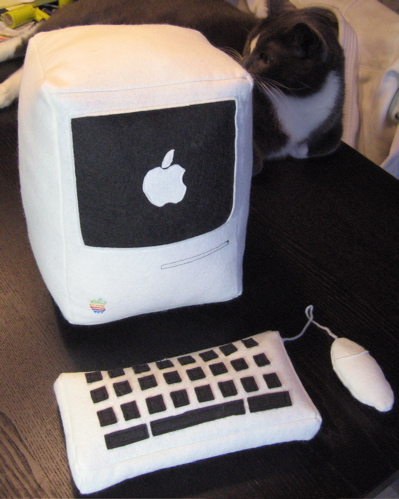 The obligatory rainbow logo is hand embroidered.
I made the pattern up as I went along, so I'm super happy/pleasantly surprised that it looks like it did in my head.
Check it: plush PC with Windows Vista. There are a bunch of stuffed wii's too, and this insane nintendo system with velcro screens to switch games. Is it bad that I have a design for a macbook on the brain now?
Oh, and just because the chupa would not leave the thing alone he deserves to be lolcatted: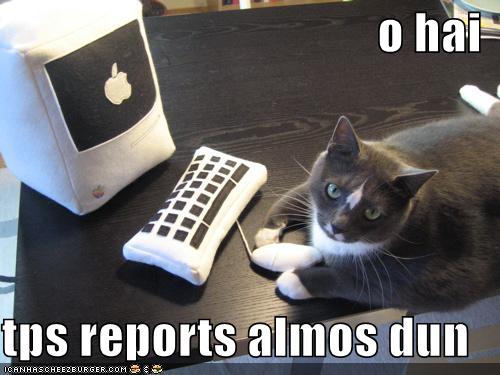 Hello there – Amy here. I made these Denyse Schmidt kitties for Becket's baby shower: Papa, Mama, and Baby, from the "Steve" pattern.
Baby kitten was 1/3 smaller than Papa and Mama and made of a lovely wool felt contributed by Maitreya. Turning those arms and legs from felt was a bit tough!! You might recognize Papa's ears and tummy from other Craftlog projects, a piece of material Becket used in her very first sewing project, which also made an appearance in the Baby Shower Pocket Quilt. Other trimmings came from Maitreya's terrific collection, and from one of my excursions to MJ Trimmings. The button eyes were from The Great Philadelphia Button Haul (and mean that these kitties are shelf toys rather than for baby).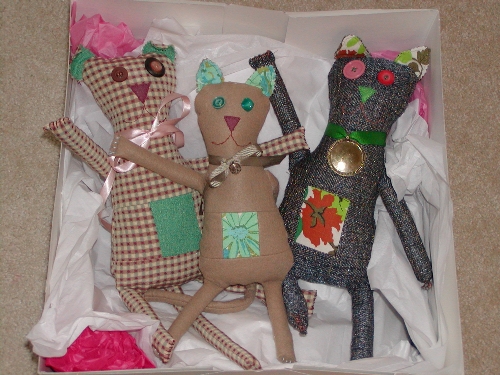 When I was putting away all the Xmas decorations today, I realized that I never posted a few crafts from when my family visited.
First one, I made everybody a tiny stocking with their name on it. I found a stocking template on the Martha Stewart website somewhere, added the name with a graphics program, and printed it out directly onto some slubby cotton ironed to freezer paper. I didn't bother with the bubble jet set stuff since these (presumably) won't get wet. Zigzagged the tops to catch the hanger, then zigzagged around the edge, following the printed-on outline. Cut it out, repeat 7 more times. They turned out a little more country-cute than I'd envisioned, but I still like them ok.
Radha and I just had to get this set of iron-together-plastic-beads-thing when we were out shopping one day. This is one of those kids crafts we somehow avoided up to now. Ariel made a pretty good portrait of my cat.
By the way, my new year's resolution is to be more productive, one prong of which is to stop wasting so much time on the internet. I just cut my blog reads list by about half, so we'll see if that lasts and/or makes any difference. For anybody curious, I'm using Getting Things Done because 1. it turns out that I already do some of their tricks, and 2. GTD has a huge online following. I think if I turn fangirl, that might help me adopt it and maintain it. Anyway, we'll see. Hey, maybe I'll even get more crafting done. :)
Becket got me the Softies book for my birthday, so it seemed only fair to make her daughter a toy from it for Christmas. I couldn't decide between the funny whale and the treeling, so I had Mark break the tie. The pattern is by the great littleoddforest, and you can also get it for free from the Craft podcast. I think it turned out great, and it was fun to make. Pulling all the leaf topthreads through to the back and tying them in knots took a while, but I was watching my early present from Mark, the Twin Peaks Gold Box, anyway and needed something to justify watching one… more… episode.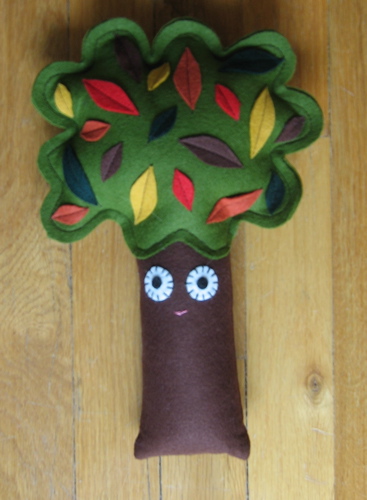 After making the car, Ellen decided to make something for herself and picked out the sheep pattern from the Aranzi Aranzo book. Coincidentally, I made a sheep from this pattern for Karl a couple of years ago (in fact, the "wool" on both is from the same recycled shirt). Turns out that he was named Woof Woof and deemed a dog. LOL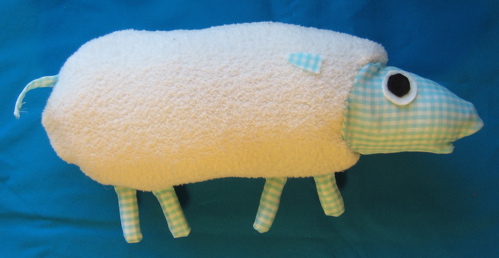 Mark's sister and her family were visiting this weekend, and my niece Ellen asked if we could make a stuffed toy for her brother. I gave her all my Aranzi Aranzo books to look through, and she picked out the car pattern, since Karl loves cars. She did almost everything: picked out the fabric, traced the pattern, cut out the pieces, did most of the sewing, stuffed it, glued on the wheels and eyes, and drew the smile. Isn't it just great? And kid's got some good taste in fabric: went right for the Denyse Schmidt.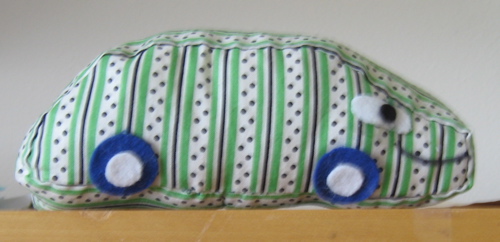 ps. The wheels and pupils were cut from felt with craft punches, using Moonstitches's clever trick of sandwiching the felt between 2 scraps of paper. Worked like a charm and made me wish I had more punches. :)
email
maitreya[@]craftlog[.]org
books I'm in
Pinterest
Categories
Blogroll
Archives
creative commons
craftlog is under a
Creative Commons
Attribution Noncommercial
license
. That means that you are all welcome to take and repost my photos, replicate my projects, remix my ideas, whatever you want as long as you give attribution (a link is fine) and it's noncommercial. Thanks!