Archive for the 'Holiday' Category
Posted on October 31st, 2011 by maitreya. Filed under Holiday.
My one jack o'lantern pumpkin was pretty green when I pulled the vines a couple of weeks ago.  Sitting in the sun for two weeks turned it (mostly) orange, yay.  More orange than last year, anyway.
My pumpkin is also super lumpy.  So I carved it to look like lumpy space princess from Adventure Time.  Oh. My. Glob, you guys.  I love Adventure Time so lumpin' much.
I copied the design from this picture.
Posted on October 26th, 2011 by maitreya. Filed under Holiday.
Ive been in an anti swap mood since my quilt block project turned out so badly: I only got 2 blocks back for the 9 I made for others, boo. The two I got were pretty great, though, so there's that. I did a graph paper swap with girl for all seasons recently, and it reminded me how fun they can be.
So when I saw the sign up for the 6th year of this ornament swap, I went ahead and did it. Now that gardening is mostly done, I need to get back in the crafting saddle anyway.
Posted on February 14th, 2011 by maitreya. Filed under Crochet, Holiday.
Happy Valentine's Day!
This is part of a treasure trove of crochet and embroidery from my great grandma and various great aunts.
Comments Off

on crochet heart
Posted on December 11th, 2010 by maitreya. Filed under Holiday.
These are cutouts from a piece of Ikea fabric I got on my last visit.  I ironed the first one on to a felt backing + another layer of fabric, but it's still a little on the flimsy side for the antlers.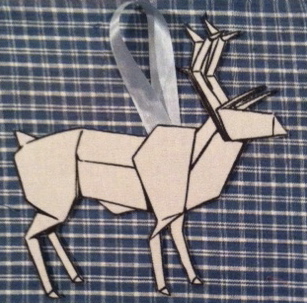 The second two are ironed on to heavy watercolor paper, and they are much sturdier (and easier to cut out).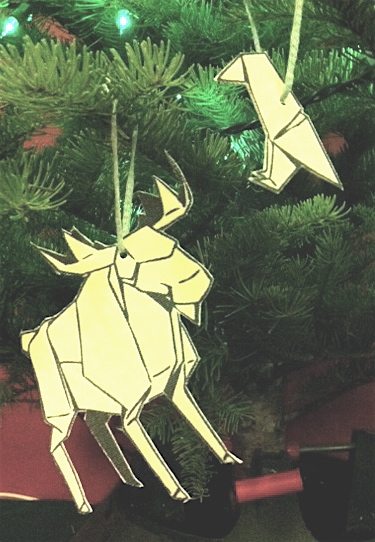 I didn't sign up for any ornament swaps this year, so if you'd be interested in swapping for a couple of these, leave a comment or drop me an email (maitreya@craftlog.org).  I'm planning to make them on demand, so you can even choose which animals you want (deer, moose, wolf, or birds).
Comments Off

on origami fabric ornaments
Posted on December 5th, 2010 by maitreya. Filed under Holiday.
Gift tag idea for this year: clothes pins stamped with names.  The plan is to wrap yarn around the present and then clip these on.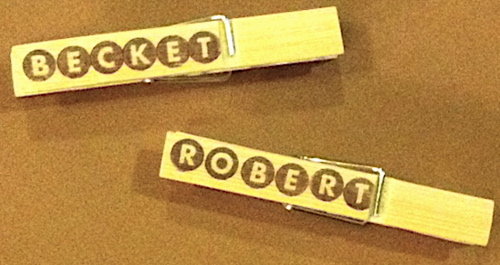 As you can see, 6 letters is the limit, which luckily is only a problem for a couple of people on my list.  I'm using a stamp pad recommended for wood (VersaMagic Multi-surface chalk ink, initially gotten to use on fabric) and it seems to actually work pretty well.  These are bamboo and have a glossier finish relative to normal wood pins, so ymmv.
Posted on December 20th, 2009 by maitreya. Filed under Holiday, Martha.
The Martha Stewart village kit back from the Martha-by-Mail days, finally all assembled, on the mantel.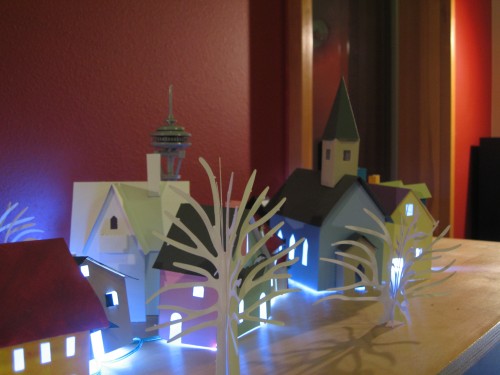 One more house to paint, though.  You can also see our new Lego space needle addition this year, which was a present from Becket.
Posted on December 13th, 2009 by maitreya. Filed under Gocco/L Letterpress, Holiday, Paper Crafts.
Remember the sketched felt pinecone ornaments I made way back when?  You might even have one if you swapped with me.  I decided to see if I could reuse the screen for card-printing this year.  I think 2X is about the lifespan of a Gocco screen, though.  It started blebbing because the screen wasn't pulled as taut where the cardboard frame got wet when I cleaned it after the first use.  They're not bad, though.
I printed onto paper bags.  Even taking only the nicest parts of the bag (no seams, no bad folds), I got 21 prints to the bag!  The craft room is blanketed with them.  I am now envelope-limited, in fact.  About half of them I made like this:
from the pieces of the bag that are blank on both sides.  I'm just writing a note directly on the back of them and sending them as my xmas cards.  The rest were smaller pieces from the sides of the bag, or they have printing on the back, so I'm going to mount them on card stock or something to use as notecards later.
I wanted to use up the dregs of my tube of ink, so I printed a few on other paper I had laying around just for fun.  This Martha Stewart paper is my favorite.
If you'd like to trade cards, email me (maitreya@craftlog.org) and we can swap addresses.  I didn't enter any of the ornament swaps this year, and I'm missing the mail from my imaginary internet friends.  :P
Posted on November 13th, 2009 by maitreya. Filed under Holiday, Paper Crafts.
I am fascinated by the trends that sweep through blogland (I used to do a column for Whip Up called memewatch).  Envelope security linings appears to be one that's been picking up steam for quite a while, and I am not immune to their charms.  Recycling bin diving tonight came up with 7 envelopes of various blue and gray shades.  I added a few other papers (graph paper and origami prints and solids) to bulk it up.
I cut 3.5 inch circles and stiched them down the middle in packs of 4-5, stiched the packs together, then fanned the "pages" out to make a ball.  I left long thread ends to tie in a loop as a hanger.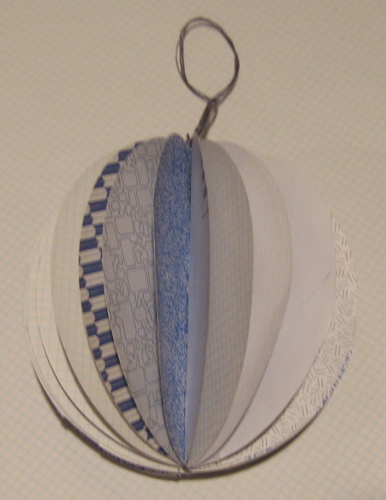 Did I mention that this was difficult to take a good picture of?  Yeah, sorry about that.  Also, what am I doing making xmas crafts before Thanksgiving?  Thanks a lot, Christmas-industrial complex.
Posted on December 24th, 2008 by amy. Filed under Holiday.
I arrived home in Ohio with carry-on luggage only.  A day later, I was met by the box of gifts I shipped ahead.  I didn't do much crafting for gifts this year (though I can't wait to see what Maitreya has made!), but my mom and I really had fun using odds and ends and "recycled" wrap to decorate our packages. I really liked the green and magenta combination we pulled together for the gift bag.  A sprig of "evergreen" stapled to the bag dressed it up.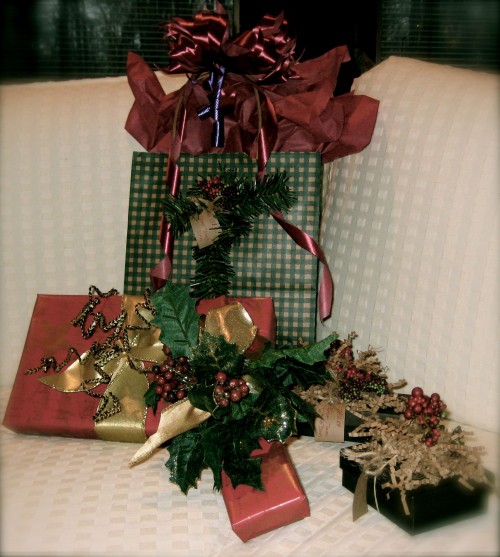 Mom had purchased two lovely Paul Strauch bronze doorbells for family members, they came in pretty chocolate brown boxes too nice to wrap. Instead, we sprunched together some crinkly brown paper shreds (rescued from a package last year) along with a sprig of silk "berries" leftover from last year's Christmas wreath and tied it all with a bit of raffia.
A bit of leftover silk holly brightened up a necklace box, and coordinated with the red and gold paper. This was the last 8 inches of gold ribbon on the roll!
Posted on December 9th, 2008 by maitreya. Filed under Holiday, Paper Crafts.
I'm home sick today, wrapping presents. In thinking about gift tag ideas, I saw the stack of stain samples I've been trying to come up with uses for. They are conveniently blank on the back, and exactly the right size. Punch a hole, thread with a loop of waxed twine, done. I think they're pretty.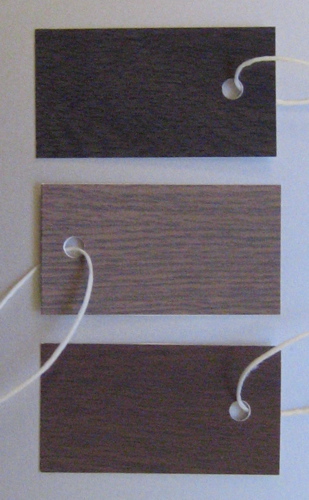 Easy to mass produce too :)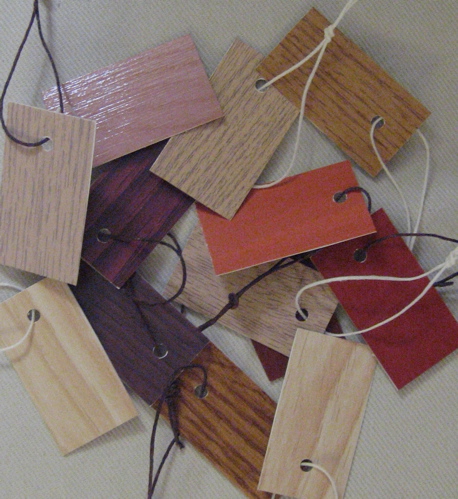 email
maitreya[@]craftlog[.]org
books I'm in
Pinterest
This recipe with white beans is probably my favorite farro salad yet. The creamy beans play a huge role in that, along with the sweet tender leeks and fresh parsley. But it's the chunks of salty, citrusy preserved lemon, a condiment often used in Moroccan cooking, that really takes this salad to the next level.
Categories
Blogroll
Archives
creative commons
craftlog is under a
Creative Commons
Attribution Noncommercial
license
. That means that you are all welcome to take and repost my photos, replicate my projects, remix my ideas, whatever you want as long as you give attribution (a link is fine) and it's noncommercial. Thanks!