Archive for the 'Jewelry' Category
Posted on April 4th, 2018 by maitreya. Filed under Jewelry, Resin.
These ones are kind of silly, but I still like them.  Tiny rubber toys molded in an ice cube tray.  The shark's fin sticking out was a happy accident from them floating a little before the resin set.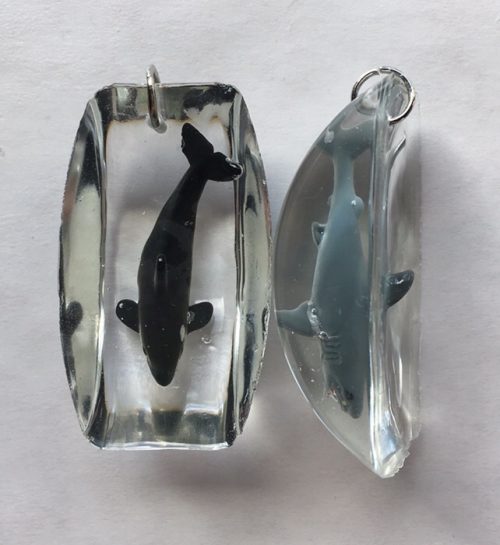 Comments Off

on Under water resin
Posted on March 31st, 2018 by maitreya. Filed under Jewelry, Resin.
More resin. Top row is origami paper molded in a pill box. Bottom row is two silicone ice cube trays.
The wedge ones have a short piece of tubing glued to the top for hanging, like this previous necklace.
Comments Off

on Origami paper resin necklaces
Posted on March 15th, 2018 by maitreya. Filed under Jewelry, Resin.
Snippets from a plastic Ikea placemat, molded in a silicone ice cube tray. Pictured before I drilled holes in the top of each of them.
Comments Off

on Resin tile birds
Posted on March 10th, 2018 by maitreya. Filed under Jewelry, Resin.
More resin necklaces. These are stickers, molded in a paint palette. Shown before I drilled a hole and added a jump ring for hanging.  FYI, the holes are much easier to drill if you flip these flat side up.  I ruined another piece because the dremel slipped on the domed surface.
Comments Off

on Resin planets
Posted on March 8th, 2018 by maitreya. Filed under Jewelry, Resin.
I got a new can of resin, so now the race is on to Embed All The Things before it expires. Set 1: stamps from my childhood stamp collection.
Comments Off

on Resin stamp necklaces
Posted on June 9th, 2011 by maitreya. Filed under Jewelry.
Dismount Creative posted this great idea for using nail polish to make faux enamel jewelry.  I couldn't find any of the metal blanks she used, but the bead store did have these rimmed ones.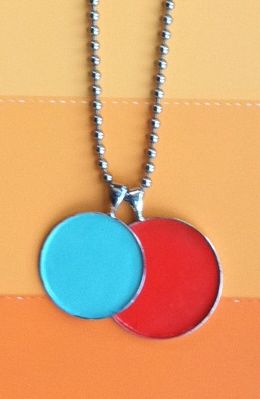 And this interesting faceted charm.
At this point, I was hooked and started looking around the house for more things to paint.  Buttons!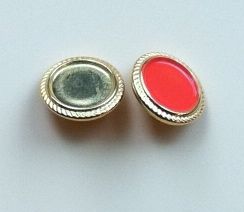 I also attempted to paint a "spangle" (giant sequin-type thing), but it looked awful.
Alisha Louise, I am not, but still, pretty good for nail polish and 50 cent jewelry findings.
Posted on June 6th, 2011 by maitreya. Filed under Jewelry, Martha.
I love this necklace from Martha Stewart's Encyclopedia of Crafts.  New craft goal of collecting disk and leaf charms.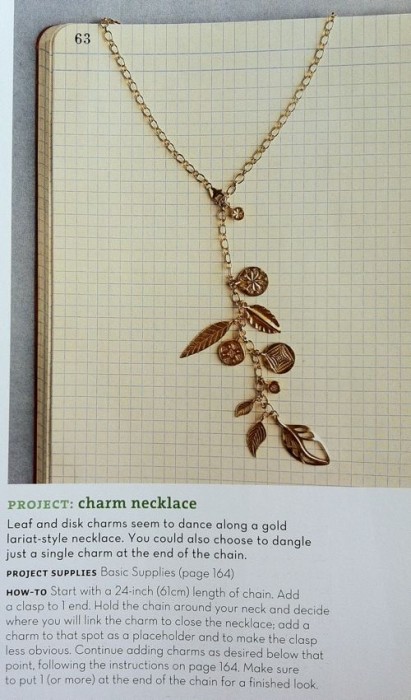 Comments Off

on lariat charm necklace
Posted on May 31st, 2011 by maitreya. Filed under Experiments, Jewelry.
I found this "big friendship band" on Pinterest and was instantly struck with a mania to make one.  The original is only $20 and is sourced by a fair trade group in Bangladesh, so I feel a little bit bad about stealing their idea.  Looking around, there are several other examples of giant friendship bracelets (a rug! genius!)
I had a pack of 4.8 mm piping cord for who knows what forgotten purpose.  I cut it into 4 2.5 yard lengths, tied the ends together, and got to it.  The muscle memory on this is strong.  I didn't even have to look up the knot, and it's been probably 15 years at least since I made one.  It went super fast.

The resulting item is about 15 inches long (not including the tails) and looks completely ridiculous as a bracelet (this is the back, btw).
I'm thinking I might be able to use it as a handle for a bag or something.
Posted on January 17th, 2011 by maitreya. Filed under Jewelry.
My mom does a lot of jewelry-making and has quite a collection of cool beads and supplies.  My sisters and mom and I all made stuff one afternoon while were all home over the holidays.  These are just little plastic flowers, seed beads, and head pins cut to different lengths and twisted into loops, then attached to a jump ring.  I get compliments every time I wear it!
Comments Off

on flower cluster necklace
Posted on April 5th, 2010 by maitreya. Filed under Jewelry.
This is barely a craft, but I did have to drill a hole in the block of wood, so close enough.  New necklaces, one a felt washer I found at the hardware store, and the other a small block of wood from the craft store, strung on waxed linen.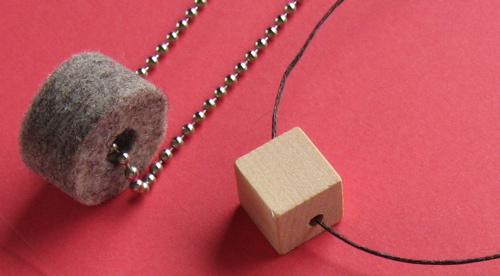 The idea for the wood block one was partly prompted by A Small Collection (e.g. this necklace) and my previous experiments with Dremel+wood jewerly.  I thought about staining it, but I kind of like it au naturale.  Piece of advice for Dremel-ing through a piece this thick: drill ~2/3 through with a big bit, then punch through to the other side with a smaller bit.  Flip over and use the big bit again using the guide from the small bit.  It made it look nice on both sides, and my poor Dremel was unhappy about going more than 2/3 through at a go.
email
maitreya[@]craftlog[.]org
books I'm in
Pinterest
Categories
Blogroll
Archives
creative commons
craftlog is under a
Creative Commons
Attribution Noncommercial
license
. That means that you are all welcome to take and repost my photos, replicate my projects, remix my ideas, whatever you want as long as you give attribution (a link is fine) and it's noncommercial. Thanks!