Archive for the 'Resin' Category
Posted on April 4th, 2018 by maitreya. Filed under Jewelry, Resin.
These ones are kind of silly, but I still like them.  Tiny rubber toys molded in an ice cube tray.  The shark's fin sticking out was a happy accident from them floating a little before the resin set.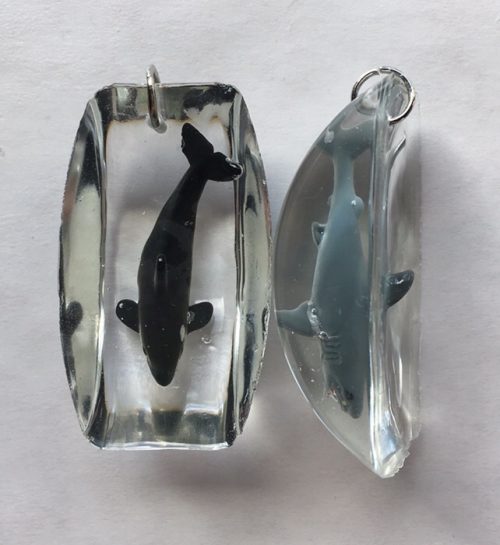 Comments Off

on Under water resin
Posted on March 31st, 2018 by maitreya. Filed under Jewelry, Resin.
More resin. Top row is origami paper molded in a pill box. Bottom row is two silicone ice cube trays.
The wedge ones have a short piece of tubing glued to the top for hanging, like this previous necklace.
Comments Off

on Origami paper resin necklaces
Posted on March 15th, 2018 by maitreya. Filed under Jewelry, Resin.
Snippets from a plastic Ikea placemat, molded in a silicone ice cube tray. Pictured before I drilled holes in the top of each of them.
Comments Off

on Resin tile birds
Posted on March 10th, 2018 by maitreya. Filed under Jewelry, Resin.
More resin necklaces. These are stickers, molded in a paint palette. Shown before I drilled a hole and added a jump ring for hanging.  FYI, the holes are much easier to drill if you flip these flat side up.  I ruined another piece because the dremel slipped on the domed surface.
Comments Off

on Resin planets
Posted on March 8th, 2018 by maitreya. Filed under Jewelry, Resin.
I got a new can of resin, so now the race is on to Embed All The Things before it expires. Set 1: stamps from my childhood stamp collection.
Comments Off

on Resin stamp necklaces
Posted on August 8th, 2009 by maitreya. Filed under Jewelry, Resin.
Another finished resin necklace! I gave it to Becket for her birthday. It's a piece of origami paper embedded in resin, molded in a pill box (originally shown here). I've been having a hard time keeping my resin stuff from being sticky unless I sand it, which makes it cloudy instead of nice and shiny and clear unless you go crazy on the polishing. So this time I sprayed it with a gloss sealant, which seems to have done the trick. I glued a little slice of clear tubing to the top with E6000, and threaded it on weed-whacker line. I could not find tubing *anywhere* at the store. I had to buy some other beads that used the tubing as a spacer. I really like how it looks, though, and the E6000 is my new resin glue of choice.
Here's a zoom of the clasp. I don't know why I didn't think of it before: I just threaded the line through a magnet clasp and melted the other end into a ball so it won't pull through. It worked great, finished the sharp plastic edges, and seems very strong.  It's also very easy to shorten so Becket can choose a good length for her.
I just love the way it turned out. Definitely will be making more of these!  In fact, I am visiting Becket right now, and we spent the day in Japantown where I bought a bunch of new papers. :)
Posted on February 20th, 2009 by maitreya. Filed under Fun with Lab Supplies, Resin.
Testing out some new molds.
Candy molds take 2, including the owl and buttons from my previous post and some vintage ones my sister got me for Xmas.  The vintage ones and the hard candy button one were the clear winners, since both popped right out without destroying the mold.  This one has a lace cutout in it.  It'll be a necklace, I think.
The owl and little buttons had to be torn out of their molds, but at least they worked.  I'm going to try some sort of mold release next time to see if I can avoid destroying the mold.
I don't like the sickly green color, though. :/
The orange turned out better.
Pill box.  It's one of those circular ones with a segment for each day of the week.  Piece of origami paper embedded.  This one might be my favorite since it's the most wearable.  This mold worked great; I didn't even have to put it in the freezer.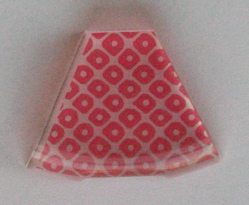 Weird ice cube tray I found at a thrift store.  Actually, I just used the caps; the tray itself was these long tubes.  I have a couple more funny thrifted ice cube trays that I'm saving for later.  These ones are embedded buttons with thumbtacks to match my new corkboard.  I also did a few colored disks to mess with for rings or something. Not happy with the mold; they're still all sticky for some reason, and there's a leftover residue.  I also broke one manhandling it out of the mold.
Little plastic case from a free sample from Origins.  I've also seen them at the Container Store for travel.  Embed is a big white button.  I'm planning a set of different white embeds in this size to use as knobs for my dresser.  This one also worked really well, which I was expecting since I have another one in a different size that worked before (apparently I never posted a picture, though).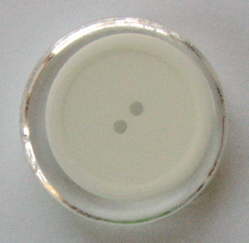 Other molds that worked, but were too plain to bother taking a picture of: cubes from a freezer box and triangle from a multichannel pipet basin, both free samples from lab.  I have another style of pipet basin too, with sharper corners, that I might try out next time.  Not sure what to do with the results, though.
Things that didn't work: little plastic domes from a seed germination kit.  I had to tear it off, and the resin reacted with the plastic to make a weird frosted effect.  Double fail: the embed I tried was a piece of thicker, shiny paper.  It didn't saturate uniformly and looks pretty bad.
Posted on January 24th, 2009 by maitreya. Filed under Resin, Wants.
I've used candy molds before for resin (scroll down to the dogwood flower with plastic embed).  In that test, it did work, but it destroyed the mold in the process.  Luckily, a whole sheet of candy molds is only like $2.  Different plastics are also likely to react differently, so even if it melts into a puddle of plastic goo, $2 per experiment is also not too bad.  Anyway, this is all just my half-hearted justification of buying some molds from Bake It Pretty.
I've wanted to try to make buttons ever since I started with resin, so the button molds were the "have to have it" item. I mean look at them.  (Picture from Bake It Pretty's candy button tutorial)
I got the button lollipop molds too, which are on the larger side and are also more heat-resistant plastic.  Annnd, I got some owl lollipop molds.  I'm thinking owl necklaces for everyone.
And I might have also bought Blythe a cupcake-topper phone. :)
Posted on January 9th, 2009 by maitreya. Filed under Crafty Review, Resin.
If craftlog resolution #1 was more inspiration posts, craftlog resolution #2 is resume book reviews.  (p.s. I'm still looking for library-website-creating tools if anybody can recommend one.)
I'm collecting ideas before I buy another container of resin.  It goes bad in 6 months, so I have to accumulate enough ideas and motivation to use it all up in a timely manner.  Besides trawling the web for inspiration (i.e. the jewelry section on my shoplinks page), I've been looking for good books.  The Seattle library system has a weird selection mostly consisting of manuals for molding resin grapes for your '70s coffee table, so that was a dead end.  These 2 that I've bought are pretty good, though.
My favorite book is Sherri Haab's The Art of Resin Jewelry.  It's got a nice variety of easy projects and a good introduction section with techniques. This is definitely the better introduction-level book since there are projects I could do right away without special molds or equipment.  The style is also great, very modern and fun with only a few really ugly ones (hello polymer clay sparkle flowers, ugh).  The projects lend themselves to customization, too (i.e., embedding patterned paper).
The Art of Jewelry: Plastic and Resin by Debra Adelson is more advanced.  There is an intro section explaining techniques, but when it comes to the projects, they are more complex than in the other book, and there's not a lot of detailed direction.  It'll just say something like "use the carbide burr to shape the ring."  Um, ok?  I guess once you know your way around the saws and files and dremel tools it's pretty obvious what you're supposed to do, but it makes the projects definitely more intimidating for a beginner.  The projects are generally pretty cool, though, and it's a great book to start building skills beyond the basic poured resin projects.  I bought the book for the "resin" part of the title, but the "plastic" projects are neat too, especially the acrylic ones.  I definitely want to get some acrylic to play with.  Seems like the easier way to get comfortable with my jeweler's saw.  The book also has a nice variety of gallery projects from artists.
One problem with all the resin books is that there are several types of resin and it gets confusing and overwhelming for a beginner because the books try to cover everything.  Instead of trying to figure out the best one to use, I ended up just finally going with whatever resin crossed my path first (thanks Ariel!), and then looked at just that section of instructions.
Comments Off

on resin book reviews
Posted on December 27th, 2008 by maitreya. Filed under Resin.
Yay, guest posts are fun.  Since Becket started her own blog, it's nice to have Amy add some of her creations from time to time.  Virtual craft night.
My sister asked for necklaces for Christmas, so I went rummaging in my resin bits drawer for ideas and ended up making one for my mom too.
This one was molded in a piece of tubing.  I sanded the ends to be sort of rounded and even.  I think I need to either get one step finer sandpaper for the last step, or coat with gloss or something to get them shiny.  I drilled holes in either end using a dremel tool.  Unfortunately they were too big for the headpins I had, so I added the beads, which I ended up liking more than if I'd just used the headpins.  Twisted ends into little loops, attached chain, done.  It looks pretty good on, but I can't help thinking that it needs something else.
Another 2-layer cube like my yellow one.  I sanded this one all over because I like the way it kind of mutes the color.  Hole dremelled and threaded on weed-whacker line.
For the clasp, I threaded both ends through 2 beads that fit pretty tight.  Then you can put it over your head and still adjust it to whatever length you want.  The picture has the ends fastened with knots, but Radha noticed they were poke-y after wearing it.  Turns out that melting the ends until they balled up worked great!
email
maitreya[@]craftlog[.]org
books I'm in
Pinterest
Categories
Blogroll
Archives
creative commons
craftlog is under a
Creative Commons
Attribution Noncommercial
license
. That means that you are all welcome to take and repost my photos, replicate my projects, remix my ideas, whatever you want as long as you give attribution (a link is fine) and it's noncommercial. Thanks!