Archive for the 'Home and Garden' Category
I'm trying to do all my own seeds starts this year.  My main problem with this in previous years was that the plants would mostly have issues after transplant, which was probably because I wasn't taking enough care with hardening them off.  It's so much work, though!  I came across these instructions for hardening off plants for people with jobs, which I am hoping will solve my problems.  The idea is to put them outside under 4 mil plastic that somewhat but not entirely blocks UV, but also has some ventilation so they don't roast.  I just stapled the plastic to my old chicken tractor, which we haven't used in a while for its original purpose.  I'm testing it out with some artichoke, scallion, and alpine strawberry starts, so fingers crossed!
Comments Off

on Seedling hardener
I think I have everything planted now for my summer garden, though I'll probably do a little reseeding here and there depending on how well things germinate and how successfully I can fend off the slugs from the seedlings.
Now to start planning for the fall and winter! 
I was happy to see that Binda Colebrook's Winter Gardening in the Maritime Northwest is in a new printing. I've gotten this out of the library repeatedly, so it's nice to fanally have my own copy. She used to garden literally across the street from my house. Can't get more local advice than that!
My main problem is thinking about which crops will be done when, and what needs to go in next. It's a big puzzle.
In place already: the kale, brussels sprouts, and chard are already coming up (in fact, the kale is getting ready for a first light harvest), and should all make it through the winter if last year is any indication.
Next up: I'm planning to try to keep the broccoli and cauliflower starts going in pots until the garlic bed clears out. The other early finishers are my fennel and radishes, which I will probably replant with root crops. The onions are getting eaten up pretty quick too, but I'm leaving that space for the strawberries to run. My spring peas are just now producing, so when they're done I can plant a second planting in the same bed. By August, some of my salad beds will probably be done, making way for onions and scallions. Garlic is no problem since all the tomatoes and squash will be ready to go by October. Salad greens I can probably just intersperse around and about.
What else: somewhere in there, though, I want to fit more root crops, greens, and probably more onions. This is the first year I've grown them, and they're really nice. I might just wait and get starts later on, though, instead of going from seed. Last year, I didn't get great germination of the seed anyway.
Anybody have any other good planning tips?
I got my tomatoes planted this weekend.  This year I'm not taking any chances and bought strong starts at the Seattle Tilth plant sale and from the farmers market.  I repotted them into nice big pots and made sure to harden them off all last week before planting them out.  They got planted in deep holes to bury part of the stem.  I've been haphazard about staking in the past, so this year I also got tomato cages.  So far so good.
I'm trying all new varieties this year: stupice (red early slicing), sungold (yellow cherry), purple calabash (big purple slicing), Amish paste (red paste), and Jaune Flamme (smallish orange slicing).
We'll see how they measure up to last year's cast:
yellow pear: little pear-shaped yellow cherry tomatoes.  Pretty tasty, but thick skin and kind of mealy (though Mark disagreed on that count).  Poor yield, but that was my own ineptitude at growing tomatoes from seed.
sugar lump: red cherry tomato.  These were juicy and sweet and very prolific.  Minor splitting problems.
siletz: early slicing tomato.  These are not very sweet, but not in a bad way. I got a pretty good yield from them and they were the first of them all to mature.  They also all split in the slightest rain.
striped Roman: red oblong paste tomato with greenish stripes.  These were pretty and tasted ok, but their little pointy tails had a tendency to go soft and rot.  Reasonable yield, even though I planted them late and in terrible soil.
momotaro: big pink slicing tomato.  I had high hopes for this one, supposedly the favorite heirloom tomato in Japan.  I thought they were watery and bland, though.
Comments Off

on tomatoes in
Lots going on in the garden.  I planted my potatoes a couple of weeks ago.  This year, in addition to a retry of the trash can, I'm also trying burlap sacks, as seen at the garden show.  I found the coffee sacks at Second Use for a dollar each.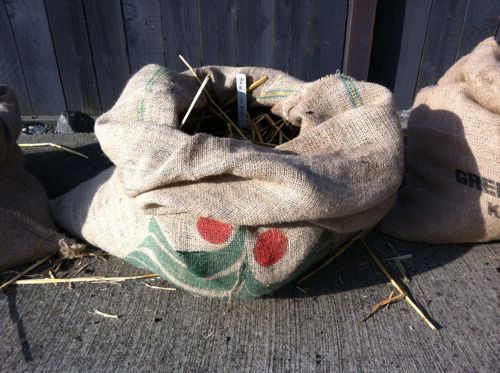 I planted three varieties of fingerlings: ozette, rose finn apple, and la ratte.  They're in a mix of compost and chopped straw.  The trick is going to be to keep them from drying out like I suspect happened last time.
The other container gardening experiment we're trying is hops on the deck (which we're now calling the "hopyard") for Mark's homebrewing operation.  We've got nugget, centennial, and cascade going.
This weekend, Mark also built me a fifth raised bed.  It's just a little 3×3 feet one (same as my herb bed) to fit between a street sign and a tree in the parking strip.  Like all the others, it's made of untreated cedar fence slats and wooden stakes, and the grand total cost was $4.  We're going to get a bulk order of a veggie blend to topdress the yard and beds, so I plan to fill it with that.
My planting plans have kind of gotten out of control this year.  I've got a set of index cards with drawings of each bed and estimated dates to sub in new crops for harvested ones.  I've been doing some trades with other gardeners on Folia, which has only added to all the stuff I want to grow (if you are interested in swapping seeds, here's my stash).
The winter garden was a qualified success.  I only just finished harvesting all my overwintered kale.  Seriously, we have had kale every day for like two weeks to finish it all before the flowers opened.  Just ate the last turnip and its greens.  The purple sprouting broccoli is making tons of side shoots after I cut off all the central heads (and ate them raw with veggie dip, yum yum).  I will never plant spring broccoli again given last year's aphid disaster.  The chard is still going strong too, with a tiny bit of winter damage.  Once we recover from kale fatigue, it'll be next on the menu.  Herbs also weathered the winter just fine:  still have parsley, thyme, and some sparse chives, and the bed of catnip is even perhaps doing a little too well.
On the negative side, I planted the brussels sprouts too late, so they never made sprouts and recently bolted.  Luckily, before pulling the plants and feeding them to the chickens, I checked if the leaves and raab are tasty.  Indeed they are!  For the carrots and beets, I think I should have planted earlier and thinned better, since I didn't get good roots from some of the plants.  They're still growing and haven't gone to seed yet, though, so I'm harvesting a few here and there.
Another welcome spring thing is that the chickens have gotten back in the swing of things.  We're back to getting eggs from both of them regularly.  Interestingly, Sue, the buff orpington, was the lower volume layer last year as compared to Lester, the hybrid.  This year, though, Sue started laying earlier and has been more reliable than Lester.  I think it's a difference between the multi-use heritage breeds that would have been expected to produce for a few years, versus the hybrids that have been selected for amazing production in their first year or two before being culled.  Lester has also started laying weird ginormous eggs.
The chickens have also been helping me condition the squash bed.  This is a kind of blighted, clay-y bed that formerly housed some very unhappy bushes.  Last year, we pulled them all out and I did manage to grow winter and summer squash there.  The summer squash take was predictably awesome, but I only had a few winter squashes make it.  After the squashes came out in the fall, I planted a cover crop to enrich the soil.  I've been placing the chicken tractor over it and letting the girls stuff themselves on greens while scratching everything up.  Momo was a little too interested.
The chicken tractor has now been redeployed as a pea trellis, and I don't want the cover crop to get any ideas about going to seed, so I turned it all under today.  We'll add some of the vegetable bed mix as well, and hopefully this will improve my yield this year.
Currently
Sprouting: peas, broccoli raab, radishes, chard, beets, mesclun mix, arugula, scallions, fennel, horseradish
Sowing: carrots, more beets, kale, leeks, chives, dill, cilantro, parsley
Sowing indoors: basil, Thai basil, shiso
I've been using meal planner sheets for a couple of years now, with varied success.  The goal is to have an intentional dinner instead of just assembling something easy when I get home.  Cute planners are good commitment devices, so I whipped one up in Powerpoint.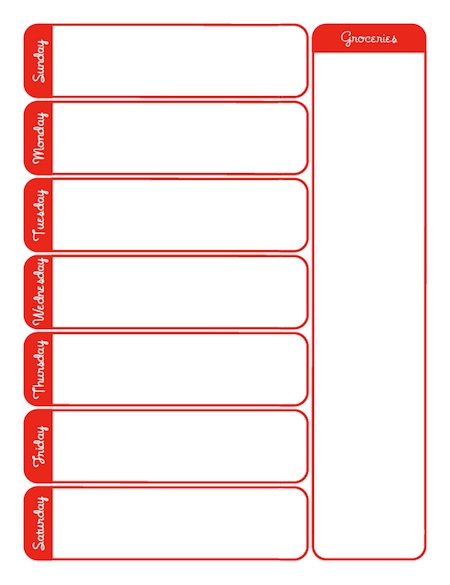 You can download the PDF in an assortment of colors.
Other cute ones I rotate through (and took design inspiration from):
My pretty Weck jars have one issue I haven't been able to figure out: how to label them.  With the normal jars, the metal lids are single use, so sticking labels on them or writing on them is fine.  I don't want to deal with picking labels off the glass lids, though.  The Weck boards on Pinterest are a good source of ideas.  It looks like most people live with stickers or tie tags around the neck.  Some sort of easily removable sticker would work best for me.  Apparently, they make water soluble labels for canning, but they seem to all have terrible reviews.
I ended up trying two adhesive solutions: cling vinyl and a 3M reusable sticky mounting thing.  For the 3M stickies, I cut out a little rectangle of ink jet-printable, waterproof, map paper for the label side.  It stuck well initially, but came lose in the fridge.  The ones I got are pretty thick, and rectangular, so they only work well on the straight-sided jars anyway.  So that experiment was a bust.
I'm more excited about the home made colorforms.  I found 4 gauge vinyl at Joann's and attempted to die-cut it into circles.  Like most everything else about my L Letterpress, the die-cutting is also terrible, so I ended up just cutting them out.  The good news is that even the cheap-y decorative edge scissors worked great on the vinyl, so I was able to make some cute scalloped ones.  You can draw on the vinyl with Sharpies.  The darker colors work best (red, for example, is almost invisible against orange marmalade, which is why these were not photographed on the jars), and I am going to look for white vinyl for future use.  They stick to the jar lids pretty securely, though I'm monitoring their staying power.  They turned out just how I imagined, more or less, so I'm reasonably happy with the results.
By the way, the "several citrus marmalade" was an invention using the leftovers from the cara cara meyer lemon marm plus grapefruit and kumquat.  I used the full sugar pectin this time, and it didn't really set for some reason.  I was going to try to reprocess it, but it turns out to be a great glaze for marmalade muffins.
I just did my first couple of seed swaps on Folia and made these little envelopes.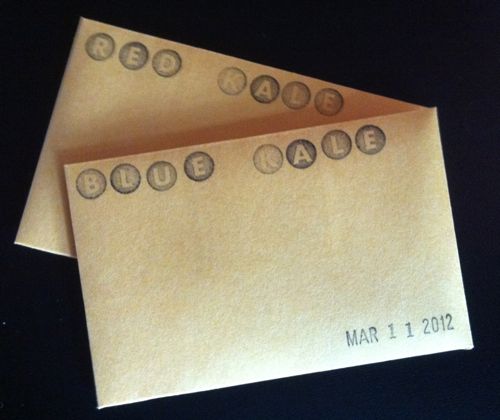 If anybody out there wants to trade seeds, here's my stash.
Comments Off

on seed swap envelopes
As is traditional, I planted peas today.  Two varieties: Alaska Early Bush and Oregon Sugar Pod.  I'm trying a trick I read about somewhere (if this rings a bell, let me know.  It's driving me crazy that I can't remember where I saw it.): starting seeds in seedling mix outdoors to help germination.  The idea is that the light fluffy seedling mix is the best environment for starting the seed, but you still get to direct sow outdoors.  The best of both worlds!
First I dug a trench.  This bed has terrible clay soil that I've been working to amend.  I grew a cover crop there over the winter, and we dug that in a couple of weeks ago.  I'm hoping the peas will also give it a boost.  Anyway, I filled the trench with compost mixed with some of the dirt and very lightly firmed it.  Then I took a 2 inch pot and pressed it in to the soil every 6 inches.  Closer than that, and my previous hole would cave in as I made the next one.  Once the pot was all the way into the soil, I firmed up around the edges to ensure it would be structurally sound.  Here they all are.
Then I filled each hole with seed starter mix and planted the peas.  Cute, right?  Seed starter mix costs a fortune for some reason, so I wanted to do an experiment to see if this method actually helps.  I planted more peas in between, just in the compost.  Now we race!
Mark and I spent the whole day yesterday at the Northwest Flower and Garden show.  It was a lot of fun, and I managed to find a few things to bring home: Rose Finn Apple and La Ratte fingerling potatoes from Irish Eyes, a free packet of carrot seeds from the zoo booth, some samples of chicken feed from Portage Bay Grange, and an armful of 50% books that I've been meaning to get anyway, including Put 'em Up, Sugar Snaps and Strawberries, and Your Farm in the City.  I was a little disappointed there weren't more vegetable seed companies there, though. I had hoped to find a few novel varieties not usually locally available.  There was one booth of Italian seeds that was interesting, plus Irish Eyes, but beyond that, nada.
We did get lots of ideas at the show.  I'm going to try bolding the ideas I want to remember the most for reference.  Mark was the official family photographer.
We had two favorites of the demonstration gardens, both including lots of edibles.  The first was titled Pictures at a Northwest Exhibition (creators), and featured an accordion player in a gazebo made from repurposed items and vegetables planted in slices of industrial pipe.
They also had a Kippenhouse duck coop with a living roof and potatoes planted in burlap bags.
The other one we liked was by Cascadian Edible Landscapes.  Besides all the nice vegetables, they had a chicken coop (with chickens, unlike the plastic ducks in the other one) made out of a VW bus by Recoop.
The big winner garden was also pretty spectacular, using giant tree roots in the landscape.
We spent the afternoon going to seminars.  The first was by Jessi Bloom: "What the Cluck?! Great Plant Choices for Gardening with Chickens."  She brought a few chickens for show and tell, and her talk covered some of the topics in her new book, which I am currently on the reserve waiting list for at the library (thank you Seattle Public Library iPhone app).  She had some good suggestions, and made us realize that letting our chickens out to range during the day is not very useful if they have nothing in their little landscape.  Even though we only have two chickens, and they have a really spacious area, they have eaten every single green thing in sight.  This year we're going to try to plant some shrubs by the coop to liven things up, and today I set up their tractor over one of my cover-cropped beds.  I was going to turn this bed under this weekend to plant with sweet peas, but instead maybe they will do it for me and get some tasty greens at the same time.
Next up was a kind of bizarre talk about Potager gardens, which included some nice pictures but not much information content.
After that, we went to see Ciscoe Morris's seminar on Indestructible Plants.  He's such a character.  Every slide came with a funny story and encyclopedic information.  I really need to see if the podcast of his radio show ever started up again.
We had to leave that one early to get to Annette Cottrell's Winter Vegetable Garden talk.  I did a lot of research on winter gardening this past year, so I was reasonably familiar with a lot of what she said.  I did get on the library reserve list for her book, though.  She had some great advice on capturing heat that we will probably try to implement somehow.
The other set of displays we really enjoyed were container gardens.  There were two I particularly liked, both of which featured moss-covered walls.  The first one was by Ravenna Gardens and had a lab theme, so of course I loved it.  Plants in test tubes and beakers!  I am now contractually obligated to try this.
Their moss wall had stag ferns (I think) growing on it.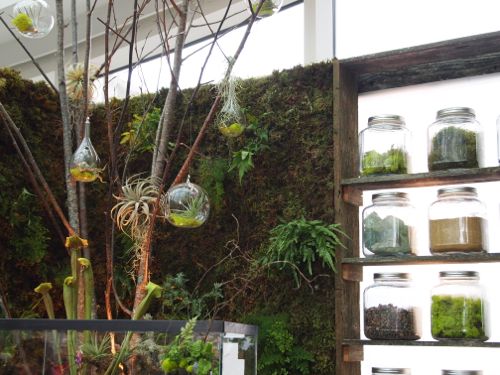 The other one was called Portholes and Time by Cultivar LLC and Midnight Blossom.  The portholes mounted in the shed were pretty great, but I also liked the pretty boxes on the moss wall.  There were lots of cute sheds and coops.  We're now on the hunt for a shed for the coop area to house our garden implements, or maybe we'll build one.  This coop from the ReStore was pretty great.
Whew, it was definitely a busy day!  I'm not sure I'll go every year, but it is definitely worth visiting occasionally.
[Note: I added a few more sources since I first posted this.]
It's kind of interesting how different gardening references can be from one another.  I've taken a broad view, and tend to plant as often as recommended by the union of all the calendars from Portland to BC.  Here, for example, are the spinach recommendations (colors go warm->cold, south->north).

Others are very similar across all calendars, like the squashes.
Anyway, just in case anyone else is interested, I made a comparison of Pacific Northwest planting guide recommendations.  I only plotted the vegetables I grow, and I only plotted direct sow dates since I have not mastered the art of seed starts yet.  The sources are
Mother Earth News What to Plant Now PNW
Territorial Seed Company
Portland Nursery Veggie Calendar
Oregon Tilth
Growing Vegetables West of the Cascades, by Steve Solomon
solid ground LettuceLink Gardening for Good Nutrition
Washington State University King County Extension
Seattle P-Patch Planting Calendar
The Maritime Northwest Garden Guide from Seattle Tilth
West Coast Seeds Planting Chart for Coastal BC
Each line represents one of the planting guides.  If the guide didn't name specific months, I just left it out.  Many of the left out entries are because they recommend starting the seeds indoors and transplanting, or they put timing relative to last frost and I was too lazy to calculate.  Hopefully still somewhat useful, though.  All mistakes are mine, and not from the sources.
email
maitreya[@]craftlog[.]org
books I'm in
Pinterest
Categories
Blogroll
Archives
creative commons
craftlog is under a
Creative Commons
Attribution Noncommercial
license
. That means that you are all welcome to take and repost my photos, replicate my projects, remix my ideas, whatever you want as long as you give attribution (a link is fine) and it's noncommercial. Thanks!