Archive for the 'Home and Garden' Category
It's been just gorgeous out this weekend, so I took advantage to pretend it's spring and do some gardening.  The big additions to the garden this year are going to be fruit and flowers.  On the fruit side, I'm planning strawberries, blueberries, raspberries, and a container tree of some variety (fig? meyer lemon?)
This weekend's progress was planting 15 bare root everbearing Quinault strawberry plants in one of the raised beds, plus four blueberry bushes along the south side of the house.  This area previously had some other kind of unhappy bushes that we ripped out, then became my pumpkin patch last year.  The soil here is a terrible clay.  I planted a cover crop mix there in the fall, so we turned that under to add a little organic matter.  Then Mark dug a giant hole for each plant, which we filled in with peat to make it more acidic for the blueberries, plus mixed in compost to add organic material and drainage.
We must have looked pretty confused at the nursery because one of the employees stopped and offered advice.  We had just grabbed one of each dwarf-ish variety, since they will be going along a row of low windows.  With his help, we ended up putting back a couple of not-so-great varieties and coming home with two Sunshine Blue, one each Patriot and Legacy, plus some expert growing advice.  The set will make for a nice range of ripening times, and nice year-round foliage.  The Legacy and Patriot bushes are supposed to get up in the 5 foot range, so we tried to space them away from the windows.  Planting different varieties together also makes for better fruit, apparently.  It's advice like this which makes going all the way out to Sky worth the trip.
I also planted another horseradish root in a big flowerpot on my deck.  Last year it never did anything, but I have a feeling that's because it dried out before I planted it.  This one I planted right away so hopefully it will make it.
The seeds are all newly stocked in the stores now too.  I find that Fred Meyer always has the best deals on Ed Hume packets.  I took advantage of a 40% off sale and got dwarf jewel mix nasturtiums, Little Sweetheart dwarf sweet peas, snapdragons deluxe mix, a gourmet blend radish mix, rainbow blend carrots, and Parisian market carrots.  Sky has better selection, though, so I picked up a few things I can't get at the Fred Meyer: a beet mix from Renee's Garden, Swiss Chard Rainbow from Baker Creek, and a lovely Frosted Salmon Poppy, also from Baker Creek.  Then I had to run to the local Ace to get some compost while we were planting the blueberries, and they have an Irish Eyes seedrack.  From that I got a Gourmet Bush Bean Blend.  Can you see a trend here?  I looked back over my planting records as I was entering them into Folia, and realized that I frequently end up mixing varieties in the same patch anyway.  Might as well save myself a few bucks and buy the mixed seeds.
And can I just say that the Baker Creek seed envelopes are every bit as gorgeous as their catalog.
For some reason I got the urge to make marmalade the other night, what with all the gorgeous citrus in the grocery store lately.  I got some fancy cara cara oranges and meyer lemons to use, and then opened up my canning books to find a recipe.  It was disappointing to see that marmalade looks hard!  And time-consuming (like, several days time-consuming)!  And annoying (supreming, ugh)!  All the instructions say your marmalade will be awful unless you do all these things, including extracting your own pectin from the seeds and membranes.
In despair, I looked at the box of commercial pectin, with the quickie recipe.  Surely, it wouldn't be too bad, right?  I rationalized that my fancy ingredients would make up for it and decided to be lazy.
Licking the spoon, I think this will be totally passable.  It set up a little hard, but it's nice and tart, not overly sweet like many of the bad reviews out there.  I still have a cup more of the prepared fruit+rind, so I'm going to add a grapefruit and some kumquats to it and make a second batch.  As soon as I go to the grocery store for more pectin, that is.
This is the first time I've gotten to use the pretty Weck jars my mom got me for my birthday.  They are so cute, and I found them just as easy to use as the normal canning jars.  Even better, Hardwick's, my local hardware store, now carries Weck jars and accessories!  So now I have an easy source for extra rubber gaskets.  I also got some of the refrigerator storage caps.
Minor canning lesson of the day: I also filled a tall skinny Weck jar and the marmalade separated into a rind-y layer and a clearer layer during processing. Next time I think I will stick to the tulip jars or the squat molds.
Now to figure out a good way to label them…
Nothing like a snowy January day to make me want to page through my gardening catalogs and websites.
I'm trying myfolia this year.  It's a sort of funny hybrid between social networking and garden tracking.  I even splurged and upgraded to a paid account because I kept encountering necessary features that are only available to "supporters."  They have made it just usable enough with the free account that you use it enough to want to get the paid account, though.  I'm still adding my gardening history, but if you're on there, I have a bunch seeds for trade if you're interested (username maitreya).
Also trying Sproutrobot, which has a nice (free!) feature to email you when things need to be done.  However, it has a limited range of plants, and you can't keep track of particular varieties and plantings like in myfolia.  The hand-drawn directions are really cute, though!
Gardenaut lets you put in a zip code and what plants you want to grow and outputs all the planting dates.  The main site seems out of commission, though.
The WSU Extension for King County has a ton of useful fact sheets.
Vegetable garden resolutions for the year:
successfully start and transfer some plants
build a cold frame (a not unrelated goal)
finish some compost
plant only things I want to eat
plant primarily things that are better to grow than to buy
My garden gave me vegetables for Christmas. I harvested all of these today except for the delicata squash.
L to R: turnip, delicata squash, golden beet, carrots, beets, radishes, about to be tossed with olive oil and salt and pepper and roasted.
We're eating the beet greens tonight, and I'm blanching and freezing the turnip greens to cook with black eyed peas and ham for New Year's.
One of our neighbors stopped by the other day and asked if she could have my garden greens because they were "going to waste."  Au contraire!  They are overwintering, and we have been eating from the garden pretty regularly even though it's late November.  In fact, the only plants actually killed by the cold so far have been the peas this weekend.  They went down still in flower, even!
Harvested the past couple of weeks: collard greens, chantenay and little finger carrots, purple top turnips + their greens, arugula, lettuce, mesclun mix, beets + their greens, radishes, Asian greens, parsley, and two types of kale.  Crazy!  I think I like the winter garden even more than the spring.  My carrots in particular germinated like champs even though I had endless trouble with them the rest of the year.  The only pest problem was cabbage white butterflies.  Their caterpillars made swiss cheese out of my collards.  Nobody noticed once they were shredded and cooked up though (although it was pretty gross when a boiled caterpillar floated up in the blanching water).  It is definitely true that the garden is pretty much holding in place, though: Swiss chard I harvested in October has not grown back much at all, when earlier in the year it was hard to keep up with it.
A couple mistakes to fix next year: plant the brussels sprouts earlier (the plants made it about 6 inches and then stopped.  Hopefully they'll resume in the spring), and don't plant turnips.  I have never bought a turnip in my life and I can't say they are my new favorite thing.  I made mashed turnips the other day, and we ended up cutting it with mashed potatoes to mask the flavor.  The greens are ok, but they're not my favorite.  I also should have been more ruthless in thinning the big plants, like collards and broccoli.
We've also been eating some of my stored winter squashes.  A delicata was sliced into rings and roasted with a little brown sugar and red pepper.  This monster blue Hubbard got roasted, mashed with a little butter and spices, and layered with apple slices for Thanksgiving dinner.
We've broken into the canned goods too.  We already dispatched one whole jar of strawberry/raspberry jam, plus an entire jar of bread and butter pickles, and most of a jar of salsa.  The tomato jam turned out pretty interesting, though I think I'll try a different recipe next time.  I also used a jar of tomatoes for pasta sauce the other day.  Now that the summer rush is over, all the canning books no longer have giant waiting lists at the library, so I've been looking for possible winter recipes (pickled beets are on the agenda for sure).  And good thing, because my mom got me a set of beautiful Weck jars for my birthday.  :)
With the nighttime lows starting to dip down into the 40s the last couple of weeks, I finally had to admit that the summer is over.  A couple weekends ago I tore out all my squashes and tomatoes, added in some compost to my beds, and replanted them with garlic and shallots.  I also planted all my flower bulbs, including 60 ranunculus, a few stray daffodils that were displaced by the new raised bed, and some checkerboard fritillaria.
Harvest first:
Tomatoes: two huge colanders full of green and greenish tomatoes.  Due to my tomato splitting problem ever since the rains started up again, I've been picking the tomatoes a little before they ripen anyway to let them finish on the kitchen counter.  I pickled three jars of green cherry tomatoes, using the small batch pickled green tomatoes recipe at Food in Jars.  While I was pickling, I also threw in one jar of the last few baby summer squashes.
The remaining big tomatoes were set on the kitchen counter to ripen up.  It worked!  I canned four jars with some garlic and herbs from the garden (striped romans with thyme and momotaros with basil).
We also made a big salad with the red cherry tomatoes.  Also in the salad was my pathetic carrot harvest.
I had all sorts of germination problems this year, and it shows.  At one point I seeded this area so heavily that I mixed up all the different varieties, so I'm not entirely sure what kind they are (Baby Little Finger?)  Interestingly, my fall bed carrots are going like gangbusters.  I may actually have to thin them!
More salad vegetables: a kind of spongy head of lettuce, a couple golf-ball-size lemon cucumbers, some arugula, and two radishes from an Easter Egg mix.  One of the radishes, a big white one, got so big it split open, but it might have been the mildest radish I got all year.
Winter squashes:  Given the real estate I devoted to the pumpkins and squashes this year, I didn't get much back.  One Blue Hubbard, one Sweet Dumpling, two Delicatas (though one of them looks really weird, like it cross-bred with something else), 3 greenish Sugar Pie Pumpkins, 2 perfect Jack Be Little Pumpkins, one very green Jack O' Lantern pumpkin, and one hilariously immature Rouge Vif d'Etampes pumpkin.  That last one was supposed to be a beautiful red Cinderella coach pumpkin, but it didn't set fruit until late in the summer.  I'm told you can eat immature pumpkins, so I'll give it a try.  I set the rest of the green pumpkins in a sunny window and they all turned orange!  I can't wait to eat them.
Of the winter squash, my Blue Hubbard is my favorite because it's so enormous and so pretty.  I planted two of these, but the second plant didn't successfully set until way too late.
Out with the old, now in with the new:  I got an amazing garlic sampler from Nichols Garden Nursery.  I'm lucky I was able to find someone to split it with because this is a lot of garlic!  1.5-3 heads each of 6 varieties!  I also got two packs of shallots at the garden store.  I coincidentally just this week finished up my shallot and garlic harvest from the summer, so planting these gave me something to look forward to.
With my fall bed going, though, I don't need to wait all that time until next year: I've been getting peas, beets, chard, and turnips.
Comments Off

on garden season change
Last year I planted a bunch of ranunculus and only got two flowers.  Well, I figured out what I did wrong.  I followed the directions on the package:
I remember being confused because ranunculus bulbs don't look anything like the bulb in the drawing.  (Apparently they're not true bulbs, but some sort of rhizome or corm or something.)  But the package said pointed side up, so I dutifully planted them all with the pointy spider legs up.  Well, it turns out that is upside down.  The two flowers that I got were probably ones that flipped over while I was filling the dirt in or something.
It really makes no sense to me why the company would do such a shoddy job of including planting instructions with their product.  Other parts of the packaging are presumably customized, like the spacing and depth, and the giant ranunculus photo.  It annoyed me so much I actually just wrote a complaint to the company.  Unfortunately, they are the only brand I could find locally, or else I would not have bought them again.  At least they were on sale, I guess :/
It rained a couple of weekends ago for the first time in forever, and all of my Siletz tomatoes promptly split.  I decided to can some of them, using a slicing tomato salsa recipe safe for hot water bath canning from PNW0395.  I don't think I appreciated the landgrant universities enough before I started gardening and such.  They provide such a wealth of science-based, accurate, reliable, practical information.  Especially with canning, there seem to be tons of recipes on the internet that don't follow best practices and could be dangerous.  Unfortunately, the part that makes this particular recipe safe (lots of vinegar) also makes it not super tasty.  The tomatoes kind of disintegrated from all the cooking too.  Next time I open a jar, I will probably mix it with some fresh tomatoes to cut the tartness a bit and add some texture.
A few days later, I had a ton of my Sugarlump and Yellow Pear cherry tomatoes ripen all at once.  There are recipes if you need one, but it was pretty much 1. slice tomatoes in half, 2. place cut side up on baking sheet, 3. put in 210F oven for a few hours, 4. eat one every once in a while to see if they're done.  I didn't use any oil or seasonings or anything.  The convection setting seemed to be helpful in drying them out faster.
Then this weekend, I noticed that the funny tails on my striped romans were all getting soft.  I am pretty sure this is because I didn't stake them (whoops).  They are a paste tomato, so I finally got to make tomato jam!  This stuff seems to be everywhere lately; I've had it on biscuits, instead of ketchup on a burger, with a cheese plate.  I wanted a spicy one, so I tried this tomato preserves recipe that has jalapeno.  It also gave me an excuse to use the pathetic few leaves of purple basil that I managed to grow this summer.  Licking the spoon at the end indicates that it turned out pretty good, despite practically ruining it at the end.  Beware: during the reduction, it seems like nothing much happens for a long time and then bam, it's thickened and about to burn.
Comments Off

on tomato preserving
The garden is really going gangbusters right now.  My extremely late-planted lemon cucumbers even made it, though it's now a race between the powdery mildew and more cucumbers.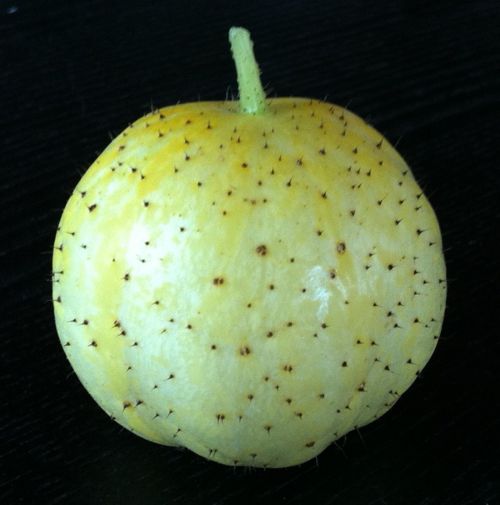 The powdery mildew is also hard at work attacking all my squashes.  I have pumpkins and winter squashes set on several plants, so fingers crossed they will mature before the end comes.  Even with the mildew, my pattypan squash finally caught up with the rest of the summer squash plants, so now I am harvesting 4 types of zucchini and squash!  I gave away a big bag of them at lab, and am probably going to do some freezing and pickling too.
The tomatoes are in full swing and I am not tired of them yet like with the squash (seriously, we have been eating squash in some guise for dinner almost every night for weeks).  Yesterday I ate four different varieties: yellow pear (my only surviving plant started from seed.  It just has one little cluster of fruit, but yum!), siletz, sugar lump, and striped roman.  This was my first striped roman to mature, and I was very annoyed to discover pillbugs eating the blossom end.  Luckily these are long skinny fruit, so it was easy enough to cut off the buggy part.  The rest went on what my mom calls a "kitchen sink" sandwich: thick crusty bread with mayo and big slices of tomato so juicy you have to eat it standing over the kitchen sink.  The only type I haven't tried yet is the momotaro, but there's one giant fruit that will be ready very soon.  It's a pink variety, so I'm not quite sure how to know if it's done.  Once I pick it, I'll try to take a group shot.  It's amazing how diverse they are.
Also currently harvesting: kale, chard, arugula, pole beans, dill, chamomile, radishes, beets, lettuce, thyme.  The pole beans have been a big disappointment.  I planted a purple podded variety that is beautiful, but I tried to trellis it up my fence and it didn't work very well.  Same with my Scarlet runner beans and my fall crops of peas.  Next year….
And one last fun crop: catnip!  The cats are going bonkers for it.  Not that our new! baby! kitten! needs any excuse to go bonkers.
Comments Off

on lemon cucumber
email
books I'm in
other sites I'm on
Pinterest
Categories
Blogroll
Archives
creative commons