Archive for the 'Cross Stitch/Embroidery' Category
Posted on September 5th, 2017 by maitreya. Filed under Cross Stitch/Embroidery.
Cross stitch attempt to comfort students taking a hard course with me.
Comments Off

on It'll be fiiiiiiine
Posted on December 16th, 2016 by maitreya. Filed under Cross Stitch/Embroidery.
Embroidered a tea towel for the coffee cart at lab.  I'd forgotten how meditative cross stitch is.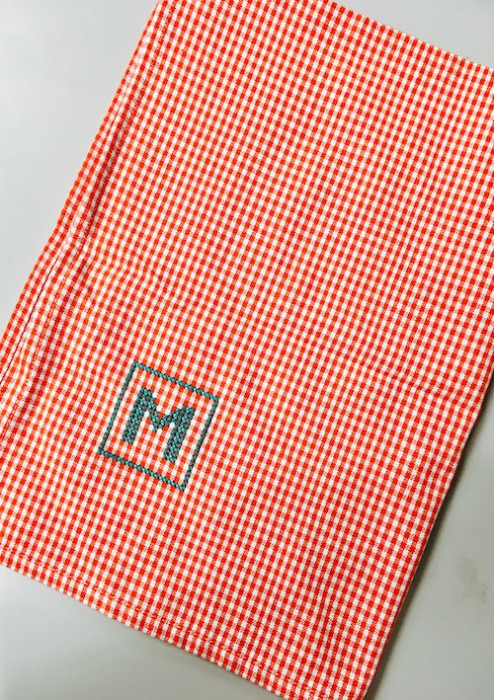 Comments Off

on chicken scratch monogram
Posted on October 10th, 2011 by maitreya. Filed under Art, Cross Stitch/Embroidery.
I was lucky enough to win a piece of art from a is for anika.
I wanted to make her something as a thank you. It seems like it must be hard to part with so many original artworks, so I tried to recreate the picture I won in thread. I wasn't able to capture the awesome color blocking and depth of the original, but I still kind of like how it turned out.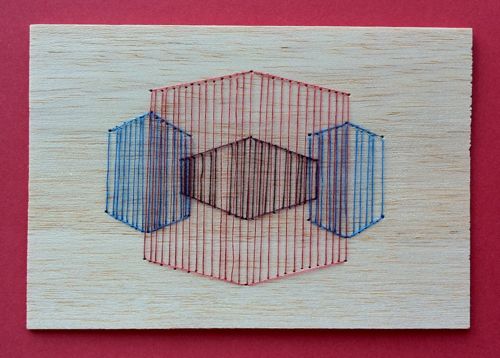 I got the idea paging through the new Doodle Stitching book (photo here). I just printed out the image, masking taped it to the wood, and used a pin to poke holes following the drawing. You can't poke the holes too close together or else they can merge when you pull the thread through. I had that happen a couple of times, but it wasn't too hard to cover up.
What I like about it is that the wood is a nice stiff backing that makes long, straight stitches possible. I'm already working on another one :)
Comments Off

on balsa wood embroidery
Posted on June 28th, 2011 by maitreya. Filed under Cross Stitch/Embroidery, Wants.
collection of embroidery hoops scored for a couple of bucks at the Value Village last month when Becket and Amy and I went thrifting:
The Clover one (the green one top left on the bottom of the pile) is a beautiful thing of craft engineering.  Look at how the screw is recessed so you won't catch your thread on it.  The plastic ones all have a little lip that helps keep the fabric taught.  I think the blue ones are destined to join my be calm sampler.
These join my budding collection of embroidery hoops, including a neat set I got in Switzerland and some cool vintage ones lisa s sent me a long time ago.  If you happen to have any interesting hoops for my collection, I'd be willing to trade for them!
[craftlog factoid of the day: searching for "hoop" brings up more "whoops" posts than "hoops" posts.]
Posted on February 23rd, 2011 by maitreya. Filed under Cross Stitch/Embroidery.
I got this amazing graph paper fabric, and thought it would be cool for a sampler.  I just couldn't get myself excited about any of the patterns I found, even the amazing doomed dinosaur family.  Karen Barbe's blog is always a reliable source of inspiration.  This one with the apron lady kind of reminded me of a pattern in The Sampler Motif Book by Brenda Keyes, so I went with that.  I decided to be super literal and embroider the symbols.
I think it's pretty funny.
Posted on February 12th, 2011 by maitreya. Filed under Crafty Review, Cross Stitch/Embroidery.
I've been looking through my old cross stitch books for a new project (TBA).  My sister found me a bunch of old ones one year, and I love how dated they are. This pattern may be my favorite so far, from the book Expressions of Love put out by Woman's Day magazine in 1989.
I kind of want to make it, even though there are no mothers I know who would appreciate it.  It is so mysterious in its symbolism.  Does the use of dinosaurs mean that a mother's love lasts even after the whole species has gone extinct?  That is a long time.  And why is there an hourglass at the bottom?  Is the mother dinosaur comforting the baby dinosaur because their time is running out?  I just don't know!
Posted on November 9th, 2010 by maitreya. Filed under Cross Stitch/Embroidery.
Lab has been kicking my ass lately.  A couple weekends ago I needed a little breather, so I went out to a show with a friend from lab.  One of the bands was fun. (the other was Steel Train, and they're both awesome).  They have a great song called Be Calm that they played for encore.  It's a reminder I could frequently use, especially in the midst of all the deadlines.  Sampler time!
Since I already cross stitched one lab-advice-related sampler, I embroidered this one in backstitch.
It's 100 pt helvetica bold, that I set to "outline" and printed onto freezer paper-backed fabric from a thrifted pillowcase.  Kind of a merger of influences between the helvetica embroidery kit that's been making the rounds, doecdoe's oeuvre (e.g.), the printed fabrics in the Patchwork + Quilted Gifts book, and the ubiquitous embroidery-hoops-with-fabric wall displays.
Posted on January 31st, 2010 by maitreya. Filed under Cross Stitch/Embroidery.
It's been a loooooong time since I've done much cross stitch, even though it used to be my go-to craft (archive check:  not that long ago, I guess).  I needed a special card and fortuitously came across this half-completed design in my embroidery box.  It's a Danish kit I got on a trip lo many years ago.  I still remember the charming shop: some basement in Aarhus, crammed with Danish flower thread and other lovely supplies, and tended by a nice old lady.  I still wish I'd bought one of every color of the flower thread since I really love the matte finish and soft hand.  I think I was a thrifty grad student at the time, so I'm forgiven. :P
Finished it up in just one evening of TV.  I'd forgotten how enjoyably mindless cross stitching is.
Comments Off

on Cross stitch card
Posted on November 15th, 2009 by maitreya. Filed under Cross Stitch/Embroidery, Jewelry.
Not very successful night of crafting.  I got the December issue of Martha Stewart and went 0 for 2 in attempted crafts.  They have a pattern for cute knotted ribbon wreathes, which didn't seem to go as diagrammed.  Not sure quite what I'm doing wrong, but there seems to be a twist that I was missing.  There's also an article about stuff to make with those yarn flower looms.  I have a similar jig that I thought might work, but I was apparently wrong.  The result looked rather ridiculous and I threw it away.
That's when I put the magazine down and retreated to my old faithful craft, embroidery.  I'd bookmarked this stool and table that had been cross stitched using custom drilled holes.  Then this week noshii's awesome wood jewelry got posted all over the place and reminded me that I'd been meaning to experiment with this idea and had even bought the wood tiles a while back.
So I charged up the dremel tool, penciled a guide on the wood tiles, drilled some tiny holes, and stitched. It's harder to be precise than I thought it would be, so the holes aren't spaced as evenly as I had intended, but I kind of like the wonky cross stitches, especially in the variegated thread.  For the rectangle one, I drilled a bigger hole to fit a grommet.  They both have felt glued to the back to hide the threads.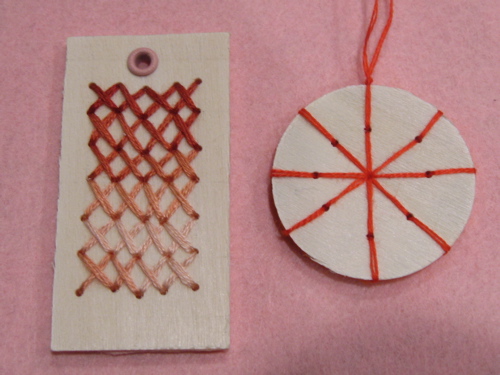 This is definitely a method I'll try again.
Posted on November 12th, 2009 by maitreya. Filed under Cross Stitch/Embroidery, Sewing/Fabric Crafts.
Yay, only one more to do and then I'm caught up on my One Quilt blocks.  Nice way to spend a day off.  The task from bura ellen was red+white, plus redwork embroidery in a "woodland fantasy" theme.  The weird piecing was kind of made up as I went along based on the size of the pieces she sent.  Some, um, unfortunate cutting miscalculations led to the frankenstein spotted patch on one side, but whatever.
I used a pattern from one of my Japanese craft books, Simple Stitch Life (ISBN 4579111036) for the cute embroidery.
email
maitreya[@]craftlog[.]org
books I'm in
Pinterest
Categories
Blogroll
Archives
creative commons
craftlog is under a
Creative Commons
Attribution Noncommercial
license
. That means that you are all welcome to take and repost my photos, replicate my projects, remix my ideas, whatever you want as long as you give attribution (a link is fine) and it's noncommercial. Thanks!