Archive for the 'Martha' Category
Posted on November 28th, 2011 by maitreya. Filed under Holiday, Martha.
I almost decided to go easy on myself this year and not make cards.  However, the cards in the stores are thoroughly boring for the most part and I couldn't bring myself to buy any of them (and the alternative of buying the fancier, nicer cards is more than I care to spend).  I'd been playing around with glitter and Martha Stewart double stick tape shapes as an ultimately discarded ornament idea:
One of her kits has double-stick tape strips with glitter.  Here's a tag version of the project.  Seemed easy enough, and it would put to use the 24-color glitter set my mom got me from Christmas last year.  We printed out the message and got to glittering.  I am pretty happy with how fancy and sparkly they look.
It took a couple hours for me and Mark to make a whole pile, but it was fun to combine colors and shapes.
You can see one more experiment in the back: a leaf stamped in glue and coated in glitter.  That worked pretty well, too, but I liked the stripes better.
Posted on June 6th, 2011 by maitreya. Filed under Jewelry, Martha.
I love this necklace from Martha Stewart's Encyclopedia of Crafts.  New craft goal of collecting disk and leaf charms.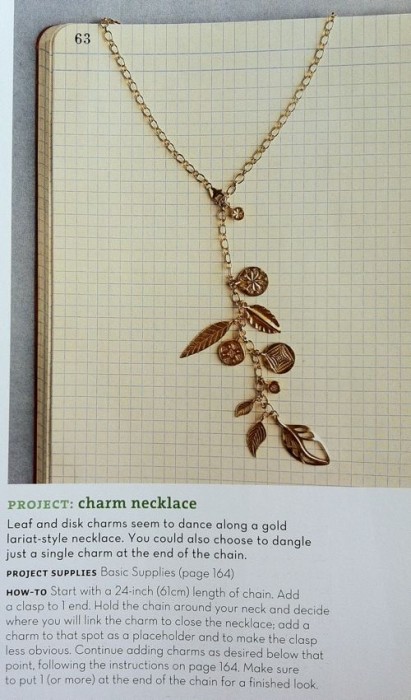 Comments Off

on lariat charm necklace
Posted on May 30th, 2011 by maitreya. Filed under Crochet, Experiments, Martha.
I whipped up a couple of test squares for a baby blanket project I'm contemplating.  Lion Cotton on sale in Natural, Seaspray, and Paprika.  Left side a G hook and right side an I, which was definitely easier to wrangle.  I don't know how they expect you to use the F hook recommended on the package.  I also added an extra round of Natural on the right.
The pattern on the left is from the Martha Stewart directions, from which I first learned to crochet lo these many years ago.  In fact, the (inverted) color scheme is from a project in the same article, which I was reminded of after someone pinned this photo on Pinterest.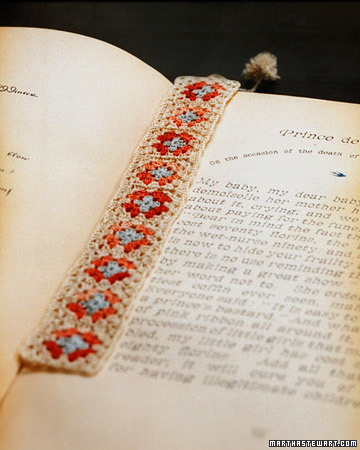 I still have a couple of tiny thread grannies I crocheted before I lost interest.  Wonder what else I could do with them?
I also consulted the instructions from Purl and kind of used a consensus pattern for the version on the right.  Variables tested (left vs right): turn between rounds, don't turn; no chain between clusters, chain 1 between clusters.  Not a huge difference, but I think I'm going to stick with the version on the right.
Attic24 has a nice tutorial for joining squares as you go.  Finishing is my baby blanket Achilles heel, so this is very appealing.
Posted on April 16th, 2011 by maitreya. Filed under Crafty Review, Martha.
Tivo thought I might like Hallmark's "Whatever, Martha!" which has apparently been around for a while but is new to me.  The concept appears to be MST3K on old Martha Stewart episodes (ha, I just found out that this is actually true).  The twist being that it's her daughter, Alexis, and some friend of hers doing the snarking.  Unfortunately, they are just not particularly funny or interesting.  The show also featured a guest who had been on Martha and watched the episode with them.  That part was particular cringey.  Oh well, maybe people who actually like Martha are not the target audience.
Posted on February 2nd, 2011 by maitreya. Filed under Martha, Paper Crafts.
I was rummaging around in the craft room for things to use for encaustic, and uncovered a stash of doilies I bought from Martha by Mail a long time ago.  Conveniently, I also just recently came across One Pearl Button's tutorial for making a cute doily stencil.  (Also check out her version of it with metallic paint pens on votive-holders.)  I tried it on a graph-ruled index card.  Just holding it down was difficult for me, so I used spray glue to temporarily adhere it.
I overdid it slightly with the spray glue, so there are a couple of sticky patches, but I really like the effect.  I was surprised that even all the little dots and dotted lines came through, since they didn't appear to have any actual space punched out, just a perforation.
Ha, I just noticed that apparently I didn't fill in the upper left side dotty bits.  Whoops.
Comments Off

on doily stencil
Posted on November 18th, 2010 by maitreya. Filed under Martha.
I made these amped up peanut butter cups for a lab treat.  I started with this recipe from Martha Stewart.  While at the grocery store getting supplies, I found these little packets of various nut butters (peanut, almond, and hazelnut, in plain, chocolate, honey, and maple variations), so I got a selection of those too.  Instead of using paper cups, I used a set of chocolate molds that I bought from Martha by Mail waaaay back when.  I don't think I've ever used them until last night, haha.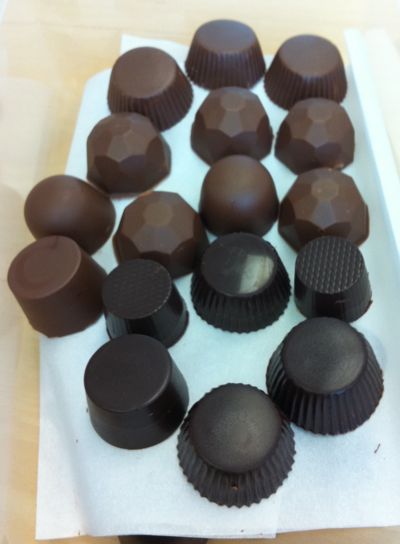 They're astonishingly simple to make.  I melted the chocolate (Valrhona dark and milk chocolate medallions that I found in bulk at Whole Foods) in a metal bowl over hot water.  Spoon a little bit into the bottom of each mold, and coat the walls.  The dark chocolate flowed really smoothly and I just had to tilt the molds to swirl it up the sides.  The milk chocolate was stiffer, for some reason, and I had to use a little butter knife to help encourage the chocolate evenly up the sides.  It's worth making sure the walls are thoroughly coated since I made a few too thin and they broke during unmolding.
Once they've set up (10 minutes in the fridge), I piped the nut butters in.  The Martha filling recipe is way too sweet, in my opinion.  I had to cut it with more peanut butter.  The texture was also too stiff, but that could have been because I used the fresh ground peanuts stuff instead of normal jarred peanut butter.  Adding a little more butter softened it up.  I also added salt.  The little packets were perfect for this step since you just tear off a corner and squeeze it directly in as is.  Spoon more chocolate over the filling, tap to even out, then into the freezer to set up.  I didn't have enough level surface area in the freezer, so I tried a few of them in the fridge, and I really recommend the freezer.  They contracted more so they unmolded better, and the filling solidified a bit, which helped with the structural stability where I had thin walls.
I'm really happy with them.  They look rather professional, if I do say so myself, and they are super delicious.
Posted on January 30th, 2010 by maitreya. Filed under Martha.
One of my postdocs made candied citrus peel to share with the lab, and it was so tasty I had to try a batch.  I used this recipe from Martha, except that it took a little longer than advertised for the meyer lemon peels to turn translucent.  I also kept them as "flakes" instead of slicing them into thinner strips.  We're having them tonight with strawberry shortcakes!
Posted on December 20th, 2009 by maitreya. Filed under Holiday, Martha.
The Martha Stewart village kit back from the Martha-by-Mail days, finally all assembled, on the mantel.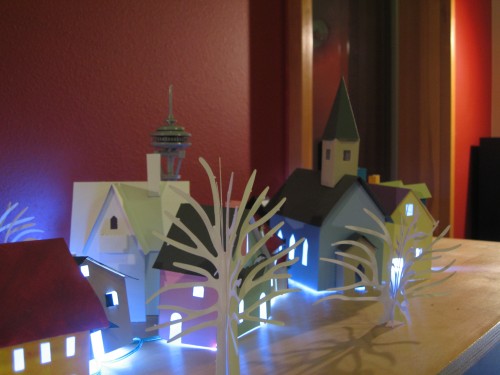 One more house to paint, though.  You can also see our new Lego space needle addition this year, which was a present from Becket.
Posted on December 14th, 2009 by maitreya. Filed under Home and Garden, Martha, Paper Crafts.
Since I was too lazy to actually send out real moving announcements, I made little cards with our new address to pop in with our xmas cards.  The picture on one side is just the house photo sent through the Martha Stewart glitter painting tool (an effect you could also recreate in photoshop etc).  Our address is on the other side in a free font called Rabiohead.  I just tiled the image 10X in a powerpoint slide, ran it through the printer twice to get them double-sided, and cut them apart (that reminds me that my Fiskars thingy needs a new blade after all the card-making….)
They are quite cute if I do say so myself.
Posted on November 8th, 2009 by maitreya. Filed under Art, Martha.
The latest issue of Martha Stewart has an article about "glitter painting" in it, which is essentially a several-pages-long advertisement for the Martha glitters.  I haven't yet been able to bring myself to pay that much for the complete set of 24, but I am hoping someone with a 50% off Michael's coupon might get it for me for xmas.  Anyway, the idea is paint by number with glue and glitter.
The best part is the cute tool on the website to convert photos into simpler, glitterize-able images.  You have to register, but whatever.  It is really neat.  I've been playing with it for like the last hour with random photos that happen to be on my computer.  This is my favorite (look at the trees!), and I got a few good cat ones too.
email
maitreya[@]craftlog[.]org
books I'm in
Pinterest
Categories
Blogroll
Archives
creative commons
craftlog is under a
Creative Commons
Attribution Noncommercial
license
. That means that you are all welcome to take and repost my photos, replicate my projects, remix my ideas, whatever you want as long as you give attribution (a link is fine) and it's noncommercial. Thanks!