Archive for April, 2007
Posted on April 26th, 2007 by becket. Filed under Sewing/Fabric Crafts.
Hi – Becket here again. I'm expecting a baby soon (due in August) and so it's been a good excuse to make cute baby stuff (keep a lookout for future posts – I have a few projects that I'm wrapping up). Since I've been on a quilting binge lately, I thought some quilted baby bibs would be cute. I've seen several examples of quilted bibs lately that have served as great inspiration. I placed bright contrasting fabrics on the back, so they are reversible. Maitreya and I put a pearl no-sew snap on the pink/green one. We needed a hammer to do this and there were quite a few layers to go through so it took quite a bit of strength to get it through. For the blue one, I just sewed on a snap. There is a layer of quilting batting in the middle which has been needlepunched so it won't shrink or change shape in the wash. One last thing? I need to scotchguard them before they are used!!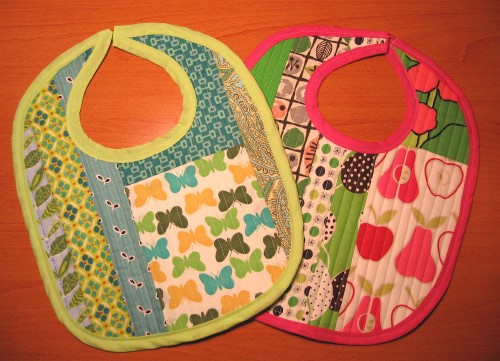 Posted on April 26th, 2007 by becket. Filed under Toys (cat and kid).
Hi – this is Becket. I'm over Maitreya's place for another crafty get-together and we've decided that I needed to post something new. So, with my husband's help, I made a cat tent. My husband had a passing fancy with sewing and so he helped me with this project. We made it from a pattern that I bought off eBay. The brown and orange fabric is very thick and did not require interfacing – I found it at IKEA (and, in fact, Maitreya was with me at the time…). My husband found the poles at Home Depot and used spray Krylon paint to turn them orange and match the color of the inside of the tent. It didn't look like much – until we put the poles in – then Voila! – it popped into a perfect miniature tent! Jamie, our cat, likes to hide out in it – that is, when he doesn't attack it. Cats are such appreciative creatures, aren't they? :)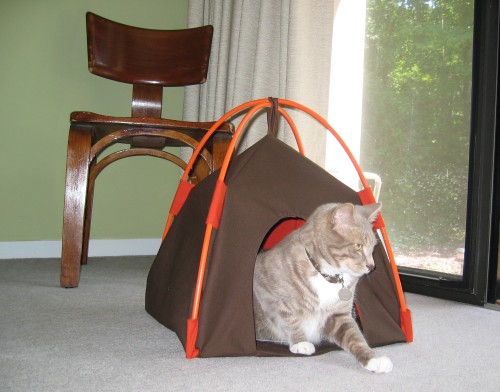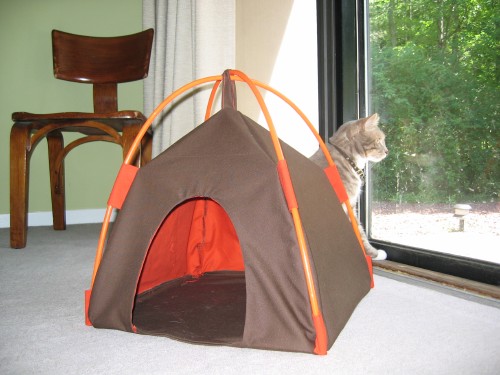 Posted on April 15th, 2007 by maitreya. Filed under Sewing/Fabric Crafts.
Here's my quilt for Losabia's Doll Quilt Swap. I decided to try a coin quilt with some unbleached muslin and the red geometric prints I've been collecting for the last few months (which were conveniently already cut into strips from a prior project that I never finished). I like the coin quilt pattern because it seems more forgiving of tone/color balance issues and imperfect seams since everything is surrounded by a moat of background. That said, I did manage to screw it up a few times, my favorite being when I sewed the layers in the wrong order for an envelope finish. That was fun. To redeem myself, though, I did figure out a speedy shortcut method where I pieced everything as strips instead of teeny rectangles. It's ~24×18 inches and tied with red embroidery floss through the center of every single one of the little red blocks.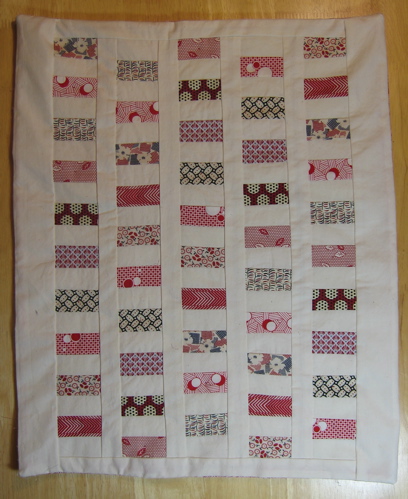 Anyway, I hope my swap partner likes it because I came very close to keeping it for myself. What stopped me is realizing that then I would have to make another one. I am now thinking that perhaps quilt swaps are not a very good idea for me to sign up for; this took a LOT of work, and I'm not even sure it'll be to my partner's taste. I had a good time making it, though. Nice project to break the blogging silence too. I've been off trying (successfully I might add) to get myself a job. And, so not as important but almost as time-consuming, I have solved several puzzles in the Nine Inch Nails Year Zero ARG. Go me.
email
maitreya[@]craftlog[.]org
books I'm in
Pinterest
Categories
Blogroll
Archives
creative commons
craftlog is under a
Creative Commons
Attribution Noncommercial
license
. That means that you are all welcome to take and repost my photos, replicate my projects, remix my ideas, whatever you want as long as you give attribution (a link is fine) and it's noncommercial. Thanks!