Archive for October, 2007
Posted on October 14th, 2007 by maitreya. Filed under Sewing/Fabric Crafts.
Got 2 cute new felt books at the Japanese book store yesterday and of course had to immediately make something from one of them. This little zip pouch, which is on the cover, is really easy. Of course I had to complicate it by adding a lining (the background fabric), but the topology wasn't too bad and I left the raw edges as in the design to keep it easy. The felt is actually felted wool I got at City Quilter in New York. It's a little stretchier than normal felt, and not as completely felted, which caused me a few problems. The orange stitching is more obvious in person.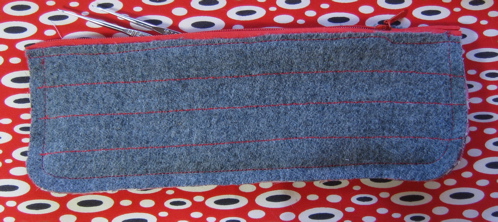 It's the new home for my crochet hooks.
Posted on October 1st, 2007 by maitreya. Filed under Cross Stitch/Embroidery.
My contribution to greetingart's embroidered button swap. I think my idea was better than my execution on these. It's really hard to embroider a perfect circle and then center it perfectly on a button blank. Oh well. They still turned out pretty cute.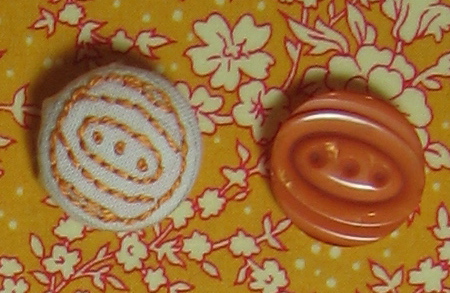 I packaged them sewed to fabric fused to card stock and cut with pinking shears.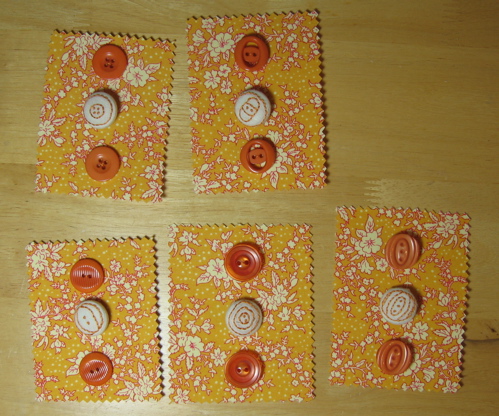 email
maitreya[@]craftlog[.]org
books I'm in
Pinterest
"Home" is a cotton quilt designed to recall traditional quilt patterns with a dedication to place and our relationship with it. Quilts are often used as a means to tell stories and, whether you're near or far from whatever you place you call home, those stories of home remain connected to us in so many ways. The reverse of the quilt, pieced organically...
Categories
Blogroll
Archives
creative commons
craftlog is under a
Creative Commons
Attribution Noncommercial
license
. That means that you are all welcome to take and repost my photos, replicate my projects, remix my ideas, whatever you want as long as you give attribution (a link is fine) and it's noncommercial. Thanks!