Archive for November, 2007
Posted on November 29th, 2007 by maitreya. Filed under Paper Crafts.
I bought this calendar PDF for a whopping $3.99 from A Little Hut. She emailed it right back to me less than 2 hours after I paid, and I promptly printed it out and put a new blade in my exacto knife. It would actually be really pretty as-is even, with dotted lines outlining each letter for each month. The instructions recommend a rather ingenious backing sheet so you can change the pattern, but I cut some of my precious Japanese thick felt to the size of the whole calendar and used that instead. It looks really nice hanging with the peek of orange around the edge. Now to wait until January.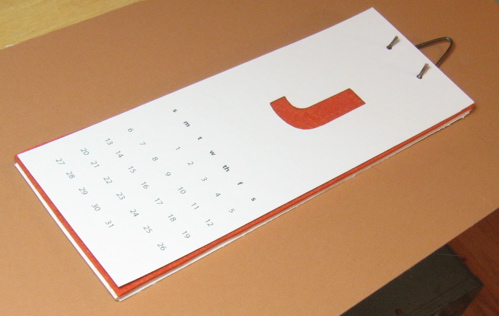 Couple of construction notes for anyone else making this: either my printer is not centered exactly or you aren't supposed to cut directly down the center of each sheet (or I am hypersensitive to my margins being precisely equal on each side). Also, cutting a 6 inch piece of wire from a clothes hanger is harder than it first would seem. Finally, I didn't like the "stencil" look of the letters with holes in them, so I just left large empty spaces which actually look rather cool.
Posted on November 4th, 2007 by maitreya. Filed under Jewelry.
I don't remember what triggered my sudden desire to make a shrinky dink cassette tape necklace, but here it is. Impulsive crafting FTW. At 1×1.5 inches, it's a tiny mix tape. (The colors are a bit off in the picture; the blue is much closer to this page's background color.)
According to my last.fm charts, here's what might be on my mixtape if it weren't made of a little piece of plastic and sharpie ink (links go to myspaces):
Cobra Starship
Casiotone for the Painfully Alone
The Hush Sound
Saul Williams
Matt & Kim
Panic! at the Disco
Bright Eyes
Nine Inch Nails
Freezepop
Delta Spirit
Blonde Redhead
Fall Out Boy
Metric
Coconut Records
LCD Soundsystem
I Monster
Wow, that would make a terrible mixtape. It's like a 13 year old girl and a year-behind music blog had a horrible collision or something.
Posted on November 4th, 2007 by maitreya. Filed under Jewelry.
This might be the geekiest thing I've ever made: an ID bracelet coded in DNA.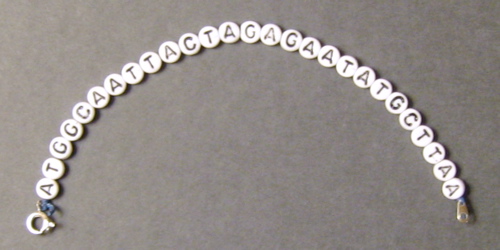 The Wikipedia Genetic code entry has a table to break the code or encode your own name (U=>T if you prefer DNA to RNA). Note that not all letters are represented since there are only 20 amino acids plus X for stop. You can also go see if some genome already contains your name, by entering it in this DNA search page. No MAITREYAs yet, but there are still lots of things left to sequence!
email
maitreya[@]craftlog[.]org
books I'm in
Pinterest
Categories
Blogroll
Archives
creative commons
craftlog is under a
Creative Commons
Attribution Noncommercial
license
. That means that you are all welcome to take and repost my photos, replicate my projects, remix my ideas, whatever you want as long as you give attribution (a link is fine) and it's noncommercial. Thanks!