Archive for January, 2008
Posted on January 30th, 2008 by amy. Filed under Sewing/Fabric Crafts, Toys (cat and kid).
Hello there – Amy here. I made these Denyse Schmidt kitties for Becket's baby shower: Papa, Mama, and Baby, from the "Steve" pattern.
Baby kitten was 1/3 smaller than Papa and Mama and made of a lovely wool felt contributed by Maitreya. Turning those arms and legs from felt was a bit tough!! You might recognize Papa's ears and tummy from other Craftlog projects, a piece of material Becket used in her very first sewing project, which also made an appearance in the Baby Shower Pocket Quilt. Other trimmings came from Maitreya's terrific collection, and from one of my excursions to MJ Trimmings. The button eyes were from The Great Philadelphia Button Haul (and mean that these kitties are shelf toys rather than for baby).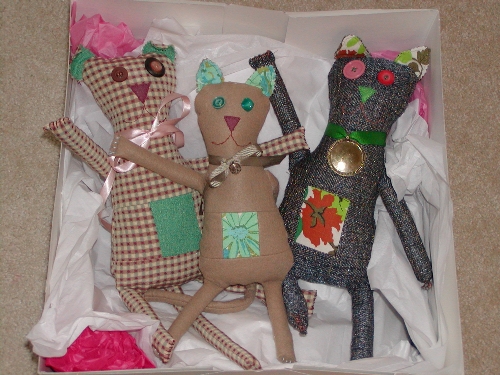 Posted on January 30th, 2008 by maitreya. Filed under Knitting.
Look what my friend Carole made me: knitted DNA potholders! They are awesome and now live on top of my lab microwave.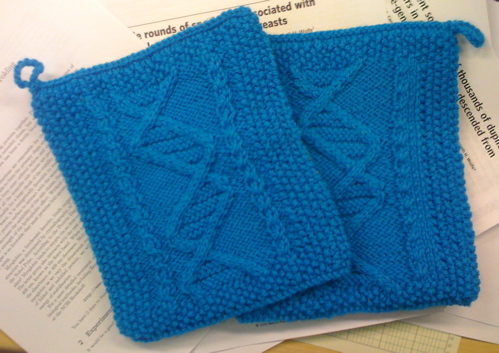 Posted on January 13th, 2008 by maitreya. Filed under Holiday, Sewing/Fabric Crafts, Toys (cat and kid).
When I was putting away all the Xmas decorations today, I realized that I never posted a few crafts from when my family visited.
First one, I made everybody a tiny stocking with their name on it. I found a stocking template on the Martha Stewart website somewhere, added the name with a graphics program, and printed it out directly onto some slubby cotton ironed to freezer paper. I didn't bother with the bubble jet set stuff since these (presumably) won't get wet. Zigzagged the tops to catch the hanger, then zigzagged around the edge, following the printed-on outline. Cut it out, repeat 7 more times. They turned out a little more country-cute than I'd envisioned, but I still like them ok.
Radha and I just had to get this set of iron-together-plastic-beads-thing when we were out shopping one day. This is one of those kids crafts we somehow avoided up to now. Ariel made a pretty good portrait of my cat.
By the way, my new year's resolution is to be more productive, one prong of which is to stop wasting so much time on the internet. I just cut my blog reads list by about half, so we'll see if that lasts and/or makes any difference. For anybody curious, I'm using Getting Things Done because 1. it turns out that I already do some of their tricks, and 2. GTD has a huge online following. I think if I turn fangirl, that might help me adopt it and maintain it. Anyway, we'll see. Hey, maybe I'll even get more crafting done. :)
email
maitreya[@]craftlog[.]org
books I'm in
Pinterest
Categories
Blogroll
Archives
creative commons
craftlog is under a
Creative Commons
Attribution Noncommercial
license
. That means that you are all welcome to take and repost my photos, replicate my projects, remix my ideas, whatever you want as long as you give attribution (a link is fine) and it's noncommercial. Thanks!