Archive for March, 2008
Posted on March 13th, 2008 by maitreya. Filed under Experiments, Resin.
Mostly for my own future reference: Normal poly 96-well plates don't release resin. Not even 12-well plates are flexible enough. Also, mix the pastel dust into the resin before you pipette it into a small mold, because otherwise it's really hard to resuspend.
Posted on March 12th, 2008 by maitreya. Filed under Sewing/Fabric Crafts.
My sister got me a really cool piece of vintage fabric (might be a curtain) which I've been itching to do something with. It seemed like a good match to these awesome wooden handles from Tall Poppy (doesn't look like they have them atm, though). Pattern was made up as I went along, and I'm most proud of a little clever construction trick I came up with to attach the lining at the same time as I made the tabs that go through the slots of the handles. The tabs go through the handles and attach with snaps so you could wash the fabric piece or even replace it with a different one. The only problem with it is that it doesn't open very far.
Posted on March 8th, 2008 by maitreya. Filed under Toys (cat and kid).
I had this idea yesterday in lab and was instantly seized by a crazed need to make it. A bout of insomnia last night really helped move production along too. It's for a baby shower next week; what to make for the child of a computer scientist and a bioinformaticist? A toy computer of course, lol. I chose the old school Mac design because 1. I'm an Apple fangirl 2. we had a whole lab of these (can't remember if they were originals, plusses, or SEs) when I was in junior high, so they hold some nostalgia value for me (because, as usual, my crafted gifts are at least 50% about me me me), and 3. I am lazy and didn't feel like making a separate monitor and CPU. I kind of wish I'd put a smily face on the screen instead of the applique apple logo, but not enough to go back and redo it.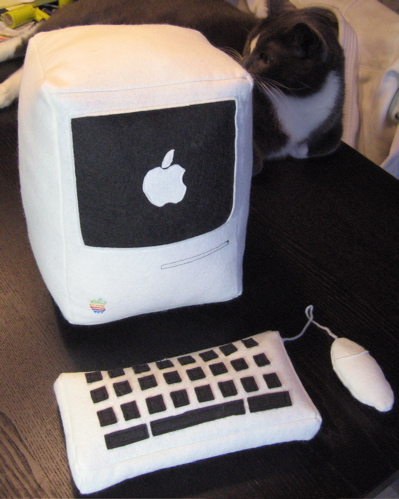 The obligatory rainbow logo is hand embroidered.
I made the pattern up as I went along, so I'm super happy/pleasantly surprised that it looks like it did in my head.
Check it: plush PC with Windows Vista. There are a bunch of stuffed wii's too, and this insane nintendo system with velcro screens to switch games. Is it bad that I have a design for a macbook on the brain now?
Oh, and just because the chupa would not leave the thing alone he deserves to be lolcatted: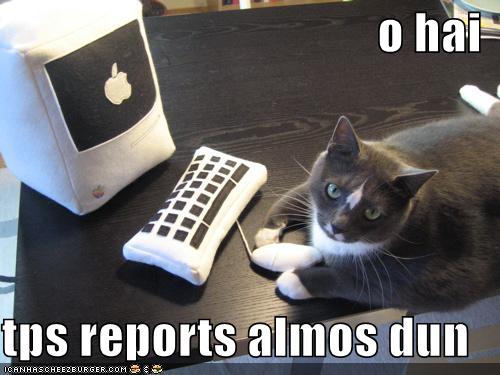 email
maitreya[@]craftlog[.]org
books I'm in
Pinterest
Categories
Blogroll
Archives
creative commons
craftlog is under a
Creative Commons
Attribution Noncommercial
license
. That means that you are all welcome to take and repost my photos, replicate my projects, remix my ideas, whatever you want as long as you give attribution (a link is fine) and it's noncommercial. Thanks!