Archive for August, 2008
Posted on August 31st, 2008 by maitreya. Filed under Sewing/Fabric Crafts.
I made some covered hair clips for Becket's daughter for her birthday. Some are felt, some are ultrasuede, some are denim, and some are fabric. For the plain fabric ones I used some iron-on backing to make them sturdier and to keep them from fraying. Worked like a charm. I really like how the ultrasuede ones turned out in particular. They look more put-together as opposed to some of the others which look more "home made" than I'd prefer. The button on the tiny red one is from The Great Philadelphia Button Score, so Becket should recognize it. :) The cards they're clipped to are letterpressed stationery from Egg Press.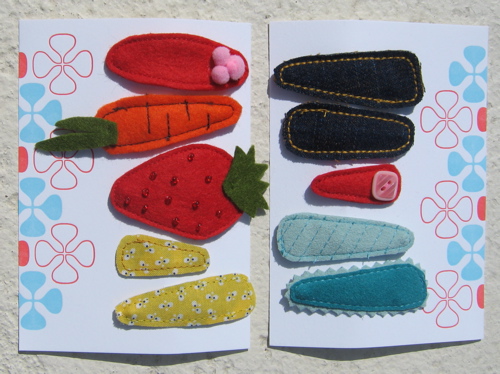 For instructions, Angry Chicken has a nice tutorial, or you can just buy some cute ones from the legions of Etsy stores that sell them. I like the ones at Little Something too.
Posted on August 11th, 2008 by maitreya. Filed under Sewing/Fabric Crafts.
I'm doing a collaborative quilting project, One Quilt, where each month one person sends fabrics and maybe some guidelines for making a block, then we all send her our finished block.
I always psyche myself out over group projects and swaps and stuff because I feel like I really need to do something awesome and super creative, and then I get paralyzed when I don't get any good ideas, stop doing any crafting for a month, and then end up sending it late after just deciding to do something simple. :/ Sorry tumbling blocks.
I do like how it turned out, though. I've never worked all diagonally before, and there's a little bit of fussy-cutting at the top and bottom points.
email
maitreya[@]craftlog[.]org
books I'm in
Pinterest
This week, I'm in Jaipur, India, starting my second teaching stint with Ritchie Ace Camps. Last year's Jaipur experience was amazing (lots of pics here), and I can't wait to meet everyone who is coming on the 2015 version (although I'm going to miss last year's group like mad!). I hadn't used block printing techniques a lot …
Categories
Blogroll
Archives
creative commons
craftlog is under a
Creative Commons
Attribution Noncommercial
license
. That means that you are all welcome to take and repost my photos, replicate my projects, remix my ideas, whatever you want as long as you give attribution (a link is fine) and it's noncommercial. Thanks!