Archive for October, 2008
Posted on October 31st, 2008 by maitreya. Filed under Holiday.
Mark carved these while we girls were sewing this past weekend. :)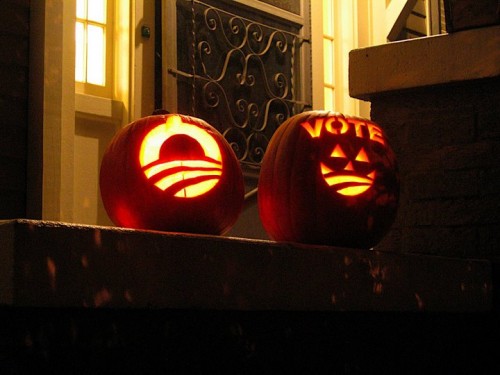 Templates from Yes We Carve
ETA: my civic contribution was putting up this cool vote poster by Nikki McClure. Buy Olympia's giving them away free!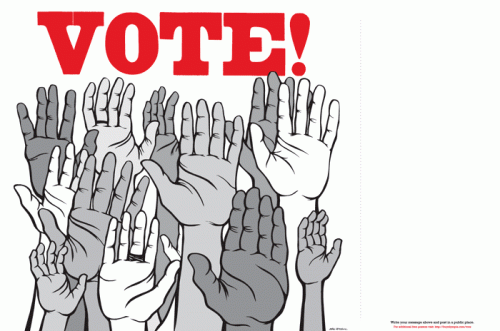 Posted on October 26th, 2008 by maitreya. Filed under Jewelry, Sewing/Fabric Crafts, Uncategorized.
I only finally got around to visiting the Kinokuniya bookstore in Seattle. Some nice reader had sent me a photo a long time ago of the craft section of the store, which had a sign advertising Crafting Japanese. It's still up! In giant letters! And they were having a 10% off everything sale! So I got a few new books, including some really awesome felt books.
This felt cuff is from ISBN 9784579111152, and is also inspired by the final collection of Project Runway winner Leanne. I liked her all along, so I was happy to see her win. My first attempt at handsewing the aqua wavey-pom thingy was a miserable failure. I wasn't even going to reattempt it, but Amy and Becket are visiting this week and helped me figure out v2: machine + handsew, with fewer layers, which worked way better. The thick cream felt is a scrap of the piece I got in Japan, last used for the felt sewing box.
The version in the book hooked with buttons and loops, but I used elastic instead. Action shot: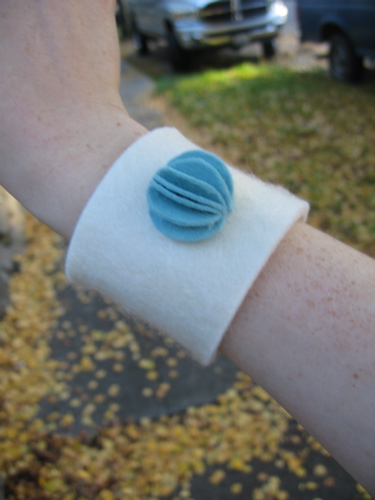 Posted on October 11th, 2008 by maitreya. Filed under Home and Garden.
Our mattress is still on the metal frame it came with pending finding a bed frame/head board we like. Since that hasn't happened yet, I thought it might be fun to try some of the wall decals from blik as a temporary and renter-friendly solution. I got the Boy in the Weeds pattern from Threadless, which I also happen to own in T-shirt form. The stickers were a giant pain to put up: instead of coming already assembled into the design, I had to cut every one of them apart and stick them up individually, using a level to keep them all straight. It took me and Mark most of the afternoon. But, they look pretty good, if I do say so myself.
Maybe I'll try these doily ones next.  I have a big blank space behind the door in my office.  Hmmmm.
email
maitreya[@]craftlog[.]org
books I'm in
Pinterest
Categories
Blogroll
Archives
creative commons
craftlog is under a
Creative Commons
Attribution Noncommercial
license
. That means that you are all welcome to take and repost my photos, replicate my projects, remix my ideas, whatever you want as long as you give attribution (a link is fine) and it's noncommercial. Thanks!