Archive for December, 2008
Posted on December 31st, 2008 by amy. Filed under Uncategorized.
My mom is a very accomplished seamstress, and I'm fortunate that she still enjoys sewing for me. There is nothing like a custom-made garment! Since we live so far apart, fit has always been a challenge. There have been a lot of phone calls asking, "could you measure the circumference of your left bicep?" Mom decided she'd like to have a dress form of me, and while looking into commercial options, she stumbled on the many great descriptions of duct tape dress forms. Using the instructions at Threads Magazine and another duct form dress form description at Etsy, she hit the hardware store and we got to work.
We wanted to make sure there was some neck coverage, so I began with an old, close-fitting turtleneck and lengthened it by serging on an old t-shirt. Then, we started wrapping, 3 layers in total.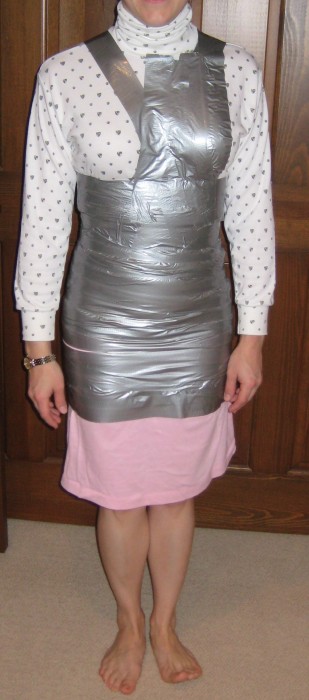 Once the wrapping was done, we cut it off (be careful not to cut your bra strap!) and stuffed it with the combination of an old pillow and fiberfill. Dad traced the bottom and cut a piece of plywood to fit, and mounted it on a pipe. The stand was recycled from a high school award plaque. We cut the pipe so that it would be my height.

Mom's innovation was the addition of the arm. We find that the armscye is typically a tough region to fit (especially if you are from hearty Midwestern stock like me!) She has sewed for me since we made this, and she said that it really increased her confidence. And, a shirt she made recently proved the usefulness-it fit perfectly!
We also did one for mom (these are also a big help when sewing for yourself!)  We realized each has its own personality, so we named mine "Rhonda", and hers "Lulu"!
Posted on December 30th, 2008 by maitreya. Filed under Crafty Review, Cross Stitch/Embroidery.
Ghosts of crafting past! While I was home, I took a picture of this cross stitch I must've done when I was in high school.  The pattern is out of the book 100 Cross-Stitch Gifts from Nature by the Vanessa-Ann Collection. I still have the book, and I bet that I've done more projects from it than any other single craft book. Only the tulip napkins ever got posted to craftlog, but I also made a big rose pattern that was used to reupholster a rocking chair seat, a set of placemats with flowers on the corners, and a sampler for latin class (ars longa vita brevis, iirc).  I guess that's why the binding's broken.  My how my tastes have changed!
Posted on December 29th, 2008 by amy. Filed under Jewelry.
At home, I finally had enough free time to fashion a few pairs of earrings from some shank buttons I had collected. The most difficult part is removing the shank! The stars were plastic, and Dad ground them down for me using a bench grinder.
The little flowers turned out to be metal, and they are slightly curved, so after I cut off the shank using a Dremel cutoff wheel it was still too much shank, so Dad used a round grinding stone on his drill press, and we ground off the shank. In the process, we managed to mar the buttons a bit (we were holding them with pliers), so I ground out the scratches on the Dremel and then used Crocus Cloth to give them an all-over treatment.  I had never used this metal polishing cloth before, but it was flexible enough to fit into the small corners of the piece. The cloth gave them a matte finish that looks a bit like sterling. It turned out that underneath the surface, the metal was reddish, which I really like- it brings out the detail. We used straight wire cutters to modify the earring backs so they wouldn't show through (and I smoothed them out with the Dremel). It's fun to be home with Dad's amazing tool collection for something like this.
Comments Off

on button earrings
Posted on December 28th, 2008 by maitreya. Filed under Crochet.
Present for my brother-in-law. It's a super soft yarn I got either from my sister or my sister-in-law, I can't remember.  Very nice to crochet with.  For a change of pace, and since my crochet edges are rarely very even, as you can see in the picture, I did it long-ways, just doing a random assortment of the basic stitches to make stripes of various widths.  It's long enough to wrap around a few times.
I've almost made scarves for the entire family now, though my other sister and her fiance don't need them what with the living in Miami and all.  I guess I'll have to start on my sisters-in-law and their families next.
Comments Off

on random crochet scarf
Posted on December 27th, 2008 by maitreya. Filed under Resin.
Yay, guest posts are fun.  Since Becket started her own blog, it's nice to have Amy add some of her creations from time to time.  Virtual craft night.
My sister asked for necklaces for Christmas, so I went rummaging in my resin bits drawer for ideas and ended up making one for my mom too.
This one was molded in a piece of tubing.  I sanded the ends to be sort of rounded and even.  I think I need to either get one step finer sandpaper for the last step, or coat with gloss or something to get them shiny.  I drilled holes in either end using a dremel tool.  Unfortunately they were too big for the headpins I had, so I added the beads, which I ended up liking more than if I'd just used the headpins.  Twisted ends into little loops, attached chain, done.  It looks pretty good on, but I can't help thinking that it needs something else.
Another 2-layer cube like my yellow one.  I sanded this one all over because I like the way it kind of mutes the color.  Hole dremelled and threaded on weed-whacker line.
For the clasp, I threaded both ends through 2 beads that fit pretty tight.  Then you can put it over your head and still adjust it to whatever length you want.  The picture has the ends fastened with knots, but Radha noticed they were poke-y after wearing it.  Turns out that melting the ends until they balled up worked great!
Posted on December 26th, 2008 by amy. Filed under Home and Garden, Sewing/Fabric Crafts.
Mom and I spent Christmas Day working on a throw pillow for her couch.
She'd initially planned to use buttons to spice it up, but after a big search across many states (!) we couldn't find anything quite right. Instead, we decided to embellish it with embroidery. I sketched a number of options on black construction paper, and we chose this geometric.
Then, we copied it on the all-in-one scanner, and tried out the layout with the fabric.  Although we had initially planned to use the elements horizontally, we realized changing them to the vertical gave a nice contrast with the horizontal pattern of the fabric.  We transferred the design, and decided to add symmetry by making the side elements mirror images.
Fortunately, we had two embroidery hoops, so we each worked one of the outside motifs using random odds and ends from her knitting basket. What a fun way to spend Christmas afternoon, needleworking side by side! Once we were done with the two side motifs, we realized that the center motif needed to be more symmetric, so we leveled the horizontal elements. Then, there was a bit too much negative space, so we added a catch stitch in linen cord along the center and sides. Mom has a copper coffee table, so we decided to add brass buttons to unify the pillow with the room (after all the button search, these had been in her stash all along!) She finished it with homemade cording in black canvas.
Posted on December 24th, 2008 by amy. Filed under Holiday.
I arrived home in Ohio with carry-on luggage only.  A day later, I was met by the box of gifts I shipped ahead.  I didn't do much crafting for gifts this year (though I can't wait to see what Maitreya has made!), but my mom and I really had fun using odds and ends and "recycled" wrap to decorate our packages. I really liked the green and magenta combination we pulled together for the gift bag.  A sprig of "evergreen" stapled to the bag dressed it up.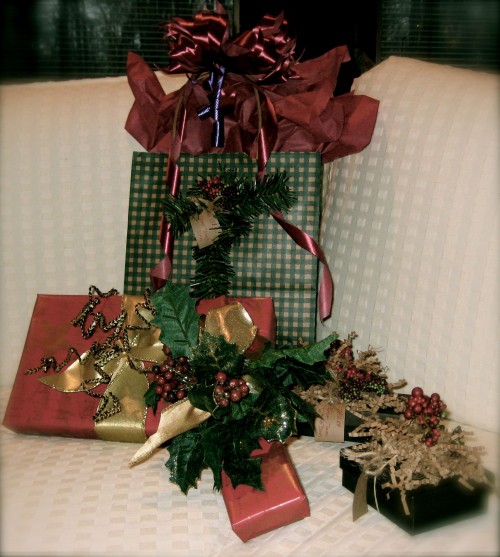 Mom had purchased two lovely Paul Strauch bronze doorbells for family members, they came in pretty chocolate brown boxes too nice to wrap. Instead, we sprunched together some crinkly brown paper shreds (rescued from a package last year) along with a sprig of silk "berries" leftover from last year's Christmas wreath and tied it all with a bit of raffia.
A bit of leftover silk holly brightened up a necklace box, and coordinated with the red and gold paper. This was the last 8 inches of gold ribbon on the roll!
Posted on December 21st, 2008 by maitreya. Filed under Sewing/Fabric Crafts.
Present for my sister.  I've been seeing these things all over Etsy and around and about.  I just traced the hood from my coat and played it by ear.  I managed to sew the scarf on backwards the first time, but it was ok because I had to rip it out and cut part of the hood off to make it fit right anyway.
The lining is wool jersey, and the outer fabric is a herringbone I probably got at Joann.
It is hard to photograph :/
Modeled by my desk lamp
Posted on December 19th, 2008 by maitreya. Filed under Knitting.
My friend Amy got me some nifty yarn made from the scraps of silk leftover from sari production.  It's got all these beautiful jewel colors in it.  I thought my mother in law might like it, so I used 2 of the skeins to knit a plain garter stitch scarf for her.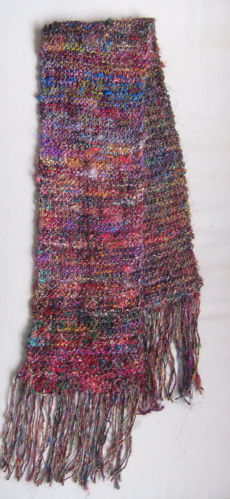 Got to use my pretty green vintage knitting needles I picked up a while back.  Nice tools always make crafting more fun.
Posted on December 18th, 2008 by maitreya. Filed under Knitting.
I've got a few Christmas present posts queued up for after they get opened.  Every year I either spoil the surprise by posting it once it's done, or I forget to take pictures and then December/January is a craftlog desert.  Not this year!
Here's one from Christmas past, a scarf for Mark.  I used this herringbone scarf pattern and Mark picked out the yarn (Thick and Quick?) at the giant going-out-of business sale Treasure Island had when they went under.  The scarf is really thick and warm.
It's a really easy pattern for such a cool stitch.  Kind of looks like sideways knits.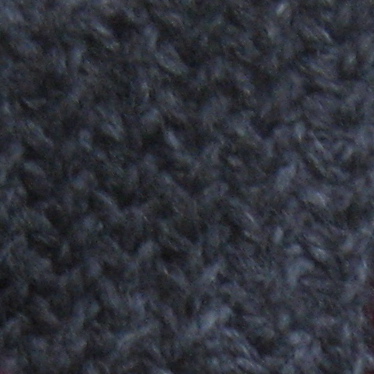 Comments Off

on herringbone scarf
email
maitreya[@]craftlog[.]org
books I'm in
Pinterest
Categories
Blogroll
Archives
creative commons
craftlog is under a
Creative Commons
Attribution Noncommercial
license
. That means that you are all welcome to take and repost my photos, replicate my projects, remix my ideas, whatever you want as long as you give attribution (a link is fine) and it's noncommercial. Thanks!