Archive for March, 2009
Posted on March 27th, 2009 by maitreya. Filed under Random.
vacation + avalanche of work = 1000 unread posts on Bloglines
Yeah.  That's too much.  Also, the avalanche of work shows no signs of abating for, oh, probably forever.  So today I went through them and deleted practically everything.  I only kept a feed if I really really liked something in the last few posts.  Of course I am dumb and moved over to Bloglines beta without noticing that they are no longer compatible with automatically exporting my reading list over here, so you can't tell I did anything.  (I do like their new system for marking posts "read" as you actually read them, though.)  I also might change my mind in a month and want all my subscriptions back, so this way I'll just leave them here as a backup. :P
wedding quilt for my sister + 4 months behind on One Quilt = crafter's block
Besides the accessories in the last post, which were literally pulled together in an hour the night before my flight, I haven't been doing much crafting.  Partly due to the aforementioned workload, but also because I feel like I need to work on one of my overdue projects if I do anything.  Solution to this is to do some little TV-watching project to get me back into it.  I'm thinking a little piece of crochet jewelry from a new Japanese craft book I picked up.
Oh, and I'm back on the Getting Things Done bandwagon after falling off last year around this time.  Hopefully that'll bring down the anxiety a notch.  I'm approaching inbox zero!
Ugh, this post is a downer.  Here, have a picture of my morbidly obese cat with a potato chip bag stuck on his head.
Posted on March 20th, 2009 by maitreya. Filed under Jewelry, Sewing/Fabric Crafts.
My sister is getting married today.  As a surprise, my entire family (including the brothers-in-law) is wearing purple, her favorite color.  It's a beach wedding, so Mark is going the Miami Vice route, haha.  I got a pretty cute dark purple jersey dress from Anthropologie, but I knew I had to make a few accessories to liven it up.
Becket made me this awesome clip (pattern from Last Minute Fabric Gifts) that I'm going to put in my hair.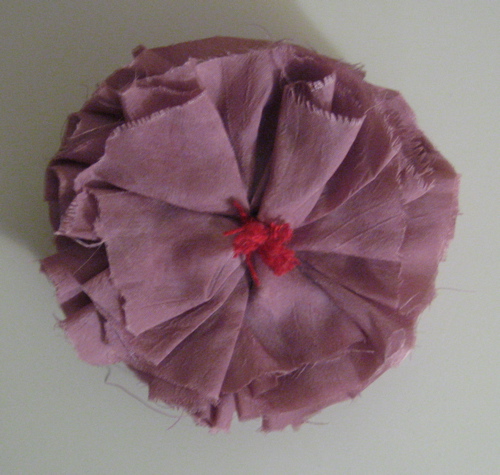 Necklace made of little purple doll buttons.  I think it'll look good with the plunging neckline.  (my instructions)
And a flower badge to pin to my shoulder strap.  The flower style was inspired by Giant Dwarf, expecially her felt fascinators, but I made it from ultrasuede.  (The color balance is better in person.)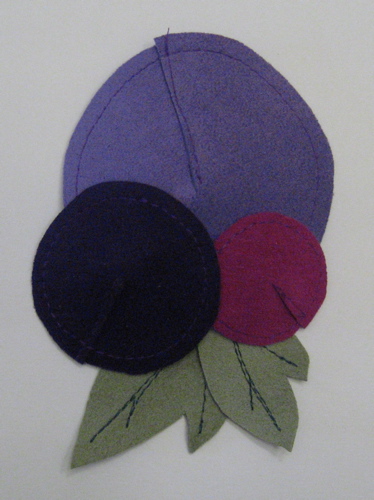 Posted on March 1st, 2009 by maitreya. Filed under Uncategorized.
Yellow and gray, how could I resist.  I'm enjoying wearing bigger rings now that I'm not in the lab and wearing gloves as much anymore (silver lining, I suppose).  It's from the b-line on Etsy.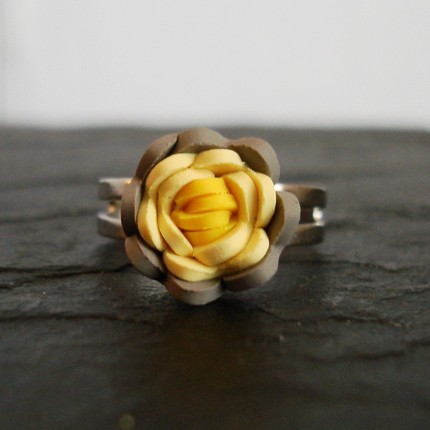 email
maitreya[@]craftlog[.]org
books I'm in
Pinterest
Categories
Blogroll
Archives
creative commons
craftlog is under a
Creative Commons
Attribution Noncommercial
license
. That means that you are all welcome to take and repost my photos, replicate my projects, remix my ideas, whatever you want as long as you give attribution (a link is fine) and it's noncommercial. Thanks!