Archive for June, 2009
Posted on June 30th, 2009 by maitreya. Filed under Toys (cat and kid).
We got a new cardboard scratcher for the cats, and it came with a packet of catnip.  I always forget how crazy they go for it.  Since I already had the machine out, I sewed up some little catnip packets for them to play with.  Originally I just made one, but then they started fighting over it (or rather, the giant cat was being a big bully), so I made another one.  The dense wool+double-zigzagged seams are secure enough that no catnip has escaped yet, and so far they're holding up to the biting.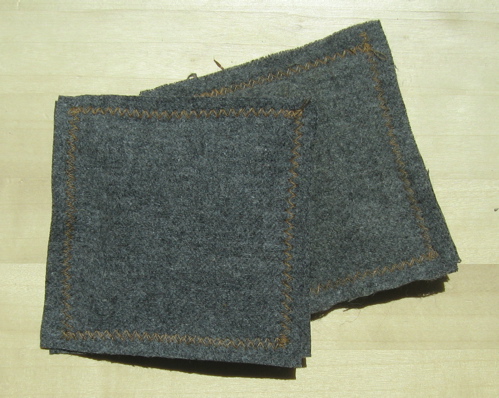 Comments Off

on cat sachets
Posted on June 28th, 2009 by maitreya. Filed under Home and Garden, Sewing/Fabric Crafts.
Amazing, I actually sewed something.  When we moved to our new apartment, we finally got rid of our old Ikea couch that we'd been dragging back and forth across the country since I was in grad school.  The new apartment is small, so we gave the couch to some friends and got a new smaller couch* (also Ikea) that we've been calling the pocket couch.  It's dark gray and even folds out into a twin bed, which is very useful since we no longer have an extra bedroom for when people visit.  The new apartment place also let us choose a color to paint an accent wall, and we chose mustard.  Clearly this calls for new throw pillows.
I've been wanting to redecorate the living room in gray and mustard for a while now, inspired by a bag that I bought from Zaum a few years ago (sorry, can't find a picture atm).  Anyway, the bag is lined with this awesome geometric print from Ikea, and I was lucky to find a yard of it on clearance.  The backing is the mustard deco weight that it's laying on in the photo, which I got at the Joann's that I can now walk to.   It's just a simple envelope pillowcase, but it's the first time I've used piping (which is an olive color).  I'm pretty happy with how it turned out.  Of course I ran out of piping before I finished the second pillow, which is super annoying.  At least everything is cut out and ready to go for the second one once I make a Joann's run this week.
*One bad thing about the couch is that it contains a bad fire-proofing chemical that is probably what gave our older cat Beckett hyperthyroid disease. :(  We were hoping to find a new couch that wouldn't be poisonous, but we caved and went for the cheaper cuter one instead.  Yes, I feel guilty.
email
maitreya[@]craftlog[.]org
books I'm in
Pinterest
Categories
Blogroll
Archives
creative commons
craftlog is under a
Creative Commons
Attribution Noncommercial
license
. That means that you are all welcome to take and repost my photos, replicate my projects, remix my ideas, whatever you want as long as you give attribution (a link is fine) and it's noncommercial. Thanks!