Archive for February, 2010
Posted on February 27th, 2010 by maitreya. Filed under Home and Garden.
OK, well after getting the permit, we actually built one. The wood we decided on is untreated cedar fence planks. They're 6 feet long x 6 inches wide, so we stacked them 2 to a side, and cut 2 of them in half (or rather, the guy at Lowes did) for the short sides. The corners are screwed to 2×2 wooden stakes driven about a foot into the ground. All told less than $20 in materials. Mark built it today and I can't wait to start planting!
Haven't decided what soil mix to fill it with yet. Any recommendations?
My new favorite blog is Greenwalks, devoted to planting strip gardening, and based in Seattle no less!
Posted on February 17th, 2010 by maitreya. Filed under Jewelry.
Trace pattern from piece of origami paper onto shrink plastic with a sharpie and ruler.  Cut out.  Punch hole.  Melt.  Add jump ring.  Pretty necklace!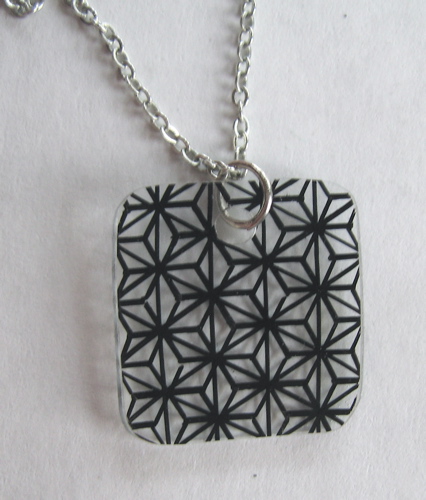 I love how it turned out and I'm currently wearing it with a V-neck.  I think this might be my final excuse for buying one of those geometric pattern coloring books I had as a kid.
Posted on February 16th, 2010 by maitreya. Filed under Home and Garden.
Sorry for the tl;dr but this info was un-Google-able so I thought I'd go into detail for posterity.
In Seattle, you are allowed to garden in the planting strip, that little piece of ground between the sidewalk and the street.  This is pretty much the only part of our property that gets good sun, so I'm going to try to grow vegetables there this summer.  Since who knows what's in the ground, nevermind the neighborhood dog proclivities, raised beds seem like a good idea.  Our neighbors have a couple in their planting strip and they look great and very productive.  Also, due to us not raking leaves promptly in the fall, the surviving grass is in rather uneven clumps that I'll be happy to cover up.  We do have two nice trees though (not sure what they are), which I plan to plant bulbs around for next year.
Even though you don't need a permit to garden in your planting strip, it turns out that you do need one to build raised beds.  Seattle makes this pretty easy, all things considered, by allowing online permit applications.  You'll want to read the street use permits info page on gardening in planting strips, and, in particular, CAM2305 (PDF) for all the details like how far they have to be set back from the sidewalk and the curb and fire hydrants, how tall the plants can be, etc.
The permit application itself was a little bit confusing.  They ask for a description, and there's a link to another page to see what kind of details they want to know.  That link points to another link, which references a CAM (that stands for Client Assistance Memo) that doesn't exist on the main CAM page.  So I tried a different CAM, CAM2105, which tells you what info you need before applying.  This too says to read CAM2100 and has a different link, which results in an access error.  I ended up Googling it (here you go: CAM2100) before noticing that it's linked in the sidebar on a completely different page.  Anyway, the reason you need CAM2100 is to figure out your "use code" and the matching work details to put in the description.  But there's not an obvious category in the file for building a raised bed.  So I just left it out, which led to an error when I submitted the application.  I did the best I could on the other details, including building materials, dimensions, and setbacks.
I heard back the very next business day and was excited until I noticed a $75 inspection deposit fee.  Huh?  The city's own documentation says this permit should be free.  I called the office and argued with the nice lady on the phone about it, quoting the CAM saying it should be free.  From looking at my record, it looks like my assigned use code was 1, "Tree planting and beautification," which requires a $150 fee.  I left my contact info and she said someone else would call me back.  Now the fee is removed and the record is closed with status "pre-completed" but no link to print the permit.  This is despite the instructions at the top of the page to click a particular link to print the permit.  And does pre-completed mean approved?  Call back office.  Nice lady explains everything to me and says that it's all good (closed/pre-completed is approved and this is a record-only permit, no printing necessary).  Thanks, nice lady!
So now I've got a permit to build two raised beds.  Good thing, too, since we already bought the supplies to build the first one :P
Posted on February 15th, 2010 by maitreya. Filed under Home and Garden.
I biked in to lab today and it was so pleasant and sunny that I took a few pictures of the bike basket I never got around to posting.  The beauty of it is that it's collapsible, which helps with maneuvering it into the bike racks.  It was a serendipitous find at a thrift store (99 cents!) and it's attached to the bike with zipties.  To keep it folded up, I have one of those velcro cord wraps attached.  The corner kept catching on one of my brake cables, so there's another cord wrap keeping that in order.
Posted on February 14th, 2010 by maitreya. Filed under Sewing/Fabric Crafts.
Paper piecing, why have I never tried you before?  I think when I've heard about it before, it was always kind of presented as tricky or hard, but goodness, this is my kind of sewing.  No fussy cutting, no squaring problems, none of the parts of patchwork that I normally struggle with.  Instead you just follow the numbers and cut amorphous scraps of fabric that get trimmed as you go.  I think the cleverness to the construction appeals to me too.  LOVE IT.
This is the Colorwheel Geese Block from Piece By Number, which I first saw at The Sometimes Crafter.  I think my tone balance is a little off with the orangey dominance on one half (meant it to go more naturally into the yellows), but oh well.  I'm going to make another one with cool colors and then do who-knows-what with them.
Posted on February 13th, 2010 by maitreya. Filed under Home and Garden.
Spent a great drizzly afternoon working in the yard today.  I always feel like I'm really accomplishing something doing garden stuff.  It's amazing that in just a few hours we finished filling the compost bin, plus filled up the entire 96-gallon yard waste bin (which gets composted by the city).
Today was ornamental grasses upkeep day. Disclaimer: I have no idea what I'm doing, so don't trust me at all at all if you are looking for gardening advice!
I really like the landscaping with ornamental grasses that the house came with, but we need to catch up on maintaining them.  Last weekend I went through and finger-combed out another 96 gallons of dead grass and debris from around and under the blue fescue (or at least I think that's what they are).  The finger-combing worked pretty well, especially wearing rubber-coated gardening gloves.  By accident I discovered this weekend that a rake is a much better tool for the job, though.  Using one of those flexible metal rakes like for leaves, you just comb out the leaves, dead stuff, and other debris from the grass tufts.  I could not believe how much junk was still in there.  They look so much better.  They're evergreen, so I think that should do it for maintenance on them for a while, though one of them has a wet, moldy clump inside it that was only revealed by removing all the detritus.  Haven't figured out what to do about that yet.
We also have a couple of great big Ravenna grass plants (I think) and a bunch of smaller grasses that I haven't yet guessed an identity for.  We let all the grasses stay out over the winter since they're so pretty.  The gardening books and websites I've read say you should cut down all the dried grasses in late February/early March to allow room for new growth and to remove all the dead material from last season.  Since I'm out of town the next couple of weekends, and since we had the warmest January on record, we went ahead and cut everything down today.  The seed heads were starting to look kind of ratty anyway.  The small grasses I just bundled in my hand and cut with hand shears, but I left the giant ones for Mark and the electric pruner.
The remaining tuffet is like 2 feet across!  It was unbelievable how much junk there was in there too.
Now to wait and see if we killed them. :P
Comments Off

on ornamental grasses upkeep
Posted on February 8th, 2010 by maitreya. Filed under Crafty Links.
About every 6 months I get fed up with Bloglines beta (which has been beta for like 3 years now) as an RSS feed reader and start experimenting with other sites.  Just on the verge of adding everything into Google reader tonight, I figured out the bloglines iPhone interface and fell for it again.  How dumb am I to have never looked whether there's a different url to go to (there is, i.bloglines.com).  The iPhone version is actually really nice.  OK, bloglines, you get another stay of execution.
Comments Off

on back to bloglines
Posted on February 2nd, 2010 by maitreya. Filed under Paper Crafts.
I am swimming in grant applications at lab.  One thing that would help would be a snapshot of the whole year so I can plan appropriately.  As a template, I used a cool calendar image I downloaded from some design blog and now I can't for the life of me find the original.  I feel kind of bad that I ripped off their design, but it was perfect for the task and now I can edit the excel file with new deadlines.  It's my new computer desktop image too.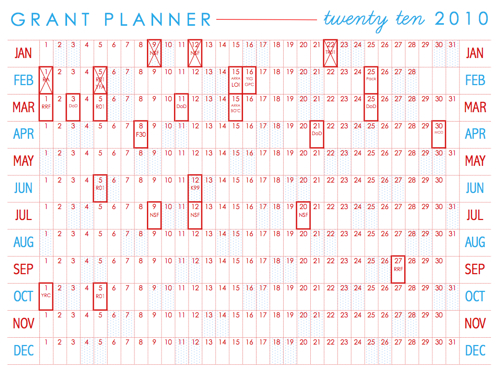 email
maitreya[@]craftlog[.]org
books I'm in
Pinterest
Categories
Blogroll
Archives
creative commons
craftlog is under a
Creative Commons
Attribution Noncommercial
license
. That means that you are all welcome to take and repost my photos, replicate my projects, remix my ideas, whatever you want as long as you give attribution (a link is fine) and it's noncommercial. Thanks!