Archive for March, 2010
Posted on March 30th, 2010 by maitreya. Filed under Paper Crafts.
I'm trying to improve my eating habits.  For one thing, I'm making a conscious effort to eat mostly vegetarian.  The second thing is to cook dinner more often.  I joke that I usually "assemble" dinner because I have a bad tendency to rely on fast processed foods, plus we eat out entirely too much.  So, cooking more dinners is the goal.  I'm also packing my lunch more frequently.
I think the main problem I have, besides simple laziness, is lack of planning.  I get home, poke around in the fridge, and try to cobble something together.  So, the two part solution is 1. write down and post in the kitchen what we're going to eat each night using the fabulous printable meal planners from futuregirl and ollibird (any other cute ones out there I should put in rotation? ETA: found another one from A Print a Day) and 2. keep a flip book of dinner ideas.  It reminds me of meal ideas and where each recipe lives, and lists the major ingredients for reference when making the shopping list or at the store.
The covers are nice double-sided card stock + a pretty label that Becket got me a while back.  The pages are my old business cards.  The extended plan is to perhaps pull a Crafterall and cover up the wording, but we shall see if I ever get that far.  One design inspiration is the mini meal planners (example) briones & co used to sell, but the ring idea did not seem as compatible with my very jumbled bag as a simple clip does.  I'm going to make another packet with fishy ideas and another with meaty ideas for whenever I lapse.
ETA: more flip books
Posted on March 21st, 2010 by maitreya. Filed under Art.
The local Top Pot doughnut shop has a giant spirograph design painted on one wall.  This has now made me want a giant spirograph painted on my wall.  After trying to imagine how to create a big rig to do such a thing, I thought about string art as an alternative (thank you 6th grade math class, in which I was obsessed with them).  The wall I have in mind is a little high up, so I don't think doing this directly on the wall is going to be practical.  So, I need some big, cheap, circular thing that I can put tiny nails in.  Hmmmm, how about quilting hoops?
Here's my first attempt.  I used 21 evenly spaced tiny map pins for the winding pegs, crochet thread for the string, and just kind of randomly decided on the spacing (one round skip 9 pegs, one of skip 3, one of skip 5, and I think one of skip 7).  The verdict is that the ring needs to be painted or stained or something, and the pattern should be a little denser.  But I think the idea is a winner.  I got three hoops of different sizes, and I think they'll look really cool all together on the wall.
Posted on March 19th, 2010 by maitreya. Filed under Paper Crafts, Wants.
I'm such a sucker for pretty graph paper.  Walking home from lab today, I stopped in to the UW bookstore and couldn't resist the new Knock Knock line.  Oh boy.  So pretty.
Posted on March 18th, 2010 by maitreya. Filed under Crochet.
I have gotten into a really bad habit of being on the computer all the time.  I've cut down some the last couple of weeks, but my new brilliant idea is to replace one habit with another.  That makes sense, right?  The habit has to be mindless, like the internet, and compatible with TV-watching.  So I'm going to crochet an afghan.  I very specifically remember a zigzag afghan my grandma crocheted, so I'm going to make a ripple one to remind me of her.  I'm using Attic24's tutorial since it seems to be a blog favorite and has nice gentle, even ripples.  Last night, I went through the entire ripple-along archives to get ideas for color combinations.  (Ha, it appears that having a cat in your photo predisposes me to like to color scheme.)  This one in kind of southwest colors was my favorite, but I had no luck at 2 yarn stores finding a similar palette.  Or, I should say, yarn I was willing to pay that much for.  Good lord yarn is expensive.
I like the subtlety of this one.  In fact, it's a little too subtle.  This vintage one is getting closer; it's got the brown ombre going on, but also a lot of great color to balance it.  Again, I wasn't able to find a good set of yarns.  This one and this other one have kind of similar themes, and that settled it:  grays with a tomato red accent.  I've also been obsessed with tomato soup this week so I've got that color on the brain :P
You can see the cat approves.  I'm using Lion Wool-Ease because it's 1. cheap (and on sale today, it so happened) 2. unlikely to be discontinued in the zillion years it will take me to finish this project 3. good colors 4. wool/acrylic blend, so it balances the scratchy with the squeaky 5. worsted weight so it's not too thick but progress should be reasonable 6. seems to hold together well so it won't be a pain to crochet.
I'm swatching now!
Posted on March 17th, 2010 by maitreya. Filed under Home and Garden.
We've got some windows in the garage that I'm not too keen on people peering into.  The previous owner had garbage bags tacked up to cover them, which I am ashamed to admit have stayed up for months now.  The first attempt at replacing them was window cling film we got from a hardware store, but it was hard to apply, doesn't look great, and cost a lot.
Plan B is fabric applied with starch, and this weekend I was procrastinating from grant-writing and decided to just go for it with whatever I already have on hand.  I think I got the idea from this very thorough not martha post who in turn linked to all buttoned up.  I sponged the window with the corn starch/water ratio from how about orange and soaked a piece of cheap Ikea linen-look fabric in it before applying.  It took just about 2 cups to do the job.  The first pane I tried to cut the fabric to size.  The second pane I cut a little bigger than the window and tried to cut to fit once applied.  If I try this again, I'll just be very careful cutting it to size.  I was a bit too slapdash to get the edges really neat.
I think the fabric is a little too heavy and blocks too much light.  So now I'm on the look out for something lighter weight, with a slight pattern to it since I do like the effect of the light coming through.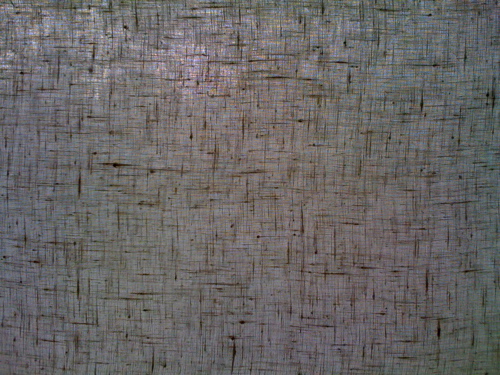 Update: I found a lighter weight fabric and redid the windows.  Check out that post for tips on taking the fabric off and some minor method improvements.
Posted on March 14th, 2010 by maitreya. Filed under Sewing/Fabric Crafts.
I fiiiinally made something with my serger.  It was still threaded with the color-coded spools it came with, so I used the ever-popular rethreading trick of knotting on the new one and pulling it through.  It worked ok, but I had to redo one of them when a knot got stuck and snapped.
Anyway, with it all threaded up and the tension tested, I launched into the easiest project I could think of: a skirt with 2 seams and a hem.  I conveniently used my favorite skirt from orangyporangy as a template. The fabric is a giant thrifted piece of polyester I found a few months ago.  It is a little on the pepto bismol side of pink, but I think that cuts down slightly on the overwhelming pinkness of it, and I really like the gridlines.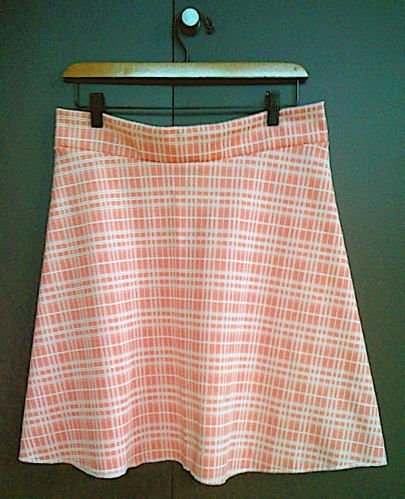 I'm pretty happy with it.  The hem is slightly wavy.  I clearly need more practice with the whole knife thing.  But it's not too noticeable when it's on.  The stretch is very forgiving for the fit, too.
I had a length of waistband left over, so I made a matching headband too. :)
Posted on March 9th, 2010 by maitreya. Filed under Art.
I'm in love with these letterpress prints from Stukenborg.  They're ingeniously done with hundreds of dice.  I love all the different patterns you could create with the dice, and how it took me a minute to figure out what they were.  They are so graphic.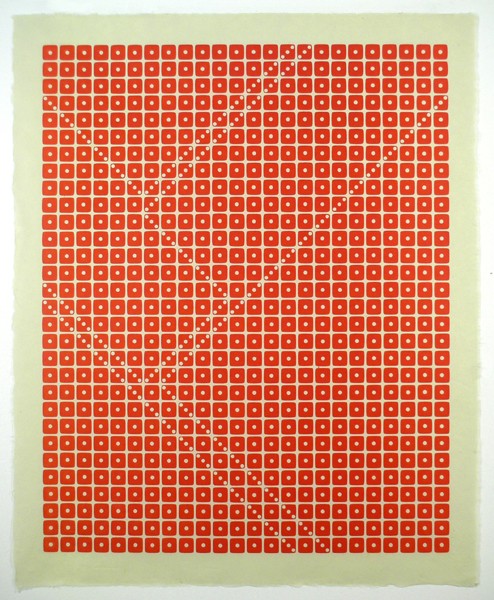 Posted on March 8th, 2010 by maitreya. Filed under Uncategorized.
We filled up the raised bed this weekend, and I planted my first seeds.  Thanks for the helpful comments on dirt mixes.  We ended up going with the hedged bet 2-bags-of-everything-from-Lowe's approach, which included steer manure compost, chicken manure compost, top soil, a planting mix for good measure, plus a bale of sphagnum moss.  I should've read a little more before hand, since apparently the moss is frequently harvested in a not very sustainable way.  At least it was just one bale.  Next time I'll use coir.  Also, on Karen's advice, we dug up the sod before filling.  Good thing, too, because the sod turns out to be filled with horrible plastic netting.
Here are my favorite sources for month-by-month Seattle gardening advice:
Ecoyards Seattle Gardening Blog: Cool season crops has March planting recs
my Perpetual Northwest Gardening Calendar from Krank Press
Watching for activity at the P-patch across the street.
Maritime Northwest Garden Guide from Seattle Tilth.  I mail-ordered it, but I've since noticed it at local bookstores, sometimes with the magazines.  I really like Seattle Tilth.  One of these days I want to take their urban chickens class, and I'm definitely going to go to their plant sale later this month.
I also like You Grow Girl, both the book and the site.  The book is at exactly the right level for a newbie like me, and it's the only gardening book I've actually bought.  Well, that's not entirely true; her new book, Grow Great Grub, should be in my mailbox any minute now.
Finally, I call my mother and ask her for advice.
On my collected advice, I planted beets (2 types! I am lately obsessed with beet salads after having a delightful one at Avila the other day), lettuce mix, peas, and fennel.  I'm also trying little pickling cucumbers and okra that claim on the seed packet that they are early.  Since I have no idea what I'm doing, and also to spread the theoretical harvest out, I'm using advice from the Seattle Tilth guide and sowing a little bit every two weeks aka "planting in succession."
We also went on a weed-pulling rampage this weekend.  I used to like dandelions, too.  A nettle of some sort gave me a really nasty sting (we started calling it a chupa-plant after my bitey jerkface cat).  Horsetails I still like because they look so prehistoric, but they are going a little too crazy so they had to go too.  I did keep a little horsetail zone along the stone wall since I want to keep some of them around.
Posted on March 7th, 2010 by maitreya. Filed under Art, Home and Garden, Sewing/Fabric Crafts.
Apparently you're supposed to mount your TV on your mantel for some unknown reason, so that's where our cable hookup is. I've been looking for some great artwork to use to cover it. After months of indecision, I finally just got sick of looking at the stupid cord sticking out of the wall and decided that the perfect should not be the enemy of the good. Fabric panels stapled around stretcher bars sounded easy enough, plus I won't be annoyed if I do find the mythical artwork in a couple of months.
The stretcher bars and orange silk I already had for 2 long ago planned-but-never-done projects. The green Japanese print was actually a freebee I got when a fabric store sent me the wrong order. I only had to buy the woodgrain fabric. It really goes quite well with the rest of the living room (not pictured, but another wall is orange). The silk is torn along the edges, but I'm not entirely sure I like the effect. I might go back later and fray it or fold it under, haven't decided.
Posted on March 2nd, 2010 by maitreya. Filed under Random.
Bored with the last design so messed with it a tiny bit. I made a new header at least!
Comments Off

on minor update
email
maitreya[@]craftlog[.]org
books I'm in
Pinterest
Categories
Blogroll
Archives
creative commons
craftlog is under a
Creative Commons
Attribution Noncommercial
license
. That means that you are all welcome to take and repost my photos, replicate my projects, remix my ideas, whatever you want as long as you give attribution (a link is fine) and it's noncommercial. Thanks!