Archive for May, 2010
Posted on May 21st, 2010 by maitreya. Filed under Home and Garden.
I knew this gardening thing seemed suspiciously easy.  Seemingly overnight, my beets went from really healthy looking to unhappy.  Lots of wilted leaves that look like they've been eaten on the inside.  The layer of tissue between the leaf surfaces is just gone for large patches or even whole leaves.  To the internet!  Google tells me that it's almost certainly leaf miners, and that I probably just didn't realize what the early infection looks like.  I snipped off all the damaged leaves and hopefully the beets themselves are ok.  They've got to be pretty close to being ready anyway.
I also recently noticed that my lavender hedge has these little clumps of foam all over.  wtf is that?  Literally the same day, Greenwalks posted about spittlebug.  At least it doesn't seem to be harmful.
Unlike the powdery mildew that's been attacking my bushes.  I'm not really sure what type of bushes they are, unfortunately, but a couple of them had a really heavy infestation last year when we moved in.  I cut away all the bad parts and sprayed them with horticultural oil, but they are looking even more sickly now, and it looks like it might have spread to some of the rest of them.
And then there are the plants that I killed myself.  I tried my hand at pruning in the fall, and only now are the results apparent.  I did a reasonably good job for one set of bushes (again, not entirely sure what they are) because it was obvious where the new growth was.  The wood is really brittle, though, and in the process I damaged enough of it that some of the plants are dead now or have big dead sections.  The lavender also survived my hackjob, but is looking kind of woody and messy.  It's growing back in pretty well, though.  My big rosemary plants were not so lucky.  I read somewhere that you couldn't prune them too much and that they're really resilient, so I just cut off sections kind of haphazardly.  Come spring, only 2/5 were worth saving, and even those have some large dead sections.  They've now been relocated to an area of the yard where they won't need to be cut back.  I think they weren't actually supposed to be pruned in the fall was my main problem.  Details!
Posted on May 17th, 2010 by maitreya. Filed under Home and Garden.
My first home-grown radishes! I read on DigginFood to pull them just when the shoulders peek are out.  They grew so fast.  I'm immediately replacing the pulled ones with new seeds to keep them going.
Posted on May 16th, 2010 by maitreya. Filed under Sewing/Fabric Crafts.
Quilt/playmat for Becket's new baby: I used Oh Fransson's quick-piece tiny squares tutorial. I love tricks like this, and it really did work pretty well. I was worried about bulk and got the lightest fusible interfacing I could. I would probably get the one level heavier one next time since it moved around a little more than I would prefer, making the blocks turn out a little crooked in places. I also managed to mess up the (small bit of) quilting and the binding, as usual. Tension troubles. It does get better every time I practice, though, and its not very noticeable after a trip through the wash. I also need some more design practice. I like the colors I chose, but I always forget that contrast is more important.
Its not big enough for a crib quilt, but it could be a play mat or doll quilt. And it's reversible:
I hope their family likes it as much as Chupy does.
Posted on May 12th, 2010 by maitreya. Filed under Home and Garden.
Our house has a nifty patio that's like an open air room off the main hallway.  It's got a little cement landing, plus there's an obvious space to build a platform deck next to it that will make the space a lot more functional.
Mark can take all the credit for this one.  He got some books out from the library and was off.  First, he designed the whole thing in Google Sketchup.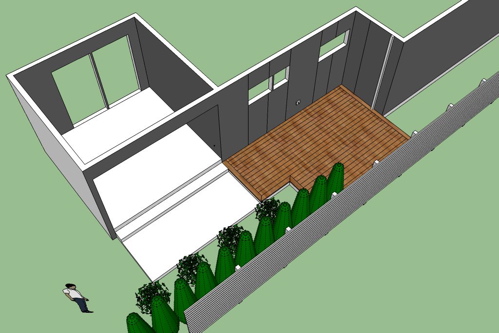 Early on, he decided to use precast concrete "dek blocks" that don't require pouring any sort of foundation. Here's the frame built on the piers.
We decided on composite instead of wood for the decking (the frame is wood).  This being the Pacific Northwest and all, wood has a tendency to age quickly and we didn't want to be refinishing it every year.  We ended up going with a recommended brand Mark found at a local lumberyard (Fiberon Horizon in Ipê) since the cheaper stuff from Home Depot had pretty bad reviews.  It's supposedly made of half recycled materials too.  It slots together and to the framing with a rather ingenious hidden fastener system.
Our friend Aaron (and his carload of power tools) came up from Portland last weekend to help build it.  I can't believe we went from bare dirt patch to this in 3 days!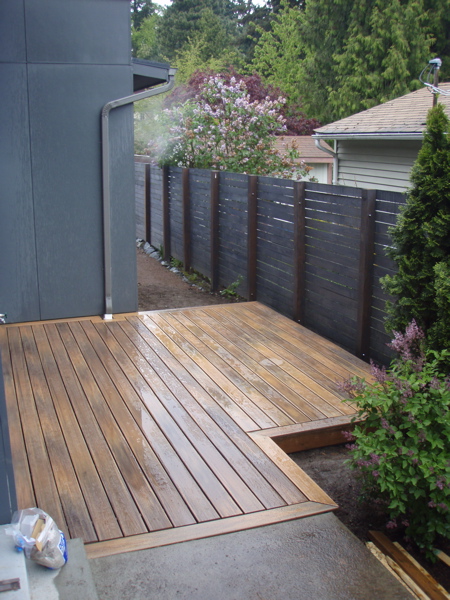 Posted on May 11th, 2010 by maitreya. Filed under Home and Garden.
Some of my starts didn't start, so I'm restarting them.  I, uh, got a little lax with my watering on the last batch so a few of the babies didn't make it, and some of the others just never sprouted to begin with.  This egg carton was on top when I took the recycling out this morning, so it seemed the obvious vehicle.
Each type of plant got 2 cells, and I put 2 seeds in each to hedge my bets.  Sharpie labeling right on the side, just like the tubes.
The tube-started guys that did make it are looking pretty good.  Here's my pumpkin plant, kermit the sprout.
He's doing the best, with 6 true leaves now and a nice hefty stem.
ETA:  This didn't work at all.  They dried out way too quickly.
Comments Off

on egg carton starts
Posted on May 10th, 2010 by maitreya. Filed under Sewing/Fabric Crafts.
I'm an astounding, embarrassing one year overdue with my one quilt block for poor Sarah.  I have a problem where I procrastinate on something until it's late, and then I have a crushing need to make it super awesome to make up for the fact that it's late, and that in turn paralyzes me from doing anything at all because I'm afraid it won't be awesome enough.  Today I just decided to make something no matter what.
I rediscovered Lady Harvatine's blog the other night and watched her brilliant tutorial on piecing hexagons by machine.  Sarah's inspirations were this hexagon quilt plus the dense texture of this quilt.  An idea was hatched.  I cut out a few freezer paper templates for easy hex cutting (it's kind of amazing how many times you can reuse them before the plasticy side wears off), and turned her entire stack of fabrics into a stack of hexagons.
I am still not perfect at the method, as you can see by the pulls here and there where the corners are not lining up for some reason.  I have to say this is faster than I ever thought possible with hexagons, though, and I'm reasonably happy with the result.
Posted on May 9th, 2010 by maitreya. Filed under Gocco/L Letterpress.
So I got my new L Letterpress ink and print plates a couple weeks ago and only just today got around to playing with them.
Now that's what I'm talking about!  This zigzag background size plate behaved so much better than my previous experiments.  I think it's because it's so big that the edges don't get weirdly compressed (limiting breaking) and it's easy to ink because it's impossible to go off kilter with the brayer since the pattern is so dense.
I bought it after seeing this post on the company blog, so I was very pleasantly surprised to be able to recreate the effect.  One problem is that where the paper edge runs off seems to create inking inconsistencies for later prints, so in the future I'll print with paper covering the entire plate and cut to size afterward.
This is what happens if you print once horizontally and once vertically.  Also, I tried to print onto some blank labels I had, and that worked pretty well.  Beware that the ink takes forever to dry, though, because it's not as absorbent as the letterpress paper.
You can kind of see the nice impressions I'm getting here.  The paper really matters a lot.  I had pretty nice results with the paper it comes with and with watercolor paper.  Nice drawing paper, less so.
Also, I highly recommend the branded cleaning wipes.  They really do work waaaaaay better than plain old baby wipes.  It made doing the bleed printing so much easier since I had to clean the print platform after every run.  Also, for the smaller plates, I still can't seem to ink evenly without getting smudges everywhere, and that's way less annoying when they're easy to wipe up.  I did three colors today, and the cleanup was honestly painless: wipe ink off plate and brayer with dry paper towels, then do the last swipe with the special wipes.  The wipes can be reused quite a bit before they fall apart/dry out.
Some bad news just to keep from sounding like an advertisement, because I am still annoyed at all the deficiencies of this gadget: the repositionable adhesive still doesn't work and the brayer is definitely still problematic.  Need to remember to replace that next trip to the art store….
Comments Off

on in which I say something nice about my L Letterpress
Posted on May 8th, 2010 by maitreya. Filed under Home and Garden.
The stupid peas are all twining around each other instead of the nice trellis I made for them.  I added some twine to help them get with the program.  It's tied at the top and bottom and wound twice around each leg in a spiral.
Their little grabber tendrils are kind of amazing.  So grippy!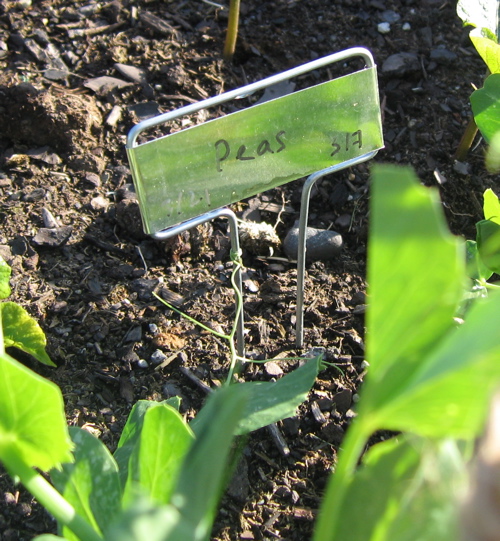 Comments Off

on trellis plus
Posted on May 7th, 2010 by maitreya. Filed under Sewing/Fabric Crafts, Toys (cat and kid).
My ~27 lb monster cat, El Chupacabra, likes to hang out on the bench by the window and get all agitated watching the birds in the yard.  I'd inadvertently left Becket's new baby quilt there after a photoshoot and he seemed to really like laying on it.  Since I made my other cat, Beckett (yes, I know the names are confusing), a sleeping pillow, it seems only fair that Chupa should get one too.
The fabric is from Urban Outfitters sale rack (see previous bag), plus a little embroidery to liven things up.  It's filled with 3 layers of quilt batting and then tufted with tied embroidery thread.
Astonishingly, he seems to like it!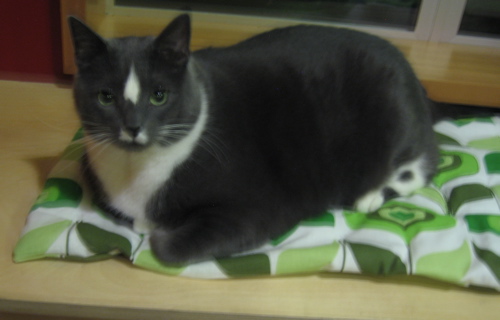 Posted on May 2nd, 2010 by maitreya. Filed under Sewing/Fabric Crafts.
One of the patterns in the Stitch backissues is for a reverse applique scarf with circles of different sizes.  Aha, could it be a use for the die cutter?  I cut a slice of denim as wide as the machine would allow and punched the circles.  They didn't cut totally through, more of a perforation, but that actually helped in the sewing step to keep everything from getting too distorted.
I also have been wanting a rikarika Sakura skirt, which has appliqued circles of kimono silk, so that gave me the idea to use backing fabric from a little packet of kimono scraps I got a few years ago.
Lining fabric is the background.
email
maitreya[@]craftlog[.]org
books I'm in
Pinterest
Categories
Blogroll
Archives
creative commons
craftlog is under a
Creative Commons
Attribution Noncommercial
license
. That means that you are all welcome to take and repost my photos, replicate my projects, remix my ideas, whatever you want as long as you give attribution (a link is fine) and it's noncommercial. Thanks!