Archive for June, 2010
Posted on June 24th, 2010 by maitreya. Filed under Home and Garden.
Beets!
I decided not to eat the greens on these guys since they are still riddled with leaf miner tracks, which is a shame since they look so tasty.  I might get over my squeamishness and just trim the good parts from the next batch.  The golden one I pulled a couple of days ago and left on the sidewalk, where it became mushy :(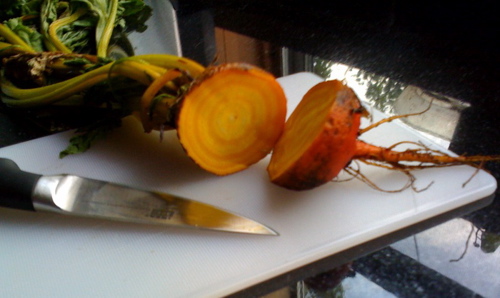 I cut it open to make sure it wasn't bugs, and look how lovely it is inside.  I'm not making the same mistake with the 2 red beets; they are boiling away right now.
Also pulled my first bulb of fennel.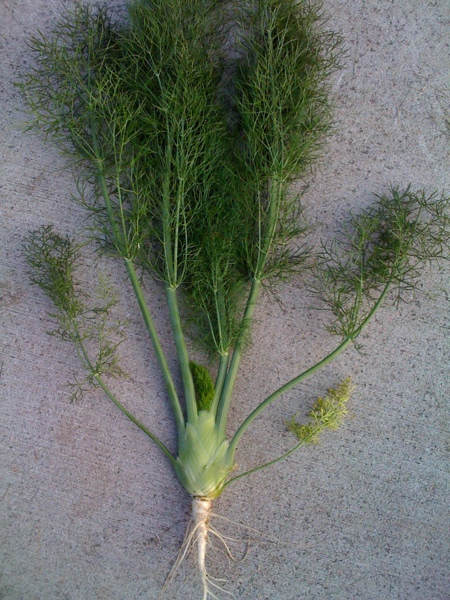 So pretty!  I sliced up the bulb and just ate the entire thing raw from the cutting board.  Yum!  The outside stalks taste more like celery, the very inside was too tough, and in between was a perfect ring that tasted like candy.  So good.  I have like 7 more bulbs, too.  I'm going to let at least one of them go to seed to see what happens.  That's been my strategy for all of my plants.  My mustard spinach bolted earlier this week, so I picked off all the leaves and used them in a lentil soup and then let the big yellow flowers hang out in the garden while I decide what to plant in its place.
Posted on June 6th, 2010 by maitreya. Filed under Crafty Review, Home and Garden.
More books that I've collected since this earlier post.
Raised-Bed Vegetable Gardening Made Simple by Raymond Nones. It's got these great little hand drawn illustrations and lots of very practical information about things like succession planting and plot planning that are somewhat mysterious to me. It's a little bit too far down the organic/natural gardening spectrum for my tastes.  "Weeds have a right to grow too" is not the kind of advice I need at this point :P  Believe me, they're doing just fine.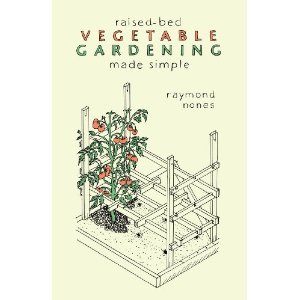 All New Square Foot Gardening by Mel Bartholomew.  Found on sale!  My friend Carole rec'ed this one.  The writing is a little overly self referential in that large swaths of the book are dedicated to history of the method or how this version is "all new."  I'm not going to read the old version just so I understand how it's been improved.  That said, it is pretty stand alone once it gets done patting itself on the back.  Turns out I am a natural square foot gardener since that's pretty close to how I organized my beds anyway.
Growing Vegetables West of the Cascades by Steve Solomon.  I got this for the Pacific Northwest-specific advice.  So far so good.
Gardening week in review:
Mark built me a gardening bench in the garage.  It's just a utility shelf unit with one of the shelves left off, but it's great.  He even mounted lights so I can see what I'm doing.  I have all my tools hung from hooks and a little clothes line to clip my gardening gloves up to dry. We have potting mix in a big bucket and plastic bins to store seeds and labeling supplies.
We also built a third (and last) raised bed!  It's full size like the first one.
Transplanted all my starts into my new bed and apparently killed most of the cardboard tube ones.  I should have just planted the entire tube, but instead I tried to peel off the outer layer like the book suggested and that disturbed all the delicate little roots.  They were all leggy and pathetic anyway since I think they weren't getting enough light.  Next year I'll set up a grow lamp system in the garage in my new gardening bench.  Luckily one of the local grad students and a friend in Portland both had some extra tomato starts they were nice enough to share, good big plants that look like they have survived my mishandling.
Planted back up seeds for all the starts in the new bed.  They might not grow in time for harvest, but it'll be a learning opportunity.  Or something.
Ate lots from my mesclun mix.  The arugula is starting to get a little too spicy, so I might pull that to give the others more room.  My mustard spinach is really tasty.  I'm always disappointed by how much it cooks down though.  I need to plant a lot more of it so I can get whole servings.
The peas are flowering!
Comments Off

on more gardening books
email
maitreya[@]craftlog[.]org
books I'm in
Pinterest
Categories
Blogroll
Archives
creative commons
craftlog is under a
Creative Commons
Attribution Noncommercial
license
. That means that you are all welcome to take and repost my photos, replicate my projects, remix my ideas, whatever you want as long as you give attribution (a link is fine) and it's noncommercial. Thanks!