Archive for July, 2010
Posted on July 24th, 2010 by maitreya. Filed under Home and Garden.
The chamomile and the dill in my herb bed are really thriving.  Chamomile tea is on the agenda for tonight.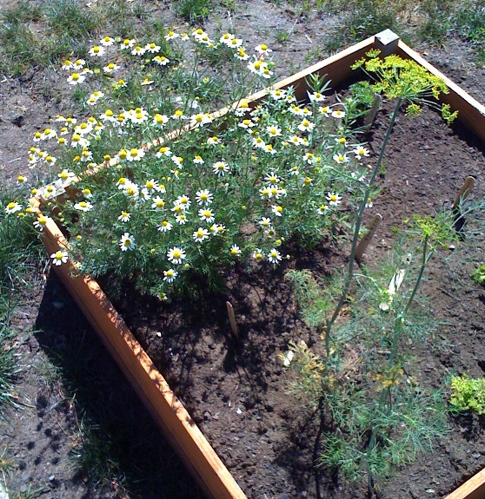 And just as a side note, my stamped garden markers have held up fabulously.  I attempted another set just writing directly on the wood sticks with a ball point pen, and those faded very quickly, as did the marker that came with a set of metal tags I've also tried.  On the down side, someone/thing keeps pulling up all of my markers, so I have no idea what's really planted where any more.  From now on I'm drawing a backup map on the Knock Knock plant planning pad I got on sale the other day.
email
maitreya[@]craftlog[.]org
books I'm in
Pinterest
Categories
Blogroll
Archives
creative commons
craftlog is under a
Creative Commons
Attribution Noncommercial
license
. That means that you are all welcome to take and repost my photos, replicate my projects, remix my ideas, whatever you want as long as you give attribution (a link is fine) and it's noncommercial. Thanks!