Archive for September, 2010
Posted on September 17th, 2010 by maitreya. Filed under Sewing/Fabric Crafts.
When I do sew lately, it seems I'm making baby things for various expecting friends.  I have two more tops pieced that I can't seem to get around to finishing, so I decided to keep it small for this one.  I have another bad crafting habit of deciding to make something, and then getting stymied picking out fabrics, so I went with a pack of charm squares here.  I've had these squares for a long time, but the old-fashioned style hasn't seem right for anything.  Then I went to the Minnesota State Fair a few weeks ago and got inspired by all the traditional crafts there.
I used Oh, Fransson's tutorial to do the piecing, which I think adds a slightly modern take on the repro-style prints.  I essentially took the stack of 5×5 squares and sliced them into irregular quadrilaterals, yielding 1 or 2 pieces from each.  I like how this design is pieced as you go since I'm also incapable of planning anything up front without taking forever or giving up.
Continuing with the Keep It Simple theme, it's self-bound.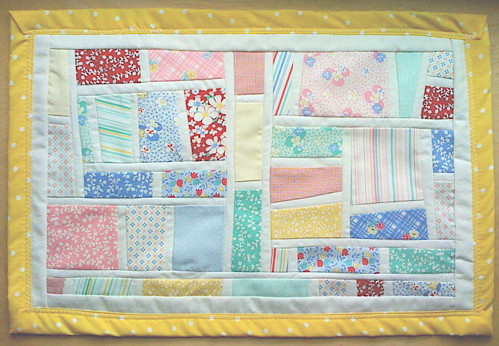 Posted on September 16th, 2010 by maitreya. Filed under Crafty Links.
OK, I'm happy with the Google reader switch now, if only because it recommended buttoncandy as a site I might like.  Why yes, yes I do, thanks for asking.
That in turn led me to buttonlust. Yum.
Posted on September 14th, 2010 by maitreya. Filed under Home and Garden.
Another funny pattypan squash.  I planted a variety pack and got white, yellow, and light green ones.  The squashes are going pretty crazy right now, and I think I'll get at least 10 more of them.  Some I might just pick as babies, since the powdery mildew has begun.  I'm cutting off affected leaves, which seems to be keeping it in check, but my understanding is that it's inevitable.
My pumpkins finally got their act together too.  I've got 4 at the moment.
Comments Off

on yellow pattypan
Posted on September 11th, 2010 by maitreya. Filed under Random.
Looks like bloglines is finally being put out of its misery, so I moved everything over to Google reader this morning.  I hadn't realized that they have integrated auto-export to a blogroll (have to make the folder public before the option appears), so that was a nice surprise.  In previous experiments, I've never liked how Google reader sorts everything by date instead of stepping through all the posts from a single blog at a time, but I'll get used to it.  I also don't like their iPhone site as much, but there appear to be lots of apps that sync with Google, so maybe one will work for me.  Another annoying thing was I had to go through all of my clipped posts on bloglines to cull links I want to keep.  I suppose at least with Google, there's less chance they'll disappear on me at some future date, so there's that. :/
ETA: I finally noticed the "show new items" option.  Thank goodness, since it was very annoying to scroll into the past every time.
email
maitreya[@]craftlog[.]org
books I'm in
Pinterest
Categories
Blogroll
Archives
creative commons
craftlog is under a
Creative Commons
Attribution Noncommercial
license
. That means that you are all welcome to take and repost my photos, replicate my projects, remix my ideas, whatever you want as long as you give attribution (a link is fine) and it's noncommercial. Thanks!