Archive for December, 2010
Posted on December 26th, 2010 by maitreya. Filed under Gocco/L Letterpress.
I got a nice bolt of knit fabric at a church sale last weekend and decided to make scarves for my mom, sisters, and friends.  Becket got me a silkscreened knit scarf for my birthday a few years ago, and I love it to pieces.  It does curl up at the edges quite a bit, so I tried cutting the scarf on the perpendicular bias.  Not sure how that will wear, but at least it's not curling.
I spent a week trying to figure out what design to print on them with my Gocco.  I initially wanted some sort of doily pattern, but I couldn't find one I liked enough (though I almost got the Print A Day Doodles and Lace pack).  I also tried drawing some ala Bella Dia's mandala tote.  Alas, not good enough.  But, as part of my doodling, I had been tracing around graduated cookie cutters to make nice concentric circles to use as guides.  I thought just rings of dots would be neat looking, so I used a big sharpie to just follow the penciled lines.  Experienced Gocco-ers will notice that there's a problem brewing.  The screens react to carbon, and guess what has carbon in it?  Graphite!  What a dummy.  Anyway, I thought I'd see what it looked like printed just for the hell of it.  I'm down to just one more pack of Gocco screens, so each one is precious.
It looked not so bad, actually!  So I went for it.  A cluster of them looks perhaps even better.  So I did one end with a single motif and the other end with a cluster.
I left the selvedges on to keep them from curling/unraveling.  I figure if it bugs anybody, they can trim it.
Comments Off

on accidentally cool Gocco scarf
Posted on December 25th, 2010 by maitreya. Filed under Crafty Review, Sewing/Fabric Crafts.
We gave my niece a copy of the book Beasties for Christmas.  It was kindly sent to me as a review copy by the publisher.  Last time my nieces and nephews visited, we sewed some stuffed animals together.  This book seems kind of perfect for them.  The designs are childish enough that I probably wouldn't make them myself, but they are exactly the type of thing the kiddos will love.  Pretty simple too.
I put together a pack of felt to go with the book, then realized I should probably send some sewing supplies too.  One thing led to another, and I ended up decoupaging an Altoids tin for a tiny sewing kit.
The fabric is a cute scrap from a church sale grab bag.  Inside: tiny scissors, pins and needle, embroidery thread, and a few buttons.
Posted on December 13th, 2010 by maitreya. Filed under Art, Home and Garden.
I can't believe how good this turned out.  We went from inspiration to installation in just 2 weeks, which is not half bad.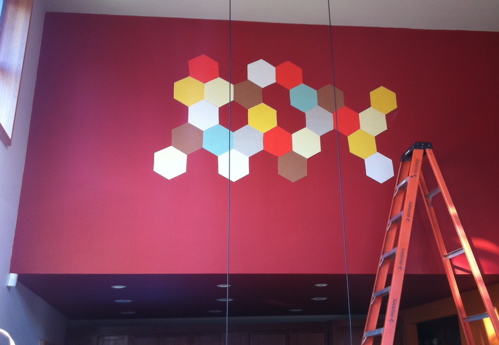 I left the ladder in there for scale.  The hexagons are all cut from fabric and adhered to the wall with a starch solution.  I used a slightly more dilute version of How About Orange's recipe.  I know it peels off the wall nicely since we redid one section where the wall texture was rough and not adhering well.  Also, if you try this at home, don't worry too much about bubbles.  A few of the lighter pieces looked terrible while wet because they had a ton of bubbles, but it all evened out when it dried.
I'd also cut out a bunch of hexagons in some patterned fabrics, but they didn't end up mixing well.  Any ideas for what to do with a pile of leftover hexagons?
One giant featureless wall down, one to go.
Posted on December 11th, 2010 by maitreya. Filed under Holiday.
These are cutouts from a piece of Ikea fabric I got on my last visit.  I ironed the first one on to a felt backing + another layer of fabric, but it's still a little on the flimsy side for the antlers.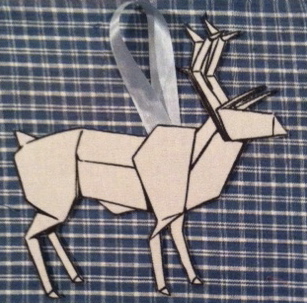 The second two are ironed on to heavy watercolor paper, and they are much sturdier (and easier to cut out).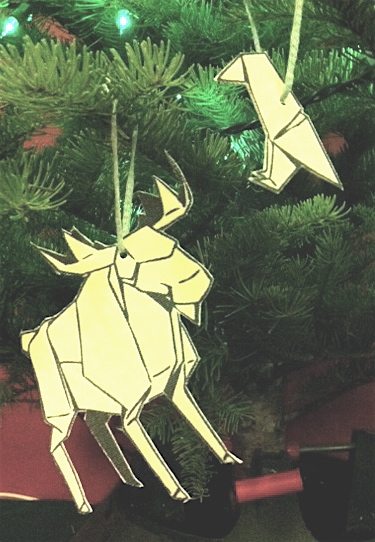 I didn't sign up for any ornament swaps this year, so if you'd be interested in swapping for a couple of these, leave a comment or drop me an email (maitreya@craftlog.org).  I'm planning to make them on demand, so you can even choose which animals you want (deer, moose, wolf, or birds).
Comments Off

on origami fabric ornaments
Posted on December 6th, 2010 by maitreya. Filed under Gocco/L Letterpress.
I actually made those cards I was planning.
Since this is my first big project with the L Letterpress, I was able to discover even more new things I hate about it, how exciting.
I wanted an aqua-red color palette.  Enough to make a special trip out to Bellevue to go to the Paper Source to find the red ink, even.  Unfortunately, as it seems others have also reported, including in a helpful comment in a prior craftlog entry, the red ink is a terrible color.  More like rust than cherry.  I mixed in some orange and pink to brighten it up. The inks mixed OK, except the red is stickier than the others.
The design is from the wedding set, and they're supposed to be stylized flowers.  Upside down, they remind me of Christmas balls, but not so much that the calendar can't be used all year.
The stupid plates cracked all to hell on about impression 8-ish, and just got worse and worse.  Because I got 2 cards from each print, I was at least able to finish without them looking too terrible. You can also tell the plate came conveniently pre-broken (hint: one of the circle outlines is incomplete).
The plates also flattened with each impression, so the last cards barely even look letterpress-y.  Lame.
This was the first time I went back to a tube of ink I'd previously opened.  The ink had dried into a crust that blocked the tube.  I had to jam a skewer into it to reopen the flow, which worked, except that it also introduced little crumby pieces into the ink.  The crud made the ink spread unevenly and I spent forever picking out the little bits.
Overall, though, I'm reasonably happy with how they eventually turned out.
Here are some of the test cards I printed to play with colors and layout.
Dark blue instead of aqua, on a smaller card:
Minimal:
Sideways:
Posted on December 5th, 2010 by maitreya. Filed under Holiday.
Gift tag idea for this year: clothes pins stamped with names.  The plan is to wrap yarn around the present and then clip these on.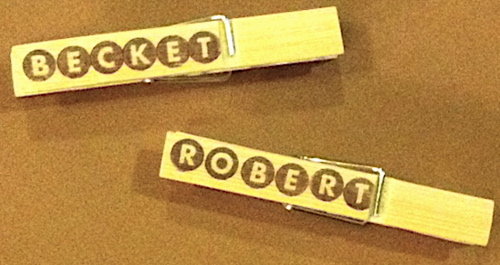 As you can see, 6 letters is the limit, which luckily is only a problem for a couple of people on my list.  I'm using a stamp pad recommended for wood (VersaMagic Multi-surface chalk ink, initially gotten to use on fabric) and it seems to actually work pretty well.  These are bamboo and have a glossier finish relative to normal wood pins, so ymmv.
Posted on December 1st, 2010 by maitreya. Filed under Chickens, Home and Garden.
My favorite non-obvious tools for help with the chickens:
child size rake, just right for turning and spreading bedding, especially in and around smaller nooks of the coop
generic "garden weasel" type cultivator, perfect for breaking up the straw bale
one more: frisbee giveaway from a conference, used upside down to feed them kitchen scraps.  It keeps them from scattering the scraps too badly all over the place, so it's easy to dump once they've decided they're finished.
email
maitreya[@]craftlog[.]org
books I'm in
Pinterest
Categories
Blogroll
Archives
creative commons
craftlog is under a
Creative Commons
Attribution Noncommercial
license
. That means that you are all welcome to take and repost my photos, replicate my projects, remix my ideas, whatever you want as long as you give attribution (a link is fine) and it's noncommercial. Thanks!