Archive for January, 2011
Posted on January 31st, 2011 by maitreya. Filed under Crochet, Experiments.
This wonderful valentine of sorts by A Foothill Home Companion got me wanting to crochet the edge of something.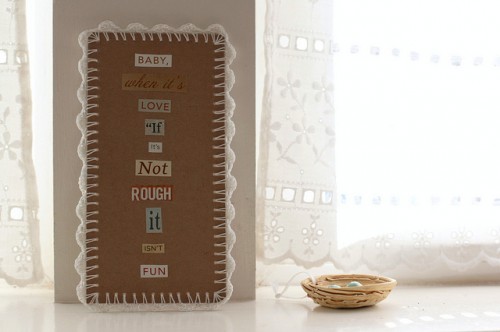 Searching around for ideas also brought up these cute tags from etsy seller sosorosey.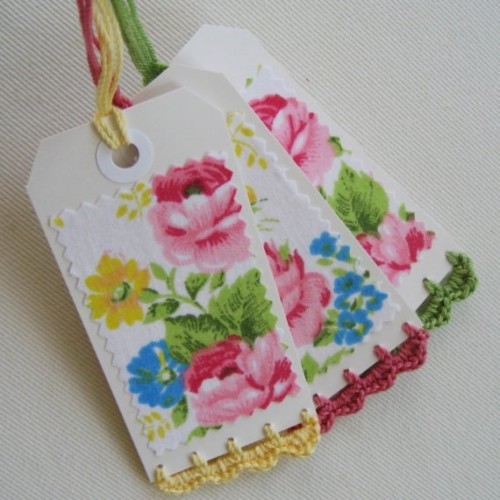 I decided to crochet a frame for a little Jen Corace print I bought a while back.  I don't want to mess it up, so I did a test first on cardstock.  First I tried punching holes with a tiny hole punch, but it looked terrible.  Maybe with bigger yarn it would work.
I ended up using this tutorial for edging pillowcases by You Go Girl.  The key is to blanket stitch around the edge first, through holes I pre-stabbed with a big needle.  I also tried chain-stitching, using a tiny hook to pull the loop through the card and a bigger hook to do the rest, but that was maddening and I had a hard time keeping it all even.
Once I decided on a pattern and a basic approach, I had the bright idea that I could use the test swatch as a bookmark so I should make it pretty by fusing a piece of fabric to the cardstock.  This also conveniently covered up my measurement marks to guide the hole-punching.  They're punched a quarter inch from the edge, a half inch apart, which actually works quite well with the pattern.  I used plain cotton 6 strand embroidery thread, and a 2.35 mm hook.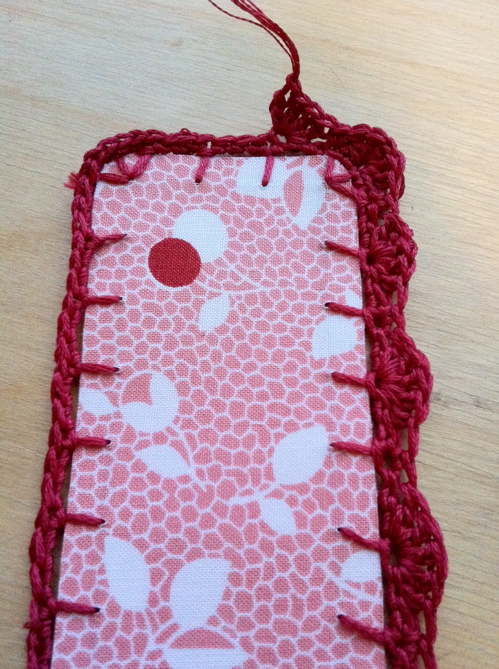 OK, not bad, but a few things went wrong here.  Miscalculation #1 is that I always forget how much thread crochet uses, so I ran out.  Miscalculation #2 is the blanket stitch "stems" go a little too far into the interior for my taste, which serves to emphasize how uneven they are.  I think the paper would be plenty strong to go just 1/8 inch from the edge.  Miscalculation #3, the corners.  The way the waves work, every other hole is worked as a shell, alternating with single crochets.  I also used the shell to turn the corner.  That means there needs to be an odd number of spaces between corners.  Whoops.  I also should have thrown in a couple of chains to help it lay flat around the corner.
So the bookmark didn't work, but it was a good learning experience and I can tell it will eventually work.  I think I may play with some other borders before I hit the real thing.
Posted on January 30th, 2011 by maitreya. Filed under Art.
I'm going a little crazy over the encaustics.  There are of course my old favorites Amy Ruppel and Lauren Dyer.  It's interesting revisiting artists' work once I know a little bit about technique.  For example, I'd always thought the stripy ovals in Amy Rupple's paintings were some sort of wax.  Turns out they are manipulated photographs embedded in the piece. ~The more you know~
Anyway, here are a few new favorites:
She also has a really great series of encaustic techniques posts on her blog.
—
These appear to be made with layered tissue paper.  The artist also has a blog.
—
Michele Bosak (mimidoodles on etsy)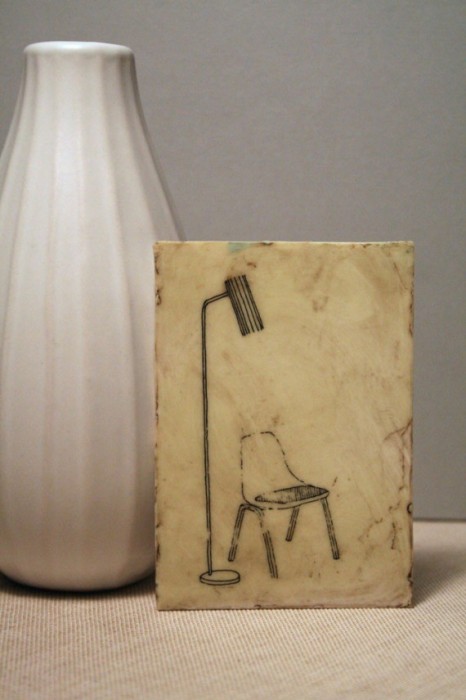 These are image transfers to the wax, followed by an ink rub.  Blog.
—
I like how these are amorphous, chunky, golden wax, with embedded thread to suggest the frame.  The photos are buried underneath, and I'm wondering if the whole thing was coated, and the interior scraped away.  Blog.
—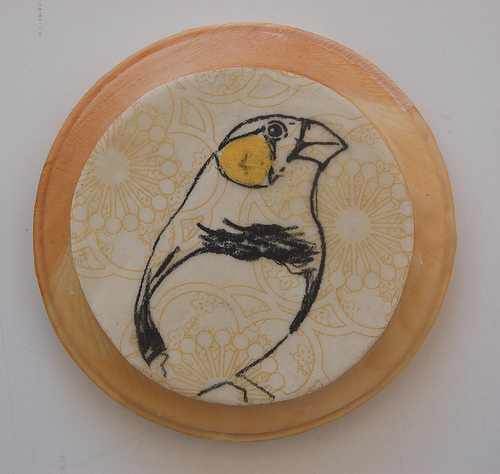 Great use of background patterns, with little bits of color highlighting on top.  Flickr.
Comments Off

on encaustic artists
Posted on January 26th, 2011 by maitreya. Filed under Art.
My encaustics class last night at Assemble was pretty fun.  There are only 4 people in the class, so lots of individual interaction with the instructor.  I'm glad I'm taking it, since it was really useful to see things in person like how much to melt the layers together, and how to rub paint into the surface to create effects.
The first class was just messing around with the different techniques, so my board is not exactly the most coherent work of art.
Next week we work on whatever we want.  Hopefully I'll think of a good idea by then.
Comments Off

on encaustics class #1
Posted on January 25th, 2011 by maitreya. Filed under Chickens.
I've gotten home late the past 2 nights, so the poor chickens have been cooped up since I'm totally paranoid about raccoons now. To help keep them from getting too bored, I hung up a cabbage core. I just jabbed a skewer through the base, tied kitchen twine to either side (those supplies sound familiar), and knotted it to keep it together. The chickens were very suspicious of it initially, but when I got home last night, this is all that was left.
And then tonight, there's just a nub.  Looks like the chickens enjoyed it!
Comments Off

on chicken tether cabbage
Posted on January 24th, 2011 by maitreya. Filed under Knitting.
Last summer we spend the 4th of July at our friends' wonderful beach house on the Oregon coast.  It was great.  There was a charming small-town parade that went right by the house, fireworks on the beach, boardgames, no cell phone service, a library with resident cats, and good food.  One thing there wasn't was crafting.  I forgot to bring a project to work on!  Even on vacation, I get antsy if I'm not doing something, so I went wandering the shops to find something to use.  At the grocery store, I found jute kitchen twine and remembered 3191's knit scrubbie.  But what to do for knitting needles?  In another aisle, they had thick stubby wood skewers.  Surprisingly, they worked quite well.  I wrapped a rubber band around each end a bunch of times to keep everything from sliding off.
I'm only just now posting it because I just found it unfinished, still on the "needles," while looking for something else in the craft room. (The craft room looks like a tornado hit it.  I've been cleaning it up a bit at a time for days.)  I just had to bind off.  I stuffed it with wool roving, crocheted the edges closed, and added a chain stitch loop.  I used the wool since that's what 3191 recommended, but just as I was finishing it up, it occurred to me that a scrubbie will be used under conditions of hot water and soap.  That is a recipe for felting.  Hmm.  Well, I can always unstitch the seam and restuff it later.
Comments Off

on desperation-crafting knit scrubbie
Posted on January 23rd, 2011 by maitreya. Filed under Crafty Links.
Thanks to Bad Mummy! No Cookie! I got an invite to join Pinterest.  I like the crowd it's attracting, and it's got a pretty nice interface. I went through my extensive craftlinks bookmarks folder tonight and added them to it to get started. Now to port my links from Curbly and Evernote.
I hate hate hate that I had to link my Facebook account to it, though (you can also use twitter).  I was on the verge of deleting my account when I noticed it had my photo and last name plastered all over my public pages, and it had gone through my facebook friends and pre-followed people.  No thanks, stupid website.  It's bad enough that google has figured out who I am.  Luckily, they let you unlink the account after the initial signup, though. Just go to edit profile and you can change it all up.
I'm also annoyed that another Maitreya got to my username first, but that's hardly Printerest's fault.  It's the second time that happened this week!
Anyway, here are my pinboards if you're interested and want to be friends or followers or whatever they're calling it. I've also got a few invites if anyone wants one.
One last thing, I also like that I can theoretically syndicate it to the blog, though that functionality leaves much to be desired as you can see from the weird squished images below (if you can see them at all).
[badge removed because it was slowing down my site, argh]
Comments Off

on Pinterest
Posted on January 21st, 2011 by maitreya. Filed under Wants.
I found this set of 6 amazing placemats at an antique store in West Seattle a while back.
I especially like how the registration is a little different from print to print, so their eyes are all a little off.  Let me introduce you to eyerolling pigeon and paranoia pigeon.
Searching on the C. Årfelt signature at the bottom, only a few expired Etsy listings come up.  If they are to be believed, these are Swedish circa 1960s and came in several colorways.
Posted on January 19th, 2011 by maitreya. Filed under Art, Experiments.
We've got a plain Jane Ikea cabinet in the living room.  One side is a door and the other side has shelves.  I've been trying to come up with a decoration to liven it up.  I initially looked at wall stickers, but nothing was quite what I had in mind.  I was mainly looking at geometric patterns, and the idea hit to draw something myself using the Japanese masking tape Becket got me for my birthday.  After looking for masking tape art on the internet, I wasn't finding anything easy to imitate.
Enter inspiration: I just recently came across Anika Mari's artwork. I especially like her neat gem/crystalline/geometric sketches (apparently her dad's a geologist!)
Her watercolors are pretty great too.
This one is the one that got me to try something out myself.  I made the concentric angular rings, and then connected the nodes.
Hmm, looks pretty amateur.  As you can tell, the couch is right next to it, so you could see every little piece and where the ends overlapped.
I think the idea could work, but I ended up finding a good enough wall sticker instead.  I'll let you know how it turns out.
Posted on January 18th, 2011 by maitreya. Filed under Crafty Review.
For some reason the local grocery store had a table of used books for a dollar each for charity. I can't resist old craft books and had to get this one: Mary Martin's Needlepoint.  It's a weird hybrid memoir of needlepoint projects, with a few how-to diagrams thrown in at the end.  It's inscribed on the front cover to Marge Phillips, Christmas 1973.
This is my favorite piece.  It's a mix of lace applique, wool crewel, and needlepoint.  The quote is by poet May Sarton from Plant Dreaming Deep, according to the book.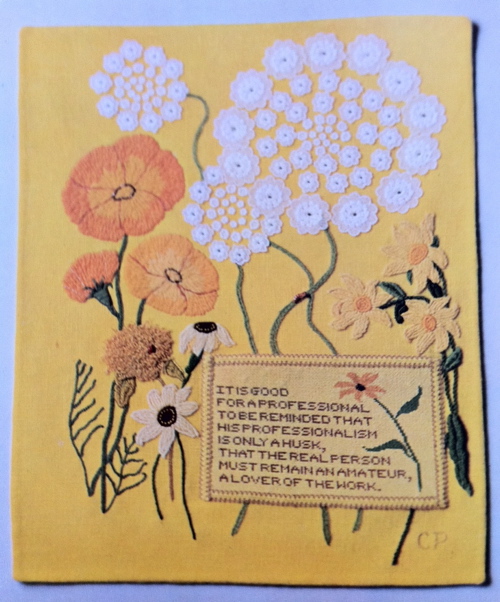 It reminds me of one of my favorite quotes, posted by Eireann a few years ago, "You are entitled to the work, but not to the reward."  Ha, in looking up that old post just now, I noticed that I commented saying I should embroider that on a sampler.  Maybe I should.
Comments Off

on Dollar bin embroidery book
Posted on January 17th, 2011 by maitreya. Filed under Jewelry.
My mom does a lot of jewelry-making and has quite a collection of cool beads and supplies.  My sisters and mom and I all made stuff one afternoon while were all home over the holidays.  These are just little plastic flowers, seed beads, and head pins cut to different lengths and twisted into loops, then attached to a jump ring.  I get compliments every time I wear it!
Comments Off

on flower cluster necklace
email
maitreya[@]craftlog[.]org
books I'm in
Pinterest
Categories
Blogroll
Archives
creative commons
craftlog is under a
Creative Commons
Attribution Noncommercial
license
. That means that you are all welcome to take and repost my photos, replicate my projects, remix my ideas, whatever you want as long as you give attribution (a link is fine) and it's noncommercial. Thanks!