Archive for February, 2011
Posted on February 25th, 2011 by maitreya. Filed under Chickens.
I went to let the chickens out this morning and Hester was dead in the nesting box. :(  She was about to start laying any minute (doing the crouch thing the last few days), so I bet something was wrong with her insides.  Now Sue is doing the crouch thing too, so I'll be worried about her until she successfully produces an egg.
Here's a night vision photo of her right before she pecked the camera.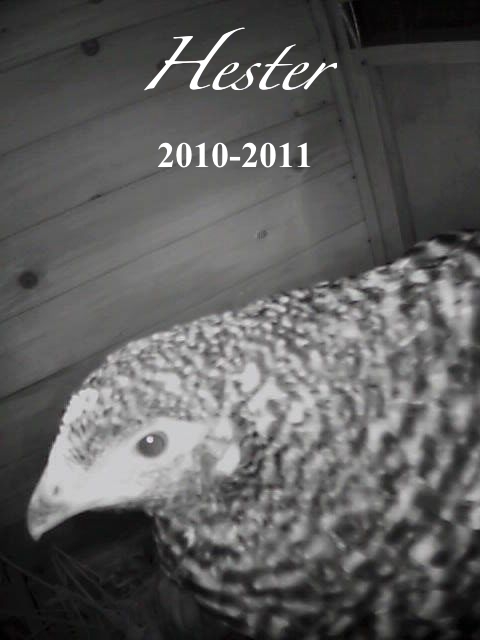 Sorry, Hester.
Posted on February 23rd, 2011 by maitreya. Filed under Cross Stitch/Embroidery.
I got this amazing graph paper fabric, and thought it would be cool for a sampler.  I just couldn't get myself excited about any of the patterns I found, even the amazing doomed dinosaur family.  Karen Barbe's blog is always a reliable source of inspiration.  This one with the apron lady kind of reminded me of a pattern in The Sampler Motif Book by Brenda Keyes, so I went with that.  I decided to be super literal and embroider the symbols.
I think it's pretty funny.
Posted on February 22nd, 2011 by maitreya. Filed under Crafty Links, Wants.
We spent the long weekend in Portland visiting friends and taking advantage of Oregon's lack of sales tax.  I have still been on the hunt for an encaustics torch, so that was my mission.  In the class, we had either a little creme brulee torch or a big propane torch available to use, neither of which I liked.  The creme brulee torch was difficult to control, heatwise, and the big one was difficult to handle, size-wise.  Searching around, I saw a lot of people recommending the Iwatani butane torch, a higher end kitchen tool.  The torch attaches to a canister of gas about the size of a hairspray can, and it gives you lots of control.  Also, kitchen supply stores seemed to be carrying it for just about the same price as the bad kitchen torches.  I wanted to find a local source so I could get a look/feel at it, and so I wouldn't have to pay hazardous materials shipping for the butane cans.
It just so turns out there's a completely amazing encaustic supply store literally down the street from where my friends live in Portland: Muse Art and Design, who also run encausticsupplies.com.  They stocked the Iwatani torch and gas (though I did pay a little more than I was able to find it on the web).  I also got some nice cheap white wax blocks, and some wax sheets.  I'd been looking for wax sheets everywhere!
The store was small, but very packed with neat stuff.  I will definitely be back.
Comments Off

on Muse Art and Design
Posted on February 19th, 2011 by maitreya. Filed under Chickens.
Eggwatch 2011 is in full swing.  Lester won, laying the first egg this morning.  I just happened to be cleaning their coop when I noticed she was sitting in the back and making a new clucking sound.  The last few days, she's been crouching when I come near, which looks like a mating behavior, so I thought her time must be close.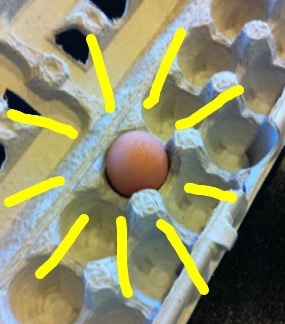 I probably seem crazy to any of my neighbors who might have been watching.  As soon as Lester got up and looked at her creation, I said LESTER YOU DID IT!  Then Hester saw the egg and of course started pecking it.  I said NO THAT'S MY EGG and grabbed it away.  It was warm, and is a pretty good size.  I've read that they'll get bigger.
Who will be next?  Will Hester step up, or will Sue come in from behind?
Posted on February 15th, 2011 by maitreya. Filed under Crafty Links, Home and Garden.
I got my first seeds started this weekend.  I'm trying the tube method again, but this time paying much more attention to the light so they don't turn out spindly and weak again.  I'll also try not to kill them at transplant time like I did last year.
I mentioned previously that I refer a lot to my Seattle Tilth guide and Growing Vegetable West of the Cascades for gardening instruction specific to the Pacific Northwest.  Here are a few other resources I use:
I recently found this great post from Sustainable Eats with a spreadsheet of everything she plants, what varieties, how, and when.  She commented that she's planning another spreadsheet for this year.  Looking forward to it!
I also like the calendar at the Modern Victory Garden.
List from the Westside Gardener
WSU also has a calendar
Mark brought me back a veggie calendar from the Portland Nursery.  They also have a super Monthly Tips section on their website that covers vegetable gardening, lawn care, and all sorts of other useful things.
Also from Oregon, there's a whole site from the OSU Extension, including dates.
From BC, the West Coast Seeds catalog has a great chart.
One more: Territorial PDF
I got a little carried away and started 17 varieties of broccoli, cauliflower, parsley, spinach, mustard, tomatoes, leeks, kailaan, Chinese cabbage, baby bok choy, artichoke, and chives.  Some of these I'll also direct sow later.  We'll see how many sprout.
Not off to a good start: as I was typing this up, I realized I forgot to water them :P
Comments Off

on when to plant what in the PNW
Posted on February 14th, 2011 by maitreya. Filed under Crochet, Holiday.
Happy Valentine's Day!
This is part of a treasure trove of crochet and embroidery from my great grandma and various great aunts.
Comments Off

on crochet heart
Posted on February 13th, 2011 by maitreya. Filed under Chickens.
One day I went to the coop and it seemed like overnight Hester's comb and wattle had come in.
My girls are growing up.  I guess it's time to sit her down and discuss the facts of life.  Eggwatch 2011 has begun!
ETA: or she's a rooster.  I'm a little worried about that alternate explanation.
Comments Off

on Hester's growing up
Posted on February 12th, 2011 by maitreya. Filed under Crafty Review, Cross Stitch/Embroidery.
I've been looking through my old cross stitch books for a new project (TBA).  My sister found me a bunch of old ones one year, and I love how dated they are. This pattern may be my favorite so far, from the book Expressions of Love put out by Woman's Day magazine in 1989.
I kind of want to make it, even though there are no mothers I know who would appreciate it.  It is so mysterious in its symbolism.  Does the use of dinosaurs mean that a mother's love lasts even after the whole species has gone extinct?  That is a long time.  And why is there an hourglass at the bottom?  Is the mother dinosaur comforting the baby dinosaur because their time is running out?  I just don't know!
Posted on February 10th, 2011 by maitreya. Filed under Home and Garden.
My parents let me take all the new seed catalogs they got while I was home over Christmas.  On top of that, my mother-in-law gave me a neat catalog from Kitazawa Seed Co, who specializes in Asian veggie seeds.  They are so much fun to look through.  When I got back, I went on kind of a sign up spree and requested catalogs from a bunch of places, mostly recs from area gardening blogs, Growing Vegetables West of the Cascades, and the Seattle Tilth Maritime Northwest Garden Guide.
The Territorial Seed Company one is the best of the bunch. They specialize in varieties that will grow well in the Pacific Northwest, and the catalog has a ton of useful cultivation info.
The only one I've actually bought something from so far is Artistic Gardens.  They have a PDF catalog for download, but I just went through their (terrible) web site.  They offer lots of tiny sampler packs for 35 cents each!  I'm definitely still in the trying-things-out phase and this is way better than buying big packs I'll never plant all of.  I spent all of $8.50 (and that includes shipping) and just got my assortment of little packets.  On the down side, the selection isn't very good and I had to do a lot of cross-checking with the Seattle Tilth Guide and Growing Vegetables West of the Cascades to make sure I only ordered varieties that will do ok here.
Next order up is probably some potatoes from Irish Eyes.  I want to build a big compost bin this spring and repurpose the trash can version into a potato bin.
Posted on February 5th, 2011 by maitreya. Filed under Home and Garden.
Yay, it's finally time to start working in the garden again!  First things first, I turned under my cover crop, such as it is.  It didn't grow very well.  I planted in late October, which is a little on the late side.  I probably should have only turned under the one bed that I plan to start planting in first, but oh well.
The raised beds have been holding up great.  Mark added some reinforcing corner brackets today to keep them solid.  I'm also happy with how nice the soil stayed.  I was a little worried it would compact over the winter, but it's all fluffy just like new.  The exception was the herb bed, which was definitely denser and lost an inch or so of volume.  We forgot to add peat moss to that bed, so it's no surprise.  I added a bunch in today while turning it, so hopefully that will help.
My garlic is so far so good too.  (You can also see a few sprouts of the cover crop in the back.)
Now with that out of the way, I need to get to garden planning.  I got a ton of great garden catalogs this year, which I will save for another post, but I've hardly ordered anything.  Time to get going on that!
email
maitreya[@]craftlog[.]org
books I'm in
Pinterest
Categories
Blogroll
Archives
creative commons
craftlog is under a
Creative Commons
Attribution Noncommercial
license
. That means that you are all welcome to take and repost my photos, replicate my projects, remix my ideas, whatever you want as long as you give attribution (a link is fine) and it's noncommercial. Thanks!