Archive for March, 2011
Posted on March 25th, 2011 by maitreya. Filed under Chickens.
I've been traveling, and Mark emailed me this photo while I was away.  Sue has started laying!  I was getting worried.  Her eggs are a lighter brown than Lester's.  Every morning for the past few days they have left us two eggs side-by-side in the nesting box.
I boiled them and ate them for dinner dipped in a little pile of salt and pepper.  Such good girls.
Posted on March 13th, 2011 by maitreya. Filed under Home and Garden.
Potato mission accomplished.  Several of my seed catalogs did have variety packs of potatoes, but they were still in large quantities.  I almost bought some from Northwest Seed & Pet; they sell in 1 lb increments at very reasonable prices with a large variety.  With shipping costs what they are, though, I ended up looking a little harder for local nurseries.
Sky Nursery turned out to be the place to get loose seed potatoes (dumb not to try there first!)  They had like 8 varieties, 99 cents/pound.  I got one yellow variety (Satina) and one red (Carmine).  They didn't have any loose fingerlings, though, so i splurged and got a pack of Russian bananas.  I think 4 will fit in the trash can, and I'll either find another container to use for the rest or give them away to my gardening friends at lab.  I'm setting them all to chit in the garage under a grow light.
I also got a horseradish root.  I've been meaning to try horseradish but just kept forgetting to look for it at the garden store.  Sky had it as both bare root and as sprouted.  I have read that it is *very* spread-y and hard to get rid of once established, so I planted it in a big pot that will live on the concrete pad by the deck.  All the raised bed real estate is spoken for anyway, so anything new is pretty much going to have to go into a container.
ETA: I also added a baby yukon gold to my trash can since one was sprouting in a packet I got at the grocery store.  They were really tasty so I hope they grow.
Posted on March 12th, 2011 by maitreya. Filed under Home and Garden.
Mark also built me an awesome compost station while I was away on a trip last weekend.  Our previous attempt with a trash can didn't really work, probably because we didn't adequately chop everything, and because it wasn't a big enough pile to heat up properly.  Also, the mix of materials was certainly not optimal.  With the addition of chicken litter, it should all go much better, I think.
It has 2 compartments, so one can be brewing while I add new stuff to the other.  The open front should make easy access for turning, and also the chickens can climb on and help.
It's made from fence slats plus some posts.  The middle barrier is movable so I can adjust the size of each pile as they grow or cook down.
The trash can will be re-deployed for growing potatoes.  Today's job was searching the local nurseries for seed potatoes.  I found them, but only in bags of ~10 of a single variety.  I want to just grow a couple of a few different varieties.  Now I'm off to look through my seed catalogs for a mix pack.
Comments Off

on compost bin
Posted on March 11th, 2011 by maitreya. Filed under Chickens.
We want to put the chickens to work weeding.  They seem to think the lawn is very tasty, unfortunately, so they need to be corralled to a certain spot.  Just the job for a chicken tractor!  Mark had the brilliant idea of making it collapsible so we could easily stash it out of the way when not in use.  We came up with this hinged design that folds up plus allows you to adjust the width to accommodate different areas of the yard.  He designed it and built it all in an afternoon.  It's essentially 2 frames with plastic fencing stapled on.  The frames are joined by hinges.  The endcaps are pieces of rigid fencing that install on hooks.
It turns out that Lester is a little escape artist and was able to fit through the endcaps, so Mark ziptied more plastic fencing and added extra hooks to close gaps.  That contained her for a while, but she was still able to escape.  This weekend we plan to do an experiment to see how she's getting out.
Note that the purpose is to keep the chickens in, not to provide any serious predator protection.  Despite the photographic evidence below, The Chup does not seem to be much danger to the chickens (he's scared of them).
Comments Off

on collapsible, adjustable chicken tractor
Posted on March 6th, 2011 by maitreya. Filed under Home and Garden.
It's been a month since I turned under my cover crop, and today I planted my first seeds.  The cover crop seems to have incorporated into the soil pretty well.  There were a few plants that managed to work their way back up to the surface and grow some more (not to mention the self-seeding chamomile that I'm going to be pulling up forever), but a little forking got rid of most everything.  I never get tired of seeing the neat little nodules on pea roots.  The chickens appreciated the tidbits too.
For the early spring, direct sow crops, I'm doing one planting now and one at the end of the month.  A few things I also made indoor starts for just in case.
Planted so far: 4 types of radishes (how'd that happen?), 2 types of scallions, cilantro, parsley, dill, spinach, mustard-spinach, mesclun mix, swiss chard, beets (just the early wonders, the other varieties will go out a little later), fennel, peas, baby bok choy, Chinese cabbage, and another Asian green called kailaan.  I am colonizing a few more areas of the yard for veggie gardening this year so I can grow more (more! more! more!)  The peas are now in a row against the fence instead of in the bed, and I'm hoping some of the beds inside our fenced yard will be sunny enough for squash and pumpkins.
Currently up: bulbs galore.  My shallots, daffodils, and hyacinths are all peeking out.
Posted on March 5th, 2011 by maitreya. Filed under Crafty Links.
I have to say, I'm liking Pinterest a lot.  When they were having all that downtime a month or so ago, I thought I'd probably quit, but they seem to have (mostly) fixed it.  My other complaints about it are more personality quirks than anything else.
I have a pathological need to find the original source of each picture.  It's pretty interesting how frequently the pinned image is actually from a site that's linking the original (or not even that).  I have even resorted to googling the image file title to figure it out.  In a couple of cases, I haven't been able to find it and was forced to use a secondary source and it bugs me so much.  Seriously, I almost didn't pin those ones.
Permalinks, people.  I hate it when people pin an image off, say, the front page of a blog instead of a stable page.  Then when you click the pin, it doesn't match.  It makes it very hard to find the associated content.
Etsy's disappearing links.  It drives me crazy when I pin a listing on Etsy and the link vanishes for some reason.  I wouldn't mind so much if Etsy's linking system maintained information about the shop in the url, which it does not.  I've taken to including the Etsy shop name in each caption so I don't lose anything.
The terrible widget for displaying your pins on your blog seems to have disappeared, so hopefully that comes back in better shape.  But so far so good.  Hopefully they won't go under any time soon.  Call me pessimistic, but I still feel uncomfortable that there's no way to export my pins.
Posted on March 4th, 2011 by maitreya. Filed under Crafty Review, Experiments.
Home sick for two days and working my way through the backlog on the Tivo since I dispatched all my Law and Order reruns yesterday.  I found a cache of Knit and Crochet Today episodes from January that I had never gotten around to watching.  One was on using flower looms (to make a truly hideous scarf).  It reminded me that I got a set of looms at a garage sale last year and never gave it a try (typical).
Cathy of California also has a good tutorial.
The first one, using hemp string and a small loom, came out way too country-cute for my taste.  This is not helped by the button, but I needed to cover up my uneven stitches holding everything together.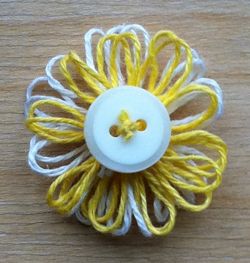 The second one, of kitchen twine and thread on a large loom with a small inner ring of pegs, is a little more interesting.  But still very very home ec.
Oh well.  They are quick to do at least.
email
maitreya[@]craftlog[.]org
books I'm in
Pinterest
Categories
Blogroll
Archives
creative commons
craftlog is under a
Creative Commons
Attribution Noncommercial
license
. That means that you are all welcome to take and repost my photos, replicate my projects, remix my ideas, whatever you want as long as you give attribution (a link is fine) and it's noncommercial. Thanks!