Archive for May, 2011
Posted on May 31st, 2011 by maitreya. Filed under Experiments, Jewelry.
I found this "big friendship band" on Pinterest and was instantly struck with a mania to make one.  The original is only $20 and is sourced by a fair trade group in Bangladesh, so I feel a little bit bad about stealing their idea.  Looking around, there are several other examples of giant friendship bracelets (a rug! genius!)
I had a pack of 4.8 mm piping cord for who knows what forgotten purpose.  I cut it into 4 2.5 yard lengths, tied the ends together, and got to it.  The muscle memory on this is strong.  I didn't even have to look up the knot, and it's been probably 15 years at least since I made one.  It went super fast.

The resulting item is about 15 inches long (not including the tails) and looks completely ridiculous as a bracelet (this is the back, btw).
I'm thinking I might be able to use it as a handle for a bag or something.
Posted on May 30th, 2011 by maitreya. Filed under Crochet, Experiments, Martha.
I whipped up a couple of test squares for a baby blanket project I'm contemplating.  Lion Cotton on sale in Natural, Seaspray, and Paprika.  Left side a G hook and right side an I, which was definitely easier to wrangle.  I don't know how they expect you to use the F hook recommended on the package.  I also added an extra round of Natural on the right.
The pattern on the left is from the Martha Stewart directions, from which I first learned to crochet lo these many years ago.  In fact, the (inverted) color scheme is from a project in the same article, which I was reminded of after someone pinned this photo on Pinterest.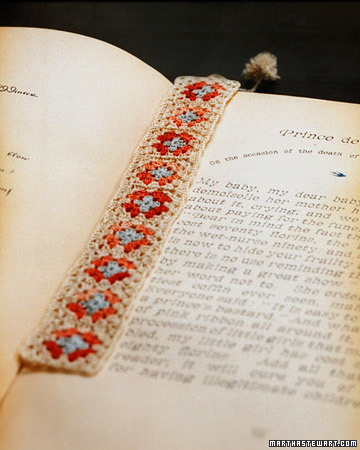 I still have a couple of tiny thread grannies I crocheted before I lost interest.  Wonder what else I could do with them?
I also consulted the instructions from Purl and kind of used a consensus pattern for the version on the right.  Variables tested (left vs right): turn between rounds, don't turn; no chain between clusters, chain 1 between clusters.  Not a huge difference, but I think I'm going to stick with the version on the right.
Attic24 has a nice tutorial for joining squares as you go.  Finishing is my baby blanket Achilles heel, so this is very appealing.
Posted on May 29th, 2011 by maitreya. Filed under Home and Garden.
Now that the garden's finally gotten going, I've got to deal with some of the slings and arrows of spring: slugs, poor germination, wimpy seedlings, and weeds.  And of course, there's stubborn Miss Sue.  This weekend was all about problem solving.
Slugs. That does it, slugs.  You ate my lone artichoke seedling, and now you've eaten the replacements too.  After reading Erica's Slug Wars post, I set out some beer traps.  So far no catches, but maybe they haven't found it yet.  I also placed pieces of scrap decking in my raised bed to catch more offenders to be fed to the chickens.
Germination.  I've had pathetic germination this year from my beets, scallions, chard, and, worst of all, collards and carrots, which have not germinated at all.  The collards I have given up on, saving the remains of my seed sampler pack for a possible winter crop.  Erica had another helpful post on using burlap to help carrots along (Can you tell that I just rediscovered Erica's blog?  She is one of my old favorites and I don't know why I ever unsubscribed.)  Conveniently, Second Use had carts and carts of coffee sacks last weekend for like a dollar each.  (We also found an awesome salvaged concrete-and-fiber planter that I haven't decided what to plant in.)  I pinned it down using garden markers.  Fingers crossed that this batch takes.
Sad seedlings. I think I just don't have the knack for starting seeds.  This year I paid a lot more attention to getting them light and heat, and I hardened them off and everything.  They looked pretty strong, if maybe a little bit leggy.  About half of the ones I've planted out have shriveled, though, and the ones that are still growing have been outpaced by their direct-seeded neighbors.  I think I will stick to direct seeding and purchased starts from now on.  So far, I've bought artichokes, eggplant, and tomatoes, all from the local Fred Meyer, which has a surprisingly good selection of 4/$5 veggie starts.
Weeds. Stupid weeds.  No easy solution for this one: just brute force.  I'm also still pulling up seedlings from my turned under cover crop.  The clover is especially persistent.  The second prong of attack is to crowd them out with some pretty groundcover, like nasturtiums.  My first planting of nasturtiums has mostly come up, so I just filled in gaps today.
Broody Sue. I locked the chickens out of the nesting box today.  Lester had to find another spot to lay her egg, but I found it without too much hunting.  Sue seems nonplussed and has not laid an egg since Wednesday.
Good things. It's not all gloom and doom in the garden.  Lots of the crops are looking great: radishes, lettuces, mustard spinach, broccoli rabe, and all my Asian greens.  The peas are big enough to train onto the fence now.  We finally hit 70° last week, so things are looking up.
Posted on May 28th, 2011 by maitreya. Filed under Home and Garden.
I planted a whole bag of ranunculus corms back in the fall, but only two of them came up.  But what a pair!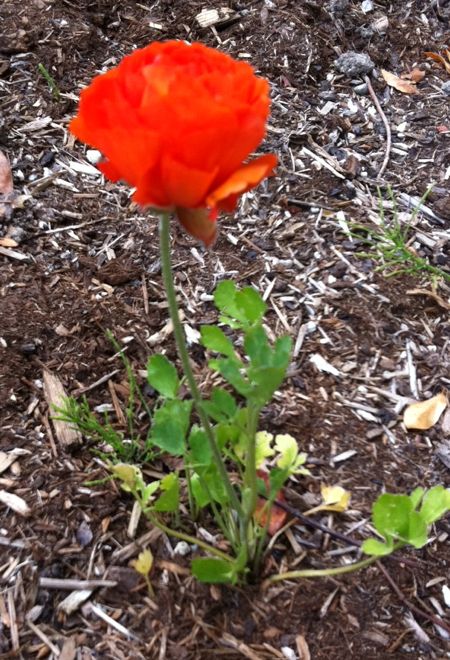 They are almost fluorescent.
I'm going to plant a bunch for next year.
Comments Off

on ranunculi
Posted on May 27th, 2011 by maitreya. Filed under Chickens.
I leave the chickens alone for 36 hours and Sue goes broody.  Poor dumb thing.
Here's a shot from the chicken cam.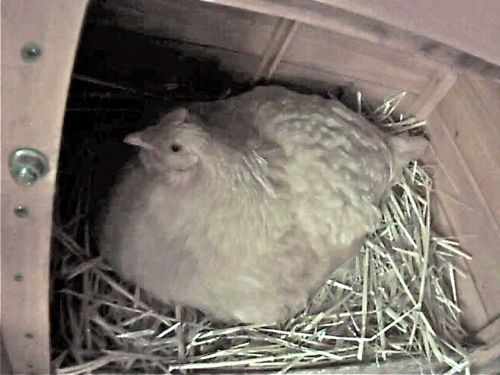 I keep tossing her out of the nest box, but it doesn't take long before she's right back in.  Tomorrow I'm going to put her in solitary and see what happens.  It's kind of amazing what a behavioral switch it is: her body is noticeably warmer, she keeps her feathers fluffed, she makes a funny little clucking noise.
Posted on May 16th, 2011 by maitreya. Filed under Wants.
I saw this necklace in a shop in the International District a few months ago and regretted not getting it.  Luckily, I had kept the artist's card! The site is called Tenzome and she also makes them in green and blue. I've been getting compliments all day.
[picture from the site, which doesn't do it justice]
I love the mix of materials.
Comments Off

on mosaic necklace
Posted on May 15th, 2011 by maitreya. Filed under Art.
I finally got around to putting up the vinyl sticker I got to decorate the plain Ikea cabinet we have in our living room.  I got it from urbanwalls on etsy (the "large flower" design).  Pretty painless to put up, and the petal design made it really easy to work around the corner like I wanted.
I cut the pieces that spanned the hinge or the gap between the door and the top.  The rest I folded around the corners.  It remains to be seen if the folded pieces will stay stuck, but so far so good.
Posted on May 14th, 2011 by maitreya. Filed under Chickens, Home and Garden.
Big day in the garden since it's super pretty.
Collected the remaining daffodils
Planted this mix of flowering annuals all along both sides of my fence
Planted artichoke and eggplant starts that I broke down and bought last weekend since the slugs got my lone surviving artichoke started from seed :'(
Ate my first salad of the season.  Arugula, lettuce, 2 types of radish, and green garlic.
Set out calcium supplement for the girls.  I sadly dropped one of Sue's eggs today and Lester started gobbling up the shell bits.  I've been meaning to put out crushed eggshell as a calcium supplement for them, but have never gotten around to it even though I've accumulated like a giant bag of it.  Poor things have probably been craving it, what with all the eggs they've been laying.  I rigged up a feeder consisting of a small tupperware screwed down to a piece of leftover decking so it will be hard for them to tip over.  After a few minutes of extreme suspicion, they decided to go for it.  Sorry it took so long, chick-chicks!
Started hardening off my squash, tomato, and cucurbits seedlings.  They'll go out next week.
Comments Off

on out and about
Posted on May 8th, 2011 by maitreya. Filed under Home and Garden.
Finally!  Something to pick from the garden.  It seems like it's taken forever to get going this year. Although looking back, my first radish last year was apparently May 17, so maybe it's not as bad as I think.
One Japanese White Icicle and one Champion.  I pulled a small Early Scarlet Globe too so we could have a taste test.  The Champion seemed most like a grocery store radish.  The Early Scarlet Globe was milder.  The Japanese White Icicle had more bite and seemed to have an earthier flavor.  All pretty good, though!
email
maitreya[@]craftlog[.]org
books I'm in
Pinterest
Categories
Blogroll
Archives
creative commons
craftlog is under a
Creative Commons
Attribution Noncommercial
license
. That means that you are all welcome to take and repost my photos, replicate my projects, remix my ideas, whatever you want as long as you give attribution (a link is fine) and it's noncommercial. Thanks!