Archive for June, 2011
Posted on June 28th, 2011 by maitreya. Filed under Cross Stitch/Embroidery, Wants.
collection of embroidery hoops scored for a couple of bucks at the Value Village last month when Becket and Amy and I went thrifting:
The Clover one (the green one top left on the bottom of the pile) is a beautiful thing of craft engineering.  Look at how the screw is recessed so you won't catch your thread on it.  The plastic ones all have a little lip that helps keep the fabric taught.  I think the blue ones are destined to join my be calm sampler.
These join my budding collection of embroidery hoops, including a neat set I got in Switzerland and some cool vintage ones lisa s sent me a long time ago.  If you happen to have any interesting hoops for my collection, I'd be willing to trade for them!
[craftlog factoid of the day: searching for "hoop" brings up more "whoops" posts than "hoops" posts.]
Posted on June 27th, 2011 by maitreya. Filed under Home and Garden.
I'm trying my best to keep up with the chamomile plants so they don't go to seed again.  Here's today's haul.  These all bloomed in the last week!  I stopped keeping count at 250.
In other garden news, I pulled the broccoli rabe and Chinese cabbages, which had bolted, and replaced them with another sowing for the fall.  The spinach plants were also bolting, so they got replaced with brussels sprouts.  My earliest cilantro plants are flowering now, but I'm letting them go to seed to harvest coriander.
My squashes have finally decided to start growing.  Everybody has sprouted now, and most of them have gotten their first true leaves.  My tomatoes are also starting to flower.  We may get something this summer yet.  The bean sprouts keep getting eaten, though.  Now I'm attempting to grow them in a window box container that can be moved into position once they've made it past the delicate delicious stage.
Currently eating from the garden: radish pods and flowers, peas, dill, parsley, lettuce, kale.
Comments Off

on chamomile harvest
Posted on June 26th, 2011 by maitreya. Filed under Art, Wants.
I saw this at the airport Dunkin Donuts and had to have it.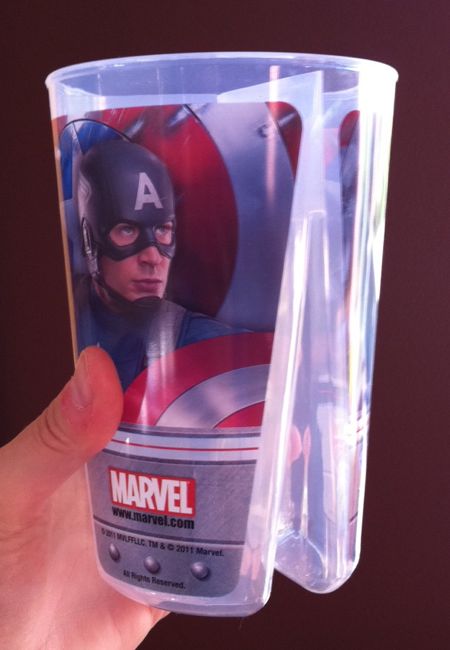 Normally it would hold three colors of slushie.  The cashier was quite confused when I agreed to pay full price for just the empty cup.
But it will be worth it!  It's perfect for painting.  I always get annoyed that I have to use two cups of water to get my brushes really clean between colors.  Now I can just use this one cup.
Posted on June 9th, 2011 by maitreya. Filed under Jewelry.
Dismount Creative posted this great idea for using nail polish to make faux enamel jewelry.  I couldn't find any of the metal blanks she used, but the bead store did have these rimmed ones.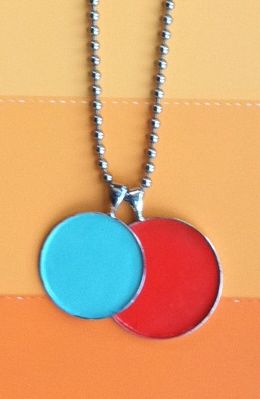 And this interesting faceted charm.
At this point, I was hooked and started looking around the house for more things to paint.  Buttons!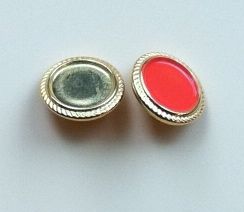 I also attempted to paint a "spangle" (giant sequin-type thing), but it looked awful.
Alisha Louise, I am not, but still, pretty good for nail polish and 50 cent jewelry findings.
Posted on June 6th, 2011 by maitreya. Filed under Jewelry, Martha.
I love this necklace from Martha Stewart's Encyclopedia of Crafts.  New craft goal of collecting disk and leaf charms.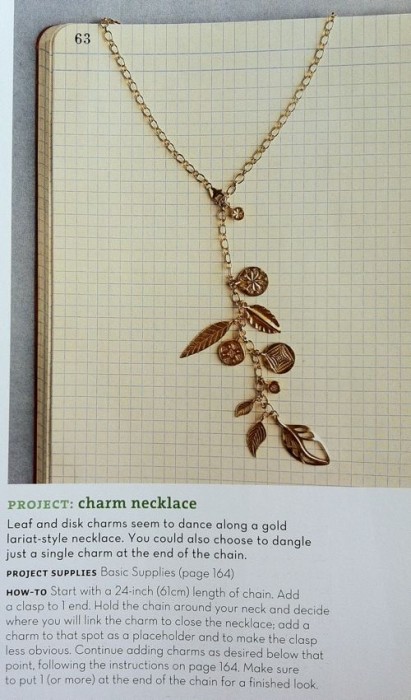 Comments Off

on lariat charm necklace
Posted on June 3rd, 2011 by maitreya. Filed under Home and Garden.
From my Easter egg radish mix
Pretty!
Posted on June 1st, 2011 by maitreya. Filed under Projects with Instructions, Sewing/Fabric Crafts.
Mark got me an iPad for no good reason.  It's pretty nice, I have to admit.  Obviously I had to make it a case.
I hate big bulky cases (my phone goes naked), but it needed some protection from the elements and my clumsiness.  I decided to use non-fray fabrics so I could just keep the edges raw.  Luckily, I had just gotten half a yard of some awesome vinyl coated cotton on my last outing to Nancy's Sewing Basket when my friend Amy was visiting.  It's Dew Drops in Indigo from the Prince Charming line by Tula Pink for Free Spirit.  The inside is a piece of dark teal felt I already had that was conveniently the exact perfect size (9 x 18 inches, which leaves some room for trimming).
It's extremely simple: just a single piece folded and stitched up the sides.  I got the best results by first sewing the (unfolded) felt to the coated cotton along the edges.  It seemed too shifty to sew all the layers all folded up at once.  That also let me topstitch the edges for the opening.  Once stay-stitched, I folded it, smoothed it as much as I could, and sewed up the sides, testing the iPad as I went to make sure it fit just right.  Then it was just a matter of trimming everything up.  The 18 inches folded is just barely enough to cover the whole thing, and not enough to include a flap, just fyi in case you're tempted to make one.  If I'd had a bigger piece of felt, I probably would have put a small flap to tuck in, but I was too impatient.
Tips:
for sewing the coated cotton: The vinyl was too sticky for my machine if facing up, but worked great facing the feed dogs with the felt side up.  After the folding step, both faces are vinyl, so I used a piece of freezer paper between the foot and the top side to keep it moving through my machine.  I put the plastic side of the freezer paper facing the fabric, which helps it grip the vinyl and not shift.
for removing the paper later: fold it along the perforation a few times, and it will tear off like a stamp without pulling much on the seam.
for removing creases from coated cotton: Put it on your lap under your laptop while you're composing the blog post about it :P  It works!
email
maitreya[@]craftlog[.]org
books I'm in
Pinterest
Categories
Blogroll
Archives
creative commons
craftlog is under a
Creative Commons
Attribution Noncommercial
license
. That means that you are all welcome to take and repost my photos, replicate my projects, remix my ideas, whatever you want as long as you give attribution (a link is fine) and it's noncommercial. Thanks!