Archive for August, 2011
Posted on August 28th, 2011 by maitreya. Filed under Home and Garden, Sewing/Fabric Crafts.
I found a pretty great vintage sheet at the Goodwill the other day, and I had conveniently also recently bought some plain white tiles with the intention of making coasters for the patio area.  The outdoor furniture is not exactly in need of protection from water rings, but the space could definitely use some color to it.
They are decoupaged with outdoor Mod Podge.
Posted on August 27th, 2011 by maitreya. Filed under Art, Crafty Review.
My art quilter friend from work invited me to the Pacific West Quilt Show this weekend.  It was pretty neat.
I thought my photos would be good enough to read the names on the placards so I could give credit, but, alas, they are too out of focus.  The quilters would probably prefer their works of art not be associated with my mediocre cell phone photos anyway.
There was a lot of insanely good workmanship.  Some of my favorites were relatively simple geometrics with great colors.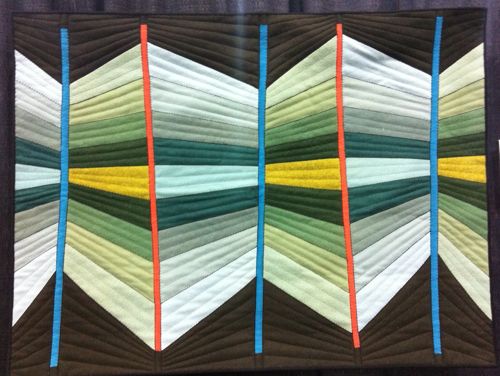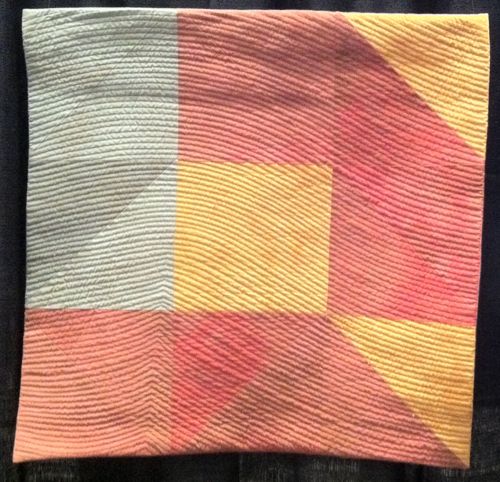 This one is a crayon rubbing of a grating, with quilting over it.
There were several interesting uses of printing/transferring photos onto fabric and then embellishing.
This one is made of modern feedsacks.  I thought it was funny.
Posted on August 26th, 2011 by maitreya. Filed under Home and Garden.
Yesterday's daily haul of summer squash: one Burpee's Fordhook zucchini, one Early Prolific Straightneck yellow squash, and one round zucchini.  My pattypans aren't cooperating just yet.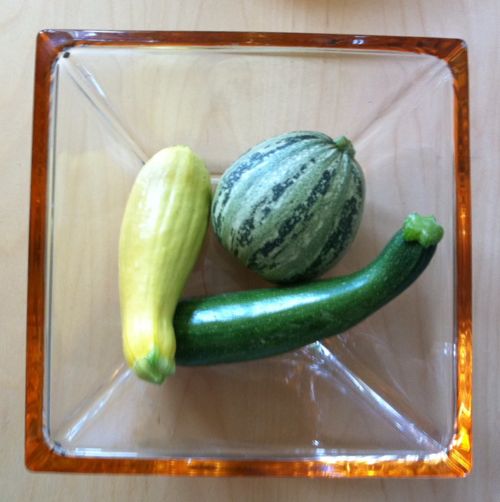 They were shredded and made in zucchini pancakes, yum.  Today's assortment was made into pasta with roasted summer vegetables and basil.  Last week, I made a batch of zucchini muffins and a zucchini bread.  The great thing about the squashes is that when we get tired of so many, we pick some flowers and eat those instead.  It slows them down a little anyway.
Comments Off

on summer squash
Posted on August 21st, 2011 by maitreya. Filed under Crafty Review, Home and Garden.
I've been kind of wanting to try canning, but have never gotten around to it.  This is in part because my imagined garden largess has never quite materialized as I expected, but also because it seemed a little intimidating.  My friend Rose gave me the perfect opportunity to just go for it by giving me some supplies and fruit, and telling me to just follow the directions on the pectin package.  Can't get easier than that, right?
I started with 2 jars of strawberry-raspberry jam, and then was emboldened to try pickles.  Since my poor cucumber seedlings were decimated by slugs this year, the cukes are from the farmers' market.  The stand guy said the variety is Jackson Supreme.  The garlic and dill seed are from my garden, though.  There's also a Walla Walla onion in the bread and butter pickles.  I accidentally made too little of the dill pickle brine and too much of the bread and butter pickles brine, so there's one jar of "hybrid" pickles.
Now I am hooked.  Next on the agenda is zucchini pickles.  Doesn't hurt that it gives me a chance to use my collection of pretty labels.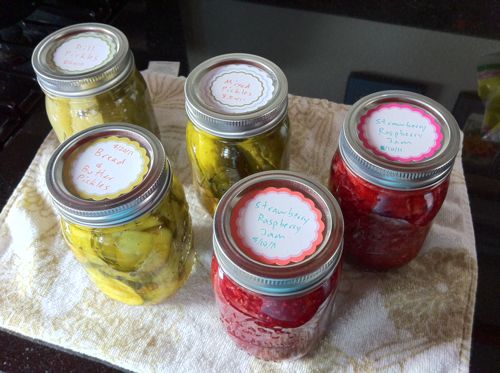 My new favorite blog is Food in Jars.  Any others I should be following?
In addition to the pectin package instructions, I also consulted Canning & Preserving with Ashley English, which I bought as a pair with her chicken book, and Put 'em Up by Sherri Brooks Vinton, which I got from the library.  Both of them had really good introductions to the methods, including lots of nice pictures and drawings.  And basic was what I needed: I got a can lifter on sale after nearly scalding myself using normal tongs with the jam, and I wasn't entirely sure which end was handles, nor how to use them to pour out the water from the bath.  Put 'em Up has more varied recipes, I'd say, so I will probably end up buying it.
Posted on August 15th, 2011 by maitreya. Filed under Uncategorized.
I let a few of my cilantro plants bolt and dry out.  Luckily, I remembered to harvest the coriander just before it seeded all over the place.
Comments Off

on coriander
Posted on August 14th, 2011 by maitreya. Filed under Home and Garden.
I made a salad the other night entirely from the garden in honor of my first tomato (a Siletz, for anyone keeping score).
But then I flipped it over and found this: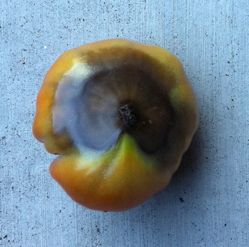 Boo, blossom end rot!  I recognized it having just read a post about blossom end rot at gardenhelp.  They recommend eggshells, since one cause is calcium deficiency, so I sprinkled some from the chicken supply around each plant.  I bet I'm not watering them exactly right, though.  The plant has a ton more fruit coming up, though, so fingers crossed this was a fluke.
At this point it became a beet salad.  Mark grilled the beets (yum!) and we had them with arugula and feta cheese.  I also sauteed up the greens with some of my garlic harvest.  Beet greens are right after kale as my favorite green I'm growing.  The chard wins for prettiest, but it can be a little too bitter.
Posted on August 12th, 2011 by maitreya. Filed under Crochet.
I think I underestimated how long it would take me to crochet a baby blanket.  With the due date impending, I figured I finally had to just finish it off, even if it's on the small side.  I do like how it turned out.
I posted about the squares earlier.  You can see the connect-as-you-go joins in the zoom.
I'm sure there are other methods of joining the squares that might lead to a cleaner edge, but I'm reasonably satisfied, and it sure helped in getting the thing done.
Once I had the 20 squares done and joined, I crocheted two rounds of the granny clusters around the whole thing to unify it.  This tutorial on making a flat edging was very helpful, and I found that a second round was essential for making the bridge clusters really blend in.
For the border, I initially wasted a bunch of time trying to find a good granny square scallop edging pattern on the internet, and then realized, this isn't rocket science.  I can figure it out myself.  I messed around with stitch length + number until I settled on a 5 triple crochet shell in every other space, joined with a slip stitch in the intervening spaces.  The corners are funny little nubs, but I like them: slip stitch, double crochet, three triple crochet, double crochet, slip stitch, then on to the next shell.  This of course works for the number of spaces and the start position I had on this blanket, so ymmv.
Since I'd been crocheting over yarn ends as I went, I only ended up with a few ends to weave in (the other finishing job that tends to slow me down).  I am slightly worried about how the construction will hold up to washing and use.  And if I'd thought twice about it at the beginning, I probably shouldn't have chosen off-white for a baby blanket, but oh well.
Posted on August 11th, 2011 by maitreya. Filed under Home and Garden.
I finally got to harvest my first summer squash, here in mid-August.  The clear winners in the race are the round zucchini from Ed Hume.  They are oddly paler than the photo on the packet, but hopefully they'll taste good.
I hope this is the beginning of a two month summer squash onslaught.  I planted two each of round zucchini, normal zucchini, yellow squash, and pattypans.  That's going to be a lot of squash!
email
maitreya[@]craftlog[.]org
books I'm in
Pinterest
Categories
Blogroll
Archives
creative commons
craftlog is under a
Creative Commons
Attribution Noncommercial
license
. That means that you are all welcome to take and repost my photos, replicate my projects, remix my ideas, whatever you want as long as you give attribution (a link is fine) and it's noncommercial. Thanks!