Archive for September, 2011
Posted on September 25th, 2011 by maitreya. Filed under Home and Garden.
It rained a couple of weekends ago for the first time in forever, and all of my Siletz tomatoes promptly split.  I decided to can some of them, using a slicing tomato salsa recipe safe for hot water bath canning from PNW0395.  I don't think I appreciated the landgrant universities enough before I started gardening and such.  They provide such a wealth of science-based, accurate, reliable, practical information.  Especially with canning, there seem to be tons of recipes on the internet that don't follow best practices and could be dangerous.  Unfortunately, the part that makes this particular recipe safe (lots of vinegar) also makes it not super tasty.  The tomatoes kind of disintegrated from all the cooking too.  Next time I open a jar, I will probably mix it with some fresh tomatoes to cut the tartness a bit and add some texture.
A few days later, I had a ton of my Sugarlump and Yellow Pear cherry tomatoes ripen all at once.  There are recipes if you need one, but it was pretty much 1. slice tomatoes in half, 2. place cut side up on baking sheet, 3. put in 210F oven for a few hours, 4. eat one every once in a while to see if they're done.  I didn't use any oil or seasonings or anything.  The convection setting seemed to be helpful in drying them out faster.
Then this weekend, I noticed that the funny tails on my striped romans were all getting soft.  I am pretty sure this is because I didn't stake them (whoops).  They are a paste tomato, so I finally got to make tomato jam!  This stuff seems to be everywhere lately; I've had it on biscuits, instead of ketchup on a burger, with a cheese plate.  I wanted a spicy one, so I tried this tomato preserves recipe that has jalapeno.  It also gave me an excuse to use the pathetic few leaves of purple basil that I managed to grow this summer.  Licking the spoon at the end indicates that it turned out pretty good, despite practically ruining it at the end.  Beware: during the reduction, it seems like nothing much happens for a long time and then bam, it's thickened and about to burn.
Comments Off

on tomato preserving
Posted on September 14th, 2011 by maitreya. Filed under Home and Garden.
The garden is really going gangbusters right now.  My extremely late-planted lemon cucumbers even made it, though it's now a race between the powdery mildew and more cucumbers.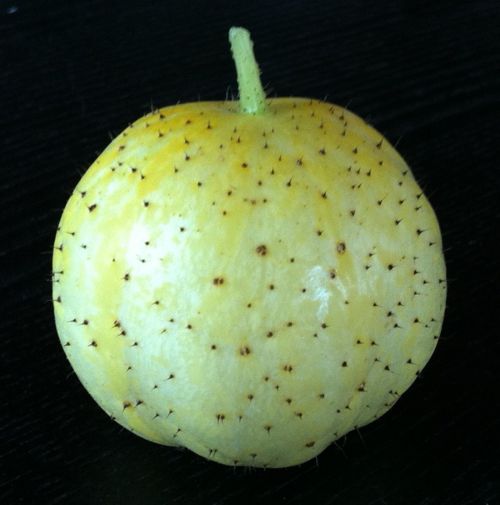 The powdery mildew is also hard at work attacking all my squashes.  I have pumpkins and winter squashes set on several plants, so fingers crossed they will mature before the end comes.  Even with the mildew, my pattypan squash finally caught up with the rest of the summer squash plants, so now I am harvesting 4 types of zucchini and squash!  I gave away a big bag of them at lab, and am probably going to do some freezing and pickling too.
The tomatoes are in full swing and I am not tired of them yet like with the squash (seriously, we have been eating squash in some guise for dinner almost every night for weeks).  Yesterday I ate four different varieties: yellow pear (my only surviving plant started from seed.  It just has one little cluster of fruit, but yum!), siletz, sugar lump, and striped roman.  This was my first striped roman to mature, and I was very annoyed to discover pillbugs eating the blossom end.  Luckily these are long skinny fruit, so it was easy enough to cut off the buggy part.  The rest went on what my mom calls a "kitchen sink" sandwich: thick crusty bread with mayo and big slices of tomato so juicy you have to eat it standing over the kitchen sink.  The only type I haven't tried yet is the momotaro, but there's one giant fruit that will be ready very soon.  It's a pink variety, so I'm not quite sure how to know if it's done.  Once I pick it, I'll try to take a group shot.  It's amazing how diverse they are.
Also currently harvesting: kale, chard, arugula, pole beans, dill, chamomile, radishes, beets, lettuce, thyme.  The pole beans have been a big disappointment.  I planted a purple podded variety that is beautiful, but I tried to trellis it up my fence and it didn't work very well.  Same with my Scarlet runner beans and my fall crops of peas.  Next year….
And one last fun crop: catnip!  The cats are going bonkers for it.  Not that our new! baby! kitten! needs any excuse to go bonkers.
Comments Off

on lemon cucumber
email
maitreya[@]craftlog[.]org
books I'm in
Pinterest
Categories
Blogroll
Archives
creative commons
craftlog is under a
Creative Commons
Attribution Noncommercial
license
. That means that you are all welcome to take and repost my photos, replicate my projects, remix my ideas, whatever you want as long as you give attribution (a link is fine) and it's noncommercial. Thanks!