Archive for March, 2012
Posted on March 18th, 2012 by maitreya. Filed under Home and Garden, Paper Crafts.
I've been using meal planner sheets for a couple of years now, with varied success.  The goal is to have an intentional dinner instead of just assembling something easy when I get home.  Cute planners are good commitment devices, so I whipped one up in Powerpoint.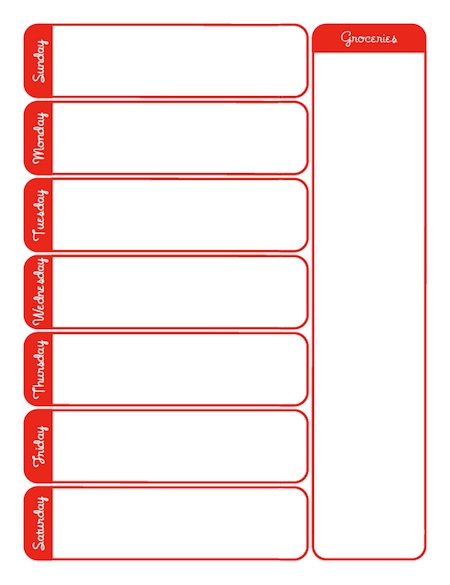 You can download the PDF in an assortment of colors.
Other cute ones I rotate through (and took design inspiration from):
Posted on March 13th, 2012 by maitreya. Filed under Experiments, Home and Garden.
My pretty Weck jars have one issue I haven't been able to figure out: how to label them.  With the normal jars, the metal lids are single use, so sticking labels on them or writing on them is fine.  I don't want to deal with picking labels off the glass lids, though.  The Weck boards on Pinterest are a good source of ideas.  It looks like most people live with stickers or tie tags around the neck.  Some sort of easily removable sticker would work best for me.  Apparently, they make water soluble labels for canning, but they seem to all have terrible reviews.
I ended up trying two adhesive solutions: cling vinyl and a 3M reusable sticky mounting thing.  For the 3M stickies, I cut out a little rectangle of ink jet-printable, waterproof, map paper for the label side.  It stuck well initially, but came lose in the fridge.  The ones I got are pretty thick, and rectangular, so they only work well on the straight-sided jars anyway.  So that experiment was a bust.
I'm more excited about the home made colorforms.  I found 4 gauge vinyl at Joann's and attempted to die-cut it into circles.  Like most everything else about my L Letterpress, the die-cutting is also terrible, so I ended up just cutting them out.  The good news is that even the cheap-y decorative edge scissors worked great on the vinyl, so I was able to make some cute scalloped ones.  You can draw on the vinyl with Sharpies.  The darker colors work best (red, for example, is almost invisible against orange marmalade, which is why these were not photographed on the jars), and I am going to look for white vinyl for future use.  They stick to the jar lids pretty securely, though I'm monitoring their staying power.  They turned out just how I imagined, more or less, so I'm reasonably happy with the results.
By the way, the "several citrus marmalade" was an invention using the leftovers from the cara cara meyer lemon marm plus grapefruit and kumquat.  I used the full sugar pectin this time, and it didn't really set for some reason.  I was going to try to reprocess it, but it turns out to be a great glaze for marmalade muffins.
Posted on March 11th, 2012 by maitreya. Filed under Home and Garden.
I just did my first couple of seed swaps on Folia and made these little envelopes.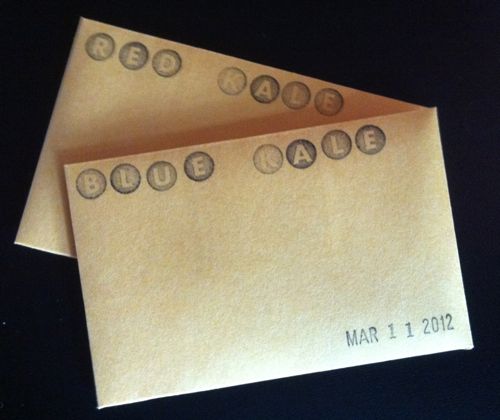 If anybody out there wants to trade seeds, here's my stash.
Comments Off

on seed swap envelopes
email
maitreya[@]craftlog[.]org
books I'm in
Pinterest
Categories
Blogroll
Archives
creative commons
craftlog is under a
Creative Commons
Attribution Noncommercial
license
. That means that you are all welcome to take and repost my photos, replicate my projects, remix my ideas, whatever you want as long as you give attribution (a link is fine) and it's noncommercial. Thanks!