Archive for April, 2012
Posted on April 8th, 2012 by maitreya. Filed under Home and Garden.
Lots going on in the garden.  I planted my potatoes a couple of weeks ago.  This year, in addition to a retry of the trash can, I'm also trying burlap sacks, as seen at the garden show.  I found the coffee sacks at Second Use for a dollar each.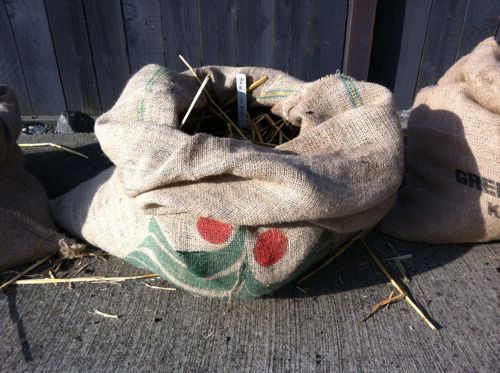 I planted three varieties of fingerlings: ozette, rose finn apple, and la ratte.  They're in a mix of compost and chopped straw.  The trick is going to be to keep them from drying out like I suspect happened last time.
The other container gardening experiment we're trying is hops on the deck (which we're now calling the "hopyard") for Mark's homebrewing operation.  We've got nugget, centennial, and cascade going.
This weekend, Mark also built me a fifth raised bed.  It's just a little 3×3 feet one (same as my herb bed) to fit between a street sign and a tree in the parking strip.  Like all the others, it's made of untreated cedar fence slats and wooden stakes, and the grand total cost was $4.  We're going to get a bulk order of a veggie blend to topdress the yard and beds, so I plan to fill it with that.
My planting plans have kind of gotten out of control this year.  I've got a set of index cards with drawings of each bed and estimated dates to sub in new crops for harvested ones.  I've been doing some trades with other gardeners on Folia, which has only added to all the stuff I want to grow (if you are interested in swapping seeds, here's my stash).
The winter garden was a qualified success.  I only just finished harvesting all my overwintered kale.  Seriously, we have had kale every day for like two weeks to finish it all before the flowers opened.  Just ate the last turnip and its greens.  The purple sprouting broccoli is making tons of side shoots after I cut off all the central heads (and ate them raw with veggie dip, yum yum).  I will never plant spring broccoli again given last year's aphid disaster.  The chard is still going strong too, with a tiny bit of winter damage.  Once we recover from kale fatigue, it'll be next on the menu.  Herbs also weathered the winter just fine:  still have parsley, thyme, and some sparse chives, and the bed of catnip is even perhaps doing a little too well.
On the negative side, I planted the brussels sprouts too late, so they never made sprouts and recently bolted.  Luckily, before pulling the plants and feeding them to the chickens, I checked if the leaves and raab are tasty.  Indeed they are!  For the carrots and beets, I think I should have planted earlier and thinned better, since I didn't get good roots from some of the plants.  They're still growing and haven't gone to seed yet, though, so I'm harvesting a few here and there.
Another welcome spring thing is that the chickens have gotten back in the swing of things.  We're back to getting eggs from both of them regularly.  Interestingly, Sue, the buff orpington, was the lower volume layer last year as compared to Lester, the hybrid.  This year, though, Sue started laying earlier and has been more reliable than Lester.  I think it's a difference between the multi-use heritage breeds that would have been expected to produce for a few years, versus the hybrids that have been selected for amazing production in their first year or two before being culled.  Lester has also started laying weird ginormous eggs.
The chickens have also been helping me condition the squash bed.  This is a kind of blighted, clay-y bed that formerly housed some very unhappy bushes.  Last year, we pulled them all out and I did manage to grow winter and summer squash there.  The summer squash take was predictably awesome, but I only had a few winter squashes make it.  After the squashes came out in the fall, I planted a cover crop to enrich the soil.  I've been placing the chicken tractor over it and letting the girls stuff themselves on greens while scratching everything up.  Momo was a little too interested.
The chicken tractor has now been redeployed as a pea trellis, and I don't want the cover crop to get any ideas about going to seed, so I turned it all under today.  We'll add some of the vegetable bed mix as well, and hopefully this will improve my yield this year.
Currently
Sprouting: peas, broccoli raab, radishes, chard, beets, mesclun mix, arugula, scallions, fennel, horseradish
Sowing: carrots, more beets, kale, leeks, chives, dill, cilantro, parsley
Sowing indoors: basil, Thai basil, shiso
email
maitreya[@]craftlog[.]org
books I'm in
Pinterest
Categories
Blogroll
Archives
creative commons
craftlog is under a
Creative Commons
Attribution Noncommercial
license
. That means that you are all welcome to take and repost my photos, replicate my projects, remix my ideas, whatever you want as long as you give attribution (a link is fine) and it's noncommercial. Thanks!