Posted on July 28th, 2005 by maitreya. Filed under Cross Stitch/Embroidery.
Bookmarks, the instant gratification craft, that's useful too.
I've had stumps on the brain since seeing Bird in the Hand's wonderful Gocco stump, which is in this shadowbox. Also, a stump drawing and a tree in the same vein, amidst all her other lovely work.
I've been mulling over the embroidery in my head a little more each time she posts something. I've been imagining an unearthed stump, with roots going everywhere, like a reverse tree. That's where I started, but the roots didn't work out, so I chopped it down. Logs make better bookmarks anyway. To finish it, I ironed on some of the fabric in the background and cut it out.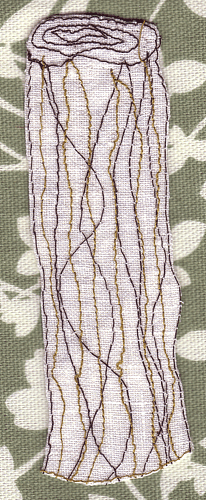 Still mulling about the stump, though.
6 Responses to "log bookmark"
email
maitreya[@]craftlog[.]org
books I'm in
Pinterest
Categories
Blogroll
Archives
creative commons
craftlog is under a
Creative Commons
Attribution Noncommercial
license
. That means that you are all welcome to take and repost my photos, replicate my projects, remix my ideas, whatever you want as long as you give attribution (a link is fine) and it's noncommercial. Thanks!