Posted on July 28th, 2005 by maitreya. Filed under Cross Stitch/Embroidery.
Bookmarks, the instant gratification craft, that's useful too.
I've had stumps on the brain since seeing Bird in the Hand's wonderful Gocco stump, which is in this shadowbox. Also, a stump drawing and a tree in the same vein, amidst all her other lovely work.
I've been mulling over the embroidery in my head a little more each time she posts something. I've been imagining an unearthed stump, with roots going everywhere, like a reverse tree. That's where I started, but the roots didn't work out, so I chopped it down. Logs make better bookmarks anyway. To finish it, I ironed on some of the fabric in the background and cut it out.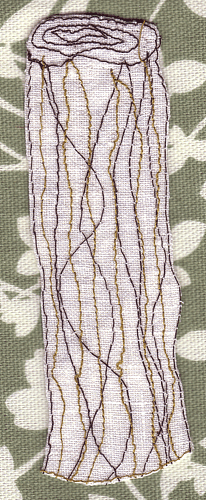 Still mulling about the stump, though.
6 Responses to "log bookmark"
email
books I'm in
other sites I'm on
Pinterest
Categories
Blogroll
Archives
creative commons