Posted on August 3rd, 2005 by maitreya. Filed under Crochet.
I finally broke down and bought an amigurumi book, from Atelier Jade. With the shipping, it was less than $10, although it's a pretty small book. Good directions though, including a clever way to get a tight first round. I'm too lazy to scan it in tonight, so I'll leave the ISBN etc for later.
This is a bunny, which my husband thinks looks like an alien (he even pantomimed it bursting from his chest). It's made from crochet thread and is maybe 5 inches tall including his ears, with some rice in the body so it'll sit up.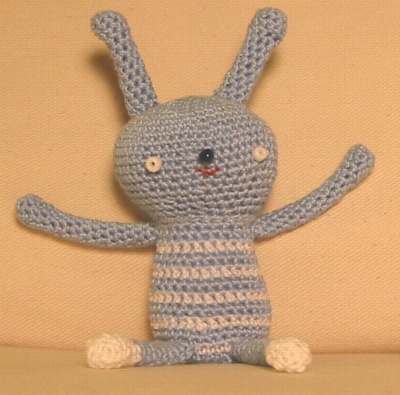 Not too shabby for my first try. How sad is it that the pattern was easier to follow than most English crochet patterns? Granted, it's a simple technique, just single crochet in a spiral with increases and decreases. Must remember to get some eyes for my next attempt.
13 Responses to "amigurumi bunny/alien"
email
maitreya[@]craftlog[.]org
books I'm in
Pinterest
Categories
Blogroll
Archives
creative commons
craftlog is under a
Creative Commons
Attribution Noncommercial
license
. That means that you are all welcome to take and repost my photos, replicate my projects, remix my ideas, whatever you want as long as you give attribution (a link is fine) and it's noncommercial. Thanks!