Posted on August 16th, 2005 by maitreya. Filed under Wants.
I passed through New York today on my way to a meeting on Long Island. So, while I was there, I stopped by the Japanese book stores (Bookoff and Kinokuniya, plus finally found Asahiya, which was more on 45th than Madison – see old entries with more details #1 and #2). Anyway, I got an incredible zakka book, a tawashi book, and an amigurumi book that I'm swapping with Alexia for some fabric scraps. For those of you who don't speak Japanese crafting language, that's a book of accessories and household items, a book of crochet and knit scrubbers, and a book of crochet and knit stuffed animals mostly worked in the round. They will all be added to the library in due time. I have a suspicion I will soon become a tawashi machine.
After the bookstores, I went to the toy stores. First up was Giant Robot, because boygirlparty has a show there. I love love love her work, and it was so neat to see it all up close. No wonder her hands are in such bad shape lately; there was an entire wall covered in little tiny tag paintings, all with such great detail. The other artists in the show are really good too. In particular I liked Alison Cole, who has a lot of collages up and draws yetis. Actually, the other two are pretty good too: Jillian Tamaki and Jack Long.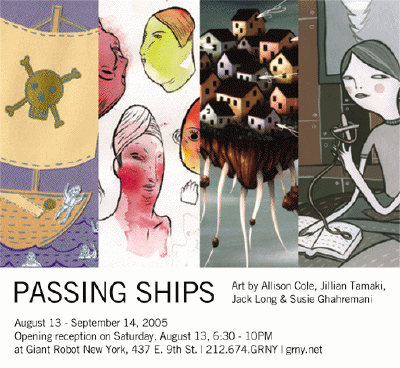 I also finally made it to Toy Tokyo, which was cool. They had a Takara Blythe, and the ADG Blythe that I have. The Takara was almost twice as much, but she did come with a wig. They also had a few mini Blythe's, but unfortunately none that I liked enough to get. Such a funny toy store, there's a big sign on the door saying that people under 18 can only come in accompanied by an adult. No kids allowed in the toy store! Only us adults can play with the dolls.
4 Responses to "Giant Robot etc"
email
maitreya[@]craftlog[.]org
books I'm in
Pinterest
Categories
Blogroll
Archives
creative commons
craftlog is under a
Creative Commons
Attribution Noncommercial
license
. That means that you are all welcome to take and repost my photos, replicate my projects, remix my ideas, whatever you want as long as you give attribution (a link is fine) and it's noncommercial. Thanks!