Posted on September 2nd, 2005 by maitreya. Filed under Paper Crafts.
I got a pair of paint-by-numbers for donating to the local NPR station a couple of years ago. There's this one and a diner scene, both from This American Life stories. In fact, you can buy them for $10, see the unpainted versions, and hear the TAL segments over at their shop. The designer, Arthur Jones, also has a site.
I've been working on it on-and-off whenever I randomly come across it in my craft room. I finally finished it tonight. It has instructions to "handle your brush with dignity" while painting the flaming squirrel. I love TAL.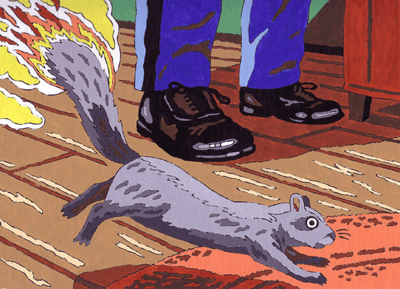 14 Responses to "squirrel paint by number"
email
books I'm in
other sites I'm on
Pinterest
Categories
Blogroll
Archives
creative commons